Shares in Visa (NYSE:V) have dropped by 4.7% year-to-date. At the current price per share of $212.22, the dividend yield stands at 0.76%. Even though this is still quite low compared to many other dividend-paying companies, it is quite a bit higher than its largest competitor, MasterCard (NYSE:MA), which currently yields 0.57%. Furthermore, as we can see in the graph below, the current 0.76% yield is the highest we have seen in recent years.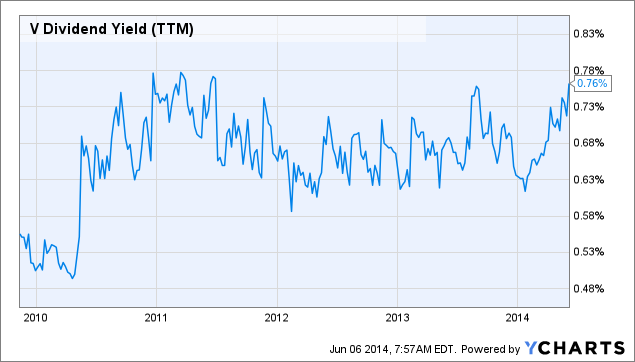 V Dividend Yield (TTM) data by YCharts
If you need to get income from your investments right away to cover your living expenses, Visa might not be the stock for you. However, investors who, like me, have several decades of investing ahead of them are often more focused on dividend growth than on current yield. I've listed the most recent dividend increases below.
| | |
| --- | --- |
| Date | Dividend increase |
| 10/23/2013 | 21% |
| 10/24/2012 | 50% |
| 10/19/2011 | 47% |
| 10/20/2010 | 20% |
Earnings per share for the first six months of the current fiscal year were $4.74, which is an increase of 22.5% compared to the same period last year. Average analyst estimates for this year's EPS stand at $8.99, which is 18.4% higher than last year's $7.59.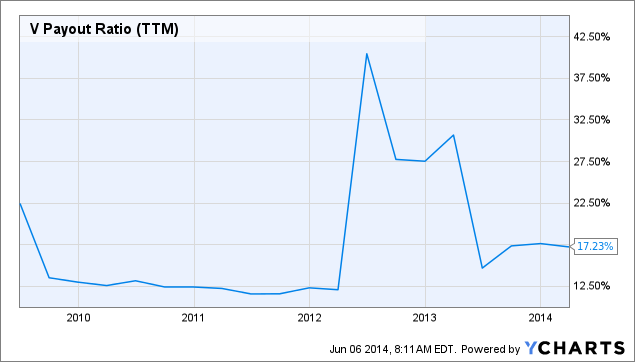 V Payout Ratio (TTM) data by YCharts
Visa's payout ratio over the past twelve months was only 17.23%, which I consider to be very low. Considering the expected growth in EPS and the extremely low current payout ratio, I wouldn't be surprised if the dividend would get raised by 25% to $0.50 per quarter in October. This would give investors getting in now a yield on cost of 0.94%.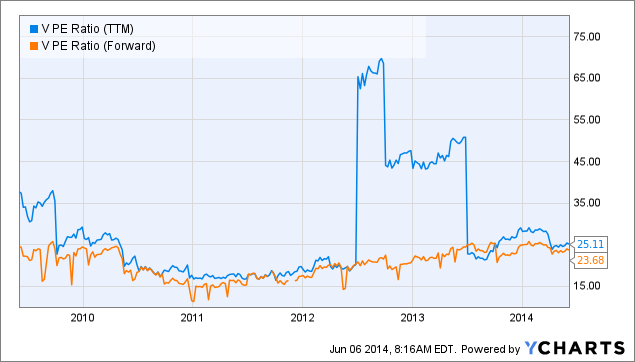 V PE Ratio (TTM) data by YCharts
Visa has traded at an average price-to-earnings ratio of 29.1 over the past 5 years, which is quite a bit higher than its current P/E (TTM) of 25.1. Visa's forward P/E ratio is even lower, at 23.68. Visa's largest competitor, MasterCard, is trading at much higher multiples, with a TTM P/E ratio of 28.82 and a forward P/E of 25.44.
Visa's balance sheet looks very good. The company has a current ratio of 1.71, with no long-term debt and $1.82 billion in cash and equivalents ($3.64/share). Furthermore, Visa's balance sheet is completely free from any long-term debt.
Over the years, Visa has shown its commitment to returning capital to shareholders by paying ever-increasing dividends and buying back huge amounts of its own stock. In the most recent fiscal quarter, Visa spent $1.1 billion to repurchase 5.1 million shares. The current share repurchase program has $3.0 billion in remaining funds. Visa has managed to reduce its number of outstanding shares by hundreds of millions in the past couple of years, as can be seen in the next graph.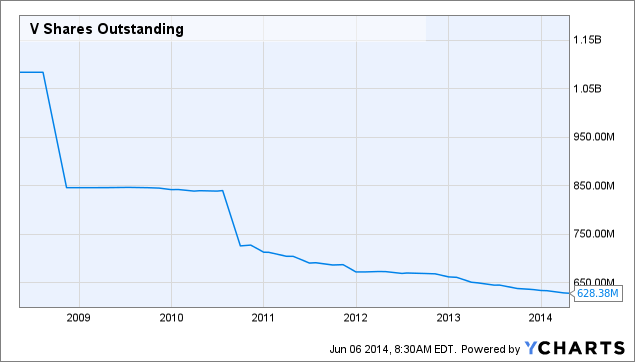 V Shares Outstanding data by YCharts
Conclusion:
Visa is currently trading at a price-to-earnings ratio that is well below its 5-year average. Furthermore, both Visa's TTM and its forward P/E ratio are a lot lower than MasterCard's. While still very low, the dividend yield is at the highest point it's been at over the past 5 years, and the next dividend increase (due in 4 months) should push the yield even higher. Visa's payout ratio is very low, at only 17.23%. If you're looking for a long-term investment that will reward you with a growing stream of dividend income, Visa might be the perfect stock.
Disclaimer: I am not a registered investment advisor and do not provide specific investment advice. The information contained herein is for informational purposes only. Nothing in this article should be taken as a solicitation to purchase or sell securities. Before buying or selling any stock you should do your own research and reach your own conclusion. It is up to investors to make the correct decision after necessary research. Investing includes risks, including loss of principal.
Disclosure: I have no positions in any stocks mentioned, and no plans to initiate any positions within the next 72 hours. I wrote this article myself, and it expresses my own opinions. I am not receiving compensation for it (other than from Seeking Alpha). I have no business relationship with any company whose stock is mentioned in this article.