Speculation is rampant about the new product that Amazon (NASDAQ:AMZN) is set to release on June 18. It will likely be a smartphone that will have a new feature, such as a 3D screen. I am going to use the Amazon Kindle Fire tablet's release as a model to help you understand how this new phone will affect Apple's (NASDAQ:AAPL) share in the smartphone market.
When Amazon released its Fire tablet into the market on November 15, 2011, it was the company's first foray into the hardware side of the business -- other than its e-readers. Amazon tried to focus on lower-priced tablets that were sold at a small loss. It hoped to make up this loss with consumers' media consumption, such as the purchase of movies, books, music, TV shows, and Prime memberships. Amazon wanted to have a complete offering in order to be a vertically integrated company. Amazon's Kindle offers consumers another way to shop at Amazon's store, and this is a positive for the company.
At the time of the release, it seemed as though the Kindle Fire would surely have an extensive impact on the Apple iPad's market share, since it was sold at a much lower price and was marketed aggressively on Amazon's website, which generates a huge amount of traffic. If you analyze the sales data that was recently released by IDC in Q1 2014, it seems as though Amazon has had almost no impact on Apple's sales. As you can see in the table below, Amazon only had 1.9% market share in tablets in Q1. The bigger threat to Apple clearly comes from Samsung and other Android Tablets.
Top Five Tablet Vendors, Shipments, and Market Share, First-Quarter 2014 (Preliminary Results, Shipments in millions)
| | | | | | |
| --- | --- | --- | --- | --- | --- |
| Vendor | 1Q14 Unit Shipments | 1Q14 Market Share | 1Q13 Unit Shipments | 1Q13 Market Share | Year-over-Year Growth |
| Apple | 16.4 | 32.5% | 19.5 | 40.2% | -16.1% |
| Samsung | 11.2 | 22.3% | 8.5 | 17.5% | 32.0% |
| ASUS | 2.5 | 5.0% | 2.6 | 5.4% | -2.8% |
| Lenovo | 2.1 | 4.1% | 0.6 | 1.3% | 224.3% |
| Amazon.com Inc. | 1.0 | 1.9% | 1.8 | 3.7% | -47.1% |
| Others | 17.2 | 34.2% | 15.5 | 31.8% | 11.5% |
| Grand Total | 50.4 | 100.0% | 48.6 | 100.0% | 3.9% |
Source: Appadvice.com
This is not to say that this expansion into the tablet market has been a negative for Amazon. If Amazon's goal was to sell as many tablets as possible, then it would be considered a failure -- but this was not the goal. Amazon's goal was to use the tablet to sell memberships to its Prime service. Before the Kindle Fire was released, Amazon had 5 million subscribers paying $79 a year. Now, Amazon has 20 million Prime members, and the yearly membership fee is $99. The membership fee isn't the only positive revenue driver for the company. It is estimated that consumers who have the Prime membership spend $1,340 per year at Amazon, which is more than twice the amount that other customers spend. This reason for this is that consumers want to make sure that their yearly subscription is worth it by utilizing the free two-day shipping as much as possible. The quicker delivery service also makes customers more likely to shop at Amazon, because it's instant gratification.
Therefore, Amazon's venture into the tablet market has been a boon for the company, while at the same time, has not hurt Apple's share in the tablet market significantly. The companies have a fundamentally different business model. Amazon focuses on the lower end of the market, and uses hardware as a way to drive profits to its cloud services division, as well as its retail web store. Apple aims to sell products at the high end of the tablet market, and makes a substantial profit on its devices.
It has been speculated for months on tech blogs that Amazon would come out with a new phone, and it appears that it will finally be unveiled on June 18. It makes perfect sense for Amazon to come out with a phone because of the sheer amount of consumers who are shopping on their smartphones. According to an NPD poll, 75% of consumers use their smartphones to shop online. Amazon was the No. 1 site that consumers used to purchase goods.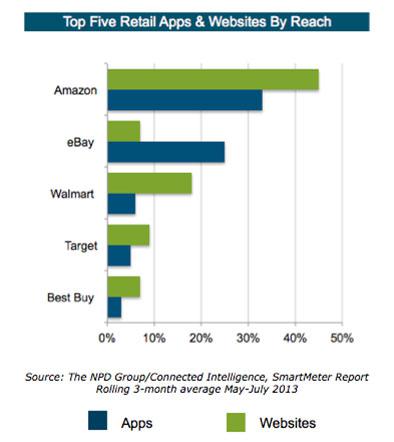 When you look at the release of the Amazon tablet from the perspective of Apple, Apple's market share in the tablet industry has decreased from 58.1% in Q1 2012 to 32.5% in Q1 2014. Apple's market share has decreased, as you can see in the graph above, because of Samsung's (OTC:SSNLF) share gains -- not Amazon's. Apple's tablet market share has had almost no losses because of the Kindle Fire.
This leads me to my prediction that the Kindle Fire smartphone will have little effect on the iPhone's market share. It is easy to make a bombastic prediction that no one will ever buy an iPhone again once the Kindle phone is released, but this is highly unlikely to occur. Based on the previous products Amazon has released, it will likely be a low-end device that will not compete with Apple's high-end products. Apple's biggest competitor will still be Samsung, after the launch of this new product on June 18.
If Apple's stock sells off in the days leading up to the release of the Amazon phone, then I would recommend that you buy into the stock if you are bullish on the company's long-term prospects. This release is just near-term "noise" that will not affect the long-term profitability of the company.
This does not mean I would short or sell Amazon's stock because of this release. The release will likely help sell more Prime memberships -- whether the release is a phone or a new tablet -- and this is great news for Amazon. The integration with Prime will be important to the phone's success.
The risk to this thesis is that Amazon comes out with a phone that truly blows away the iPhone. If the phone ends up having some 3D features that actually show that the reviewers in the teaser video that Amazon released were not being hyperbolic in their reactions, then Apple's stock will decline. Again, this is highly unlikely, because the smartphone market is very competitive and this is Amazon's first attempt at producing a phone.
Disclosure: I have no positions in any stocks mentioned, and no plans to initiate any positions within the next 72 hours. I wrote this article myself, and it expresses my own opinions. I am not receiving compensation for it (other than from Seeking Alpha). I have no business relationship with any company whose stock is mentioned in this article.