Ford Motor's (NYSE:F) ONE Ford plan involves working together as a lean, global enterprise for automobile leadership, which is measured by employees, customers, dealers, investors, suppliers, unions, and the community. This leads to producing the products that customers want which leads to profitability. Ford has a number of new models that will be introduced this year. This is likely to drive sales and help the stock increase over the long-term.
The ONE Ford plan has a goal of operating profitably by changing the model mix to meet demand. At the same time, the company works to improve its balance sheet as part of the plan. Essentially, key expected behaviors are identified as having an impact on delivering results for the company. Some of the behaviors include: demonstrating functional and technical excellence; having a continuous improvement philosophy & practice; building strong relationships; communicating clearly, concisely, and candidly; improving quality, safety, and sustainability; have fun, but never at other's expense; setting high expectations and inspiring others; holding each other accountable for achieving results and satisfying customers. When all of these behaviors are put into practice, the company believes that it will achieve its desired results.
As part of the ONE Ford plan, Ford will be introducing about 23 new products this year to drive sales. This includes new models of the Mustang, Focus, Transit, Edge, and the new F150. The new F-150 has been designed to set the standard for the future of trucks. For the first time, Ford has used high-strength material grade aluminum alloys throughout the truck's body. The company was able to reduce the truck's weight by up to 700 lbs. It also features a 360 degree camera system and loading ramps that are stored in the truck's bed. These attractive features are likely to entice potential truck buyers.
The Mustang has been redesigned to be lower, wider, and more aggressive than its previous model. It will be available in fastback and convertible body styles. The Mustang's powertrains have been upgraded with 2.2 liter ecoboost engines. The ride and handling of the new Mustang has been improved by adding a front Macpherson Strut suspension system. These enhancements on the Mustang's 50th anniversary should create excitement among sport car enthusiasts.
Lincoln has launched the MKC this year, which is already available for sale. The MKC features a retractable panoramic roof and an enhanced free liftgate. This vehicle should sell well as it fits right into the fastest growing segment of the luxury business, which is the small premium utility segment.
The E-Series Full Size Van is being replaced with the new Transit. The Transit has been designed to achieve an average of 25% improved fuel efficiency and has 75% more cargo capacity. It also features the broadest configuration line-up with the most variations as compared to its competitors. The Transit should attract commercial users who have a need for hauling cargo or driving passengers. For cargo uses, the Transit has 130.7 cubic feet of cargo space and can accommodate items up to seven feet long, four feet wide, and four feet tall. The XL, XLT, and Titanium models can accommodate seven passengers and the rear seats fold down when needed for storage space.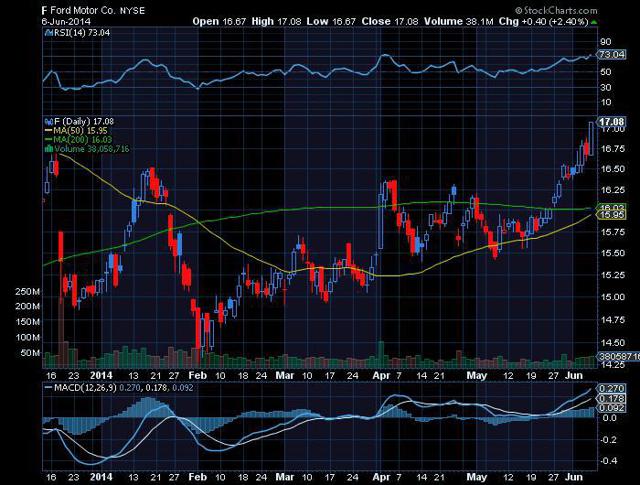 Valuation and Outlook
Ford's stock is still attractive as it trades at just under 9 times expected 2015 EPS. This is significantly below the S&P 500's (NYSEARCA:SPY) forward PE of 16. Ford is also trading with a price to cash flow ratio of 5.5, which is below the S&P 500's price to cash flow of 9.6.
Ford is expected to grow earnings at an average of over 12% annually for the next five years. This is derived from single-digit percentage increases in revenue growth plus single-digit increases in gross margin annually. Ford's expected earnings growth is higher than the average expected earnings growth of the S&P 500 of approximately 10% annually. With Ford valued below the S&P 500 with higher expected earnings, I think that the stock is likely to outperform the market over the next several years.
Ford's sales should be stimulated from strong replacement demand. The average vehicle on the road today is over 11 years old. Therefore, I think that as the economy continues to grow, many consumers will eventually trade-in their older vehicles. The combination of a growing economy and many older vehicles on the road creates a great recipe for strong vehicle replacement demand over the next few years. Ford is positioned well to benefit from this as it has many new models coming to market to entice buyers this year. With a 3% yield, investors can benefit from receiving dividend payments in addition to stock price appreciation.
Disclosure: I have no positions in any stocks mentioned, and no plans to initiate any positions within the next 72 hours. I wrote this article myself, and it expresses my own opinions. I am not receiving compensation for it (other than from Seeking Alpha). I have no business relationship with any company whose stock is mentioned in this article.