Realty Income (NYSE:O), the 'Monthly Dividend Company', is our top choice for income exposure to the real estate investment trust (REIT) industry. Though the REIT may not have the allure of healthcare REITs such as Health Care REIT (NYSE:HCN) or Omega Healthcare (NYSE:OHI), which are benefiting from aging-demographic tailwinds, or Digital Realty Trust (NYSE:DLR), which is tied to data-center proliferation and boasts Facebook (NASDAQ:FB) as a top-10 customer, we think many investors are growing more and more cautious on Realty Income's retail exposure, and it is partly because of this reason that we think an opportunity in shares exists. Said differently, investors aren't giving Realty Income a fair shake, and we think its retail portfolio risks are exaggerated.
First, however, let's address why the REIT is a holding in the Dividend Growth portfolio. Realty Income, through the end of March, has paid more than 520 dividends, recorded 75+ dividend increases, and has posted more than 65 consecutive quarterly dividend increases. Since 1994, the company has grown its dividend nearly 150%, generating an average annual dividend return of 7.3%. The REIT's dividend track record is simply phenomenal, and as an income idea, it stands head-and-shoulders above other asset classes, including the equity REIT industry, in aggregate.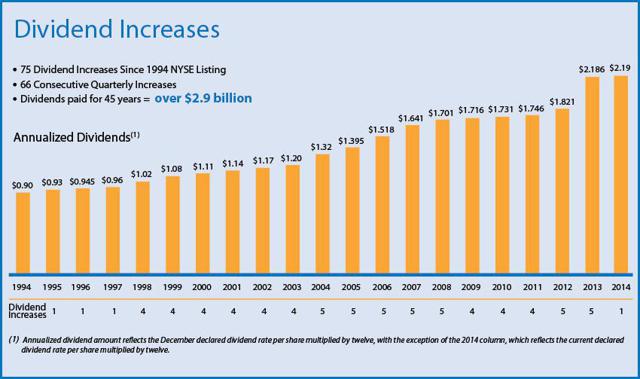 Image Source: Realty Income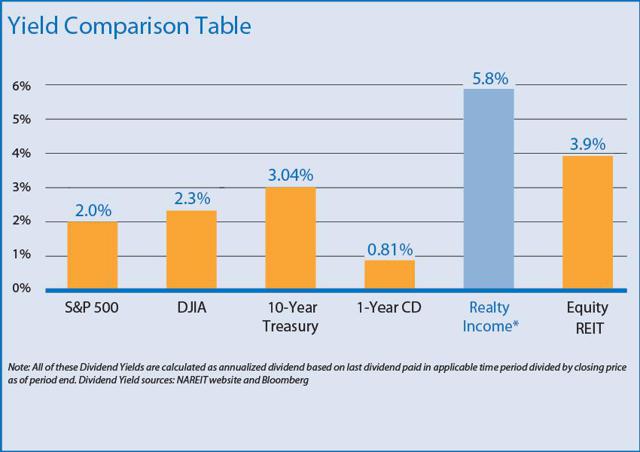 Image Source: Realty Income
Realty Income's operating focus is on acquiring single-tenant commercial properties leased to creditworthy tenants under 10-20-year net-lease agreements. The rental income generated from its portfolio of properties generates the cash flow that is used to pay dividends to shareholders. It's a fairly simple model to understand. Realty Income's primary goal is to increase the amount of dividends investors receive by increasing the amount of lease revenue its existing portfolio generates and by expanding the size of its portfolio. The REIT is completely focused on serving income investors' needs.
Earnings, as measured by adjusted funds from operations (AFFO) per share, have advanced significantly in recent years, growing to more than $2.40 per share in 2013 from just under $1 in 1994. Though it experienced some earnings pressure during the Great Recession (2008-2010), the REIT's earnings recovered rapidly in 2011 and acquisitions, including American Realty Capital Trust, have propelled earnings ever-higher in 2013. The REIT's acquisitions are quite savvy as well, with roughly 70% of the revenue generated by properties acquired in 2013 coming from tenants with investment-grade credit ratings-a key strategic focus. Acquisitions have helped increase the REIT's non-retail property types to roughly 23% at present, which we view as a de-risking maneuver.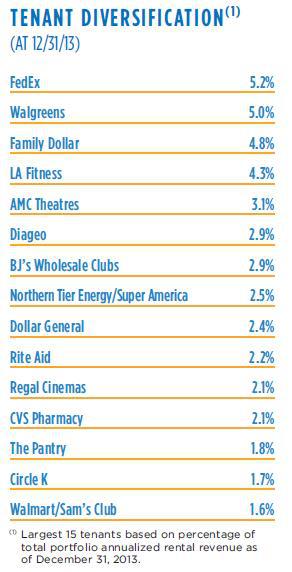 Image Source: Realty Income
We applaud the company's diversification efforts and believe it has helped ease concerns about tenant concentration risk. Realty Income's top 3 tenants-FedEx (NYSE:FDX), Walgreens (WAG) and Family Dollar (NYSE:FDO)-each average about 5% of the REIT's annualized rental revenue. Though FedEx is engaged in a modest restructuring, Walgreens is looking overseas for growth (Alliance Boots), and Family Dollar closes a lot of stores each year (even as it adds more), we're not concerned about the credit health of these tenants. FedEx remains integral to traditional commerce, Walgreens is a staple in the US, and Family Dollar continues to grow stores on a net basis at a rapid pace.
Rounding out the top 5 tenants are LA Fitness and AMC Theaters (NYSE:AMC). These two firms pose a bit more risk to Realty Income's rental stream, but by no means do we think the exposure is tragic. LA Fitness is looking to offload some of its fitness gyms, but the trend toward healthy living is one that should allow Realty Income to place these assets at other gym providers (especially lower-priced budget gyms) looking to expand their portfolios. AMC Theaters isn't growing as fast as Regal (NYSE:RGC) or Cinemark (NYSE:CNK) and high-cost rent has been one of the issues holding AMC Theaters' EBITDA margins back, but the assets that AMC has rented are in valuable urban markets and can find a home with other industry participants rather easily, in our view. Wal-Mart (NYSE:WMT), which is its 15th largest client, may close some underperforming stores as a result of online pressure and maturation of the brand, but we think Costco (NASDAQ:COST), BJ's Wholesale, or even Amazon (via warehouse growth) may be interested in some locations where Wal-Mart is facing significant same-store sales pressure. If Rite Aid (NYSE:RAD), another top-10 client, gets into trouble, we wouldn't be surprised to see CVS Caremark (NYSE:CVS) or Walgreens take interest in a variety of the company's locations. Where others see individual risk, we see significant real estate flexibility at Realty Income.
Other constituents in Realty Income's portfolio generate a smaller portion of the REIT's rental stream on an individual basis, and none of the "threatened" retail suspects-J.C. Penney (NYSE:JCP), Sears (NASDAQ:SHLD), and Radio Shack (NYSE:RSH)-are in the REIT's top 15 clients. Investors are rightly concerned that the success of Amazon (NASDAQ:AMZN) and eBay (NASDAQ:EBAY) means that there will be fewer shops and smaller stores across the retail sector. However, this view is more appropriately applied to big-box retailers such as Best Buy (NYSE:BBY), department stores including firms such as Macy's (NYSE:M) and the aforementioned Sears and J.C. Penney, and teen retailers such as American Eagle (NYSE:AEO) and Aeropostale (NYSE:ARO), which arguably have too many stores. Realty Income's portfolio is not overly exposed to this trend. Instead, the REIT's portfolio consists of transportation, pharmacies, dollar-stores, club retailers, and theaters - areas that are not under significant pressure. Its portfolio is not levered to electronics retailers, department stores, or teen retailers - areas that are under significant pressure. Realty Income's tenant list is fairly strong on a consolidated basis, even if there are unique risks with respect to each constituent.
That said, Realty Income is aware that Internet sales are a viable long-term threat to brick-and-mortar retail (in general), and its strategic plan appropriately reflects this view. For one, the REIT has been moving the portfolio up the "credit curve" by adding tenants with stronger credit profiles and investing in new industries and property types. The company's focus is simple: decrease exposure to tenants that are more at-risk during challenging economic cycles to create an even more durable cash flow stream from which to pay the dividend. We're very pleased with how Realty Income's portfolio has evolved during the past few years, as shown below (2009 to 2013):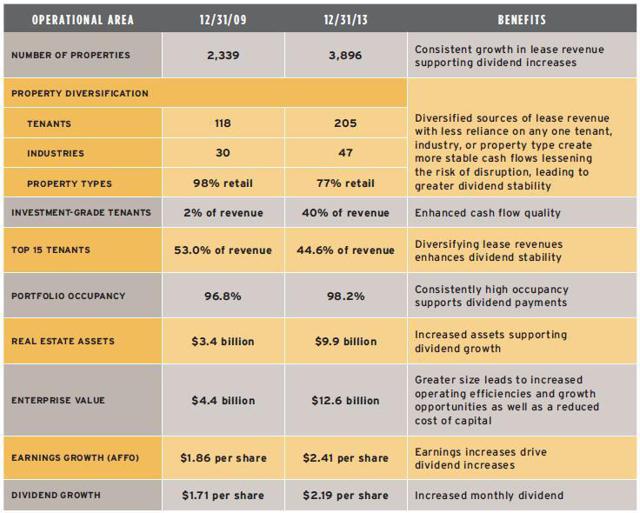 Image Source: Realty Income
The occupancy rate of the REIT's portfolio has never been below 96% (see image below), and roughly 40% of its revenue is now generated from investment-grade clients, up from practically none in 2009. Given that Realty Income survived the Great Recession with a mere earnings blip, we believe the executive suite is quite savvy in underwriting the right types of non-investment grade retail clients. The REIT's tenant property revenue has been resilient through a variety of economic cycles during the past 45 years, and the first-quarter of 2014 was no exception. During the quarter, AFFO per share advanced nearly 7%, same-store rents increased 1.5%, and portfolio occupancy rates nudged higher to 98.3%, the highest it has been in some time. We're expecting the strong fundamental performance at the REIT to continue.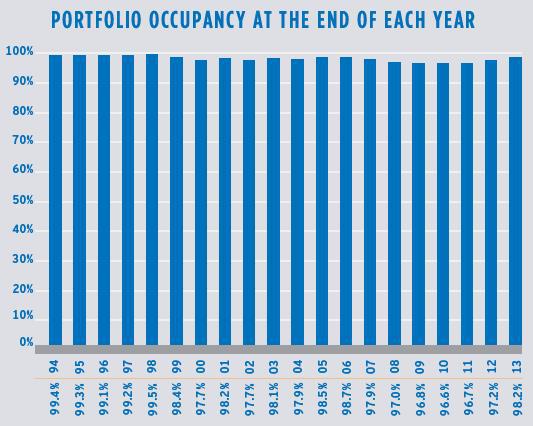 Image Source: Realty Income
Wrapping It Up
Realty Income boasts an investment-grade balance sheet, and its AFFO covers its existing annualized dividend payout by a nice margin, revealing the safety of its payout (first quarter of 2014: $0.64/$0.547). The REIT's dividend track record and the excess AFFO capacity relative to its existing dividend payout lead us to believe that multiple dividend increases are on the horizon. We're already huge fans of its 5%+ annual dividend yield. We value shares at $60 each, as we believe investors are mispricing the risks of Realty Income's retail portfolio, offering material upside from current price levels of $43 per share. The 'Monthly Dividend Company' remains a prized holding in the Dividend Growth portfolio, and we're expecting a nice total return-capital appreciation and dividends-from the REIT in coming periods.
Disclosure: I have no positions in any stocks mentioned, and no plans to initiate any positions within the next 72 hours. I wrote this article myself, and it expresses my own opinions. I am not receiving compensation for it (other than from Seeking Alpha). I have no business relationship with any company whose stock is mentioned in this article.
Additional disclosure: O and EBAY are included in Valuentum's newsletter portfolios.