Elon Musk, the billionaire founder of Tesla motors (NASDAQ:TSLA), quipped at the company's recent shareholder meeting that its principle rival, Ford (NYSE:F) is "killing sex".
Of course, it was double entendre: Musk was actually referring to the names of three lines of Tesla vehicles whose letters would spell S-E-X.
First, there was the Model S, a bestseller at Tesla. Then there was the Model X, which is an SUV that runs on electricity. Next, Tesla was planning on making a third model, Model E.
The Model E is where Tesla is running into trademark problems with Ford.
Tesla Forced To Give Up The 'E'
Ford Motors had trademarked the name Model E as far back as 2000. Although Ford never used the name, and it was considered abandoned, the company filed for it again in a new application. In December, a few months after Tesla had asked for the Model E as a trademark, Ford filed for the name again, forcing Tesla to give up its Model E name. (Ford threatened to sue Tesla if it did not give up its registration of Model E.)
Musk Assures Investors
Elon Musk has become something of an iconic figure as far as Chief Executives are concerned. His personal fortune is now at $8.2 billion. Last year, he made $2.7 billion. His fortune comes from his stake in SolarCity (NASDAQ:SCTY), a solar panel manufacturer, SpaceX, a spacecraft manufacturer planning for an era of space tourism, and, of course, Tesla Motors, whose stock has shot up an astonishing 625% over the past year.
Apart from the technological breakthroughs of the electric car company, the smooth operations and demand for Tesla cars has a lot to do with his personal charisma and business acumen. As such, his statement that he would stay for another four or five years as CEO was warmly appreciated by investors.
This promise to stay as CEO would allow the company to produce its third model and continue to grow at a steady rate under his stewardship.
Gigafactory Plans Grow
Other news is that the company will soon make a decision on where it will build the Gigafactory, a $5 billion automobile manufacturing plant that will be operated mainly by robotics.
To address issues of bringing Tesla costs down, this gigafactory is to supply lower-cost lithium-ion cells for Tesla vehicles, along with storage devices for home-power.
According to Bloomberg, talks are advanced with Tesla's current battery supplier Panasonic (OTCPK:PCRFY), which stands to gain from the gigafactory's production, and which has already shown growth, comparable to that of TSLA.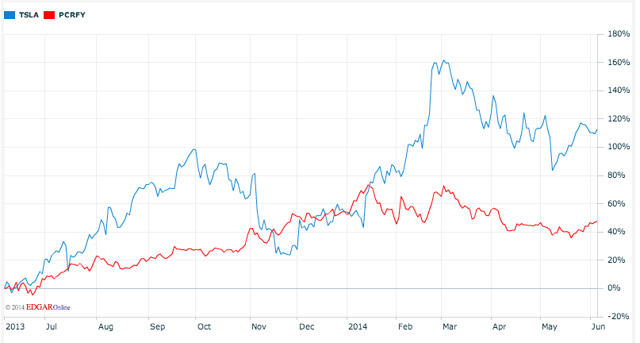 (Nasdaq.com)
Wide Open Road For Tesla Investors
With production plans in place, and Musk abroad, delivering first shipments of the Model S in the UK, Japan and Hong Kong, the company is still looking quite sexy.
Although TSLA stock has taken a slight dip recently, fluctuating around the 35 percent mark, it has performed remarkably over the course of the year.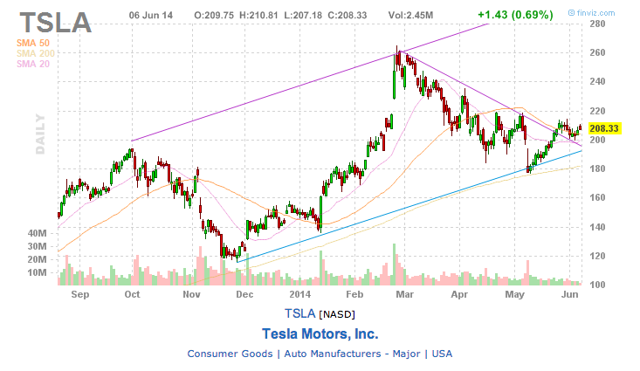 (Nasdaq.com)
A small selloff following Q1 earnings (which beat expectations) offers investors an even better opportunity to hop on for the ride.
Although Tesla is beginning to face some competition in the electric vehicle market, from companies that have rolled out more vehicles to date than Tesla's models (namely Nissan and Ford), its influence over the market is arguably far stronger.
(For the record, Ford thinks Tesla's sexy, too.)
With Chinese consumer spending up (still below but increasing faster than the United States'), and with the nation's particular obsession with luxury goods, it is an ideal market for Tesla. In partnership with e-commerce giant Alibaba, Tesla is making strong forays into this rapidly growing economy.
Obama's recent announcement of curbing American carbon emissions will also likely begin to affect more than coal companies over time, trickling into other high energy consuming sectors, and certainly including vehicles.
As macro-trends in the US and Asia increasingly favor Tesla's unique brand, Tesla's increasing cash position (from $845,889 thousand in December 31 2013 to a current $2,393,908 thousand at March 31, 2014) will allow the company to scale up to meet growing demand.
All of this bodes very well for Tesla and the electric car market long-term.
Disclosure: I have no positions in any stocks mentioned, and no plans to initiate any positions within the next 72 hours. I wrote this article myself, and it expresses my own opinions. I am not receiving compensation for it (other than from Seeking Alpha). I have no business relationship with any company whose stock is mentioned in this article.