Deutsche Bank Analyst, John Inch, interviewed General Electric's (NYSE:GE) Bill Fitzgerald, Vice President of Commercial Engines and Kevin McAllister, Vice President of Engine Services at the annual Deutsche Bank Global Industrials and Basic Materials Conference on June 5, 2014. You can read the full transcript here. The following is a list of the highlights from the interview followed by my take on the company.
Introduction to GE presenters
Bill Fitzgerald, Vice President of Commercial Engines
Bill Fitzgerald runs the Commercial Aviation business at GE. Fitzgerald spent about four years on the rail side before moving to aviation. He is an engineer by training.
Kevin McAllister, Vice President of Engine Services
Kevin McAllister runs the Services business. He has been at GE for 25 plus years. He started in Engineering, worked in technology, Six Sigma, Services, and for the last eight years has lead the sales organization for Aviation and Services.
GE Aviation Highlights
Tremendous portfolio of business
GE Aviation has a strong and growing portfolio. The Aviation division is a $22 billion business. The division covers the commercial, military and general aviation space.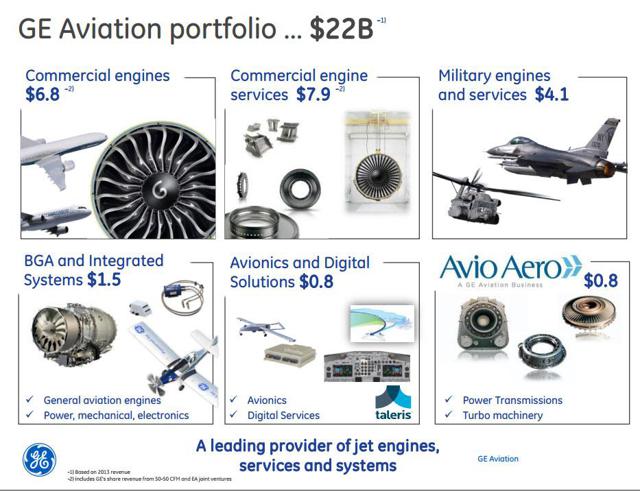 (Source: GE.com)
GE Aviation powers a majority of the world's fleets. Two out of three flights use GE aviation products today.
Every two seconds someone in the world boards an airplane powered by GE technology.
GE has a massive fleet. Currently GE has 33,900 engines in service and projects a 50% increase in engines by 2020.
At any given moment 2,200 planes with 300,000 people are depending GE engines.
Strong Growth
GE Aviation has an 8% compounded annual growth rate. Furthermore, the division continues to grow the install base on the commercial and military sides of the business.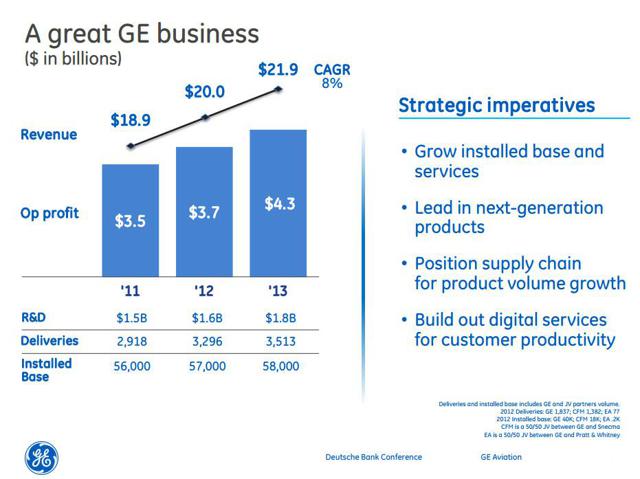 (Source: GE.com)
This growth is fueled by an industry leading product portfolio.
GE's industry leading product portfolio
GE is investing heavily in the next generation of products and has an unparalleled line up of products.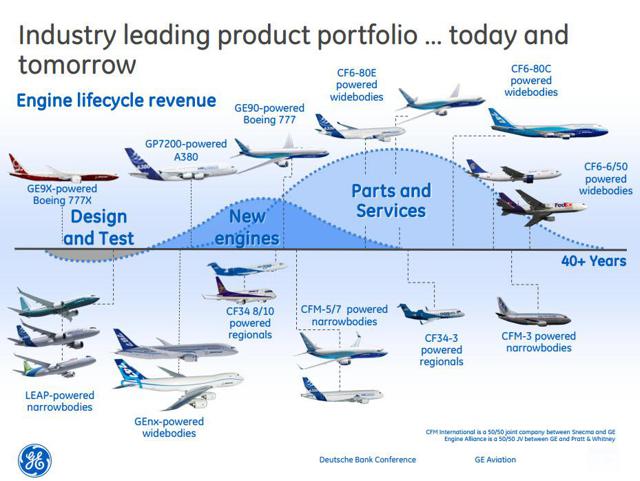 (Source: GE.com)
The commercial equipment environment is a major driver of product growth for the company presently.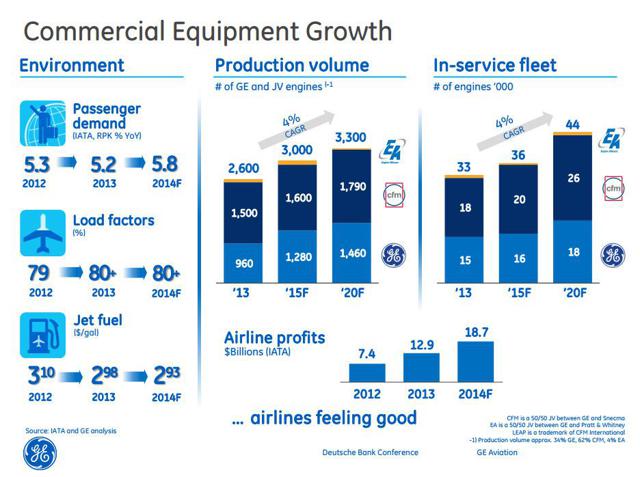 (Source: GE.com)
Passenger demand is strong and continues to strengthen. Load factors are strong and planes are full.
The drop in the price of jet fuel price is a big positive. 40% of the airlines' costs are tied to fuel.
The cost saving by the airlines related to jet fuel translates into growth in GE's backlog.
GE closed 2013 with record backlogs from an original equipment perspective at $21.6 billion.
The growth in products has spurred growth in the services segment as well.
GE is well positioned for services growth
GE has an extremely large and diverse fleet in service currently. This provides an excellent opportunity for services growth regarding maintaining the massive installed product base.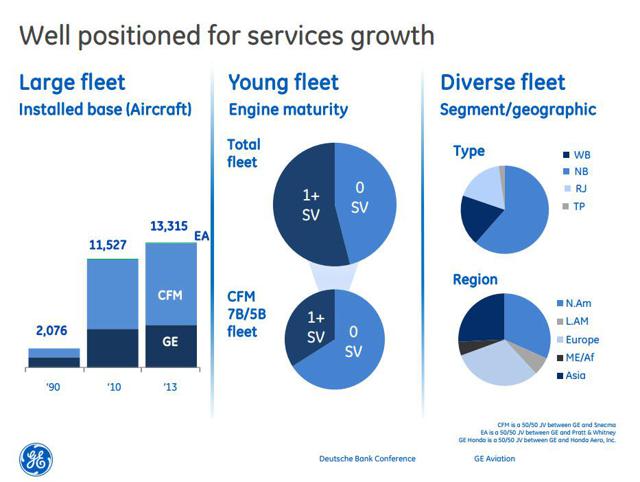 (Source: GE.com)
The key to GE's ability to capitalize on this vast opportunity is the Aligned network of global service partners.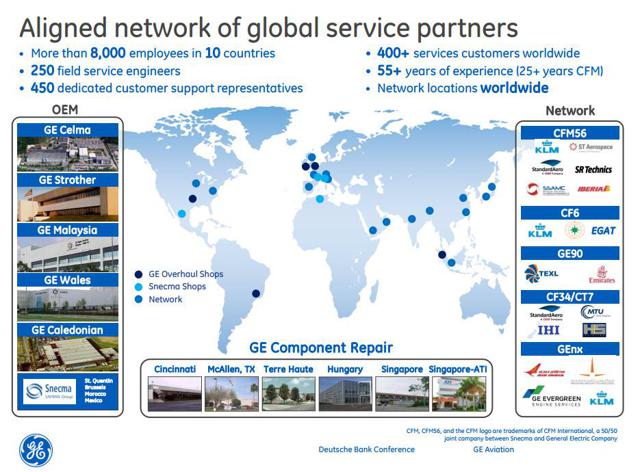 (Source: GE.com)
GE has more than 8,000 employees in 10 countries with over 250 field service engineers. 450 dedicated customer support representatives serve more than 400 customers worldwide.
Superior analytics keeps GE Aviation ahead of the competition
GE has 350 engineers working in the Aviation Analytics division located in San Ramon. There are currently 25 customers connected to a system that collects full flight data for analysis.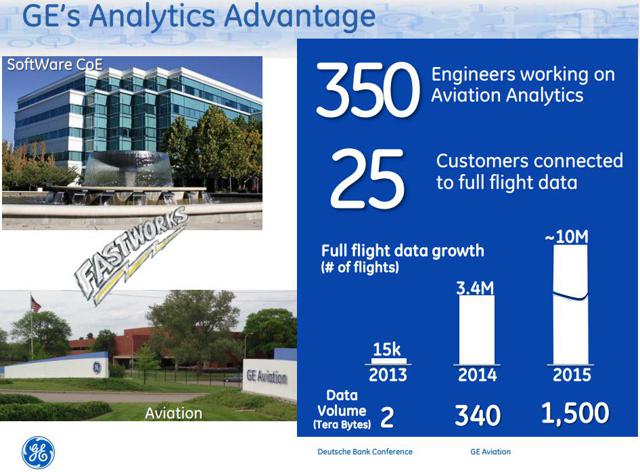 (Source: GE.com)
GE's customer base has a total per year fuel bill of $200 billion. This accounts for 40% of GE's customers' cost of doing business. The analytics division is focused on bringing value in this area. The division is focused on synchronizing approaches to the navigational performance approach, R&P performance, and fuel and carbon usage. Further, the team looks at the flight envelope and ground maintenance procedures for ways to minimize fuel consumption.
Summary Statement
Kevin McAllister closed out the interview by stating this summation:
"So, in summary, I want you to know a couple things. Bill and I both want you to know that this is a company that positions to invest and deliver. It's backed by the credibility of generations of engines and a long services portfolio. It's got unprecedented installed base both on the engine side and the services side. And it's committed to two things; number one, to always have a technology advantage versus our competitors. And number two, to always find a way to bring this new generation of digital capability to enhance our services productivity, to enhance our products and to enhance our overall profitability."
My Take
I was very impressed with the presentation. The GE aviation business is currently delivering on their promises for growth and appears well positioned for the future. The aviation division has an unprecedented installed base which is growing. The company is making investments in all segments of the market and securing service contracts as well. This is evidenced by the large and growing services backlog. GE Aviation is committed to technology leadership in the industry. The company provides value to its customers by constantly trying to outdo itself. I was thoroughly impressed with the presentation. I couldn't really find a weak spot, except for a potential economic downturn throwing a monkey wrench into the growth plan.
Conclusion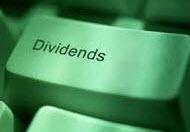 General Electric is a great investment currently. The aviation division is on track for outstanding growth projected out to 2020. Moreover, General Electric declared a $0.22/share quarterly dividend on Friday, in line with previous quarterly distributions. The forward yield currently stands at 3.25% and is payable on July 25th for shareholders of record June 23rd with an ex-dividend date of June 19th. GE shareholders currently have the opportunity for capital gains and income production. What more could you ask for?
Moreover, if the global economic recovery stays on track, significant shareholder wealth should be created over the coming years. The company's plan to increase the percentage of earnings derived from industrial operations bodes well for General Electric for various reasons. One major positive is the shift may trigger expansion of the P/E multiple based on the company shedding the higher risk financial segments. Nevertheless, if you choose to start a position in any stock, I suggest layering over time to reduce risk.
Disclosure: I have no positions in any stocks mentioned, and no plans to initiate any positions within the next 72 hours. I wrote this article myself, and it expresses my own opinions. I am not receiving compensation for it (other than from Seeking Alpha). I have no business relationship with any company whose stock is mentioned in this article.