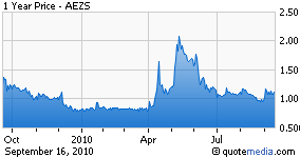 AEterna Zentaris (NASDAQ:AEZS) is a biotech company that is undervalued and deserves a much high stock price based on analyst opinions and healthy pipeline prospects. AEZS, which now is at $1.15 per share, doesn't reflect the positive opinion from the EMA (European Medicines Agency) for its lead anticancer proprietary compound, perifosine. I firmly believe AEZS is now a must own.
AEZS has out-licensed rights for perifosine to Keryx Biopharmaceuticals (NASDAQ:KERX) for North America. I consider AEZS to be almost 100% below fair value given the enormous amount of potential world wide revenue from perifosine.
AEZS has a current marketcap of only $93M, almost zero debt, $45M cash on hand and trades at 1.5x current sales of $60M. Given the current marketcap for KERX of $261M you can clearly see how undervalued AEZS is. I am also very bullish on KERX. I have spoken with the CEO Ron Bentsur who fully believes in perifosine (you can read my detailed article earlier this year here).
In the prior trading session, AEZS had several blocks bought at $1.14, $1.15 and $1.16 totaling a 1M purchase. A trading desk rumor on AEZS being an acquisition target has created interest and possible institutional buying.
AEZS operates as a late-stage drug development company specialized in oncology and endocrinology. Its lead oncology compounds include perifosine, an orally active PI3K/Akt pathway inhibitor that is in Phase III registration trial for multiple myeloma; and AEZS-108, a doxorubicin-targeted conjugate in Phase II for the treatment of advanced ovarian and endometrial cancer.
The company's lead endocrinology compound, AEZS-130, is an oral ghrelin antagonist in Phase III trial as a diagnostic test for Adult Growth Hormone Deficiency. Its pipeline also includes earlier-stage compounds, such as AEZS-112 that is in a Phase I trial in advanced solid tumors and lymphoma, as well as AEZS-120, an anti-cancer vaccine in pre-clinical development..
AEZS has partnership agreements with Shionogi and Co. (OTC:SGIOF), Sanofi-Aventis (NYSE:SNY), ARES Trading S.A., Nippon Kayaku Co. Ltd., Spectrum Pharmaceuticals (NASDAQ:SPPI), Handok Pharmaceuticals Co., Ltd., and Keryx Biopharmaceuticals (KERX). The company sells its products in the United States, Canada, Switzerland, the United Kingdom, the Netherlands, and Japan.
Below are some recent analyst notes:

August 16, 2010:

Canaccord Genuity maintains a "Speculative Buy" rating on AEZS price target $2.60. The Canaccord analyst said:
Next catalyst: Lead cancer drug perifosine has been advanced into Phase III trials in multiple myeloma and colorectal cancer and we believe that future results from these studies will be major drivers for the stock. We also look forward to important clinical and regulatory milestones for the company's most advanced compound, AEZS-130.
June 18th, 2010: Dundee Securities upgraded AEZS to "buy" from "neutral" but kept its price target at $2 (U.S.), based on recent stock weakness and removal of a financing overhang. Analyst David Martin writes that a financing issue this week should support operations for about 20 months based on an expected burn rate of $2.3 million per month. He said in a new report:
Optimally, AEterna would have completed a license deal for perifosine in ex-U.S. markets, and/or for its AEZS-108 drug, then issue equity at a higher stock price. Nonetheless, the financing eliminates an overhang, as it should provide a funding runway to Phase 3 results for perifosine in multiple myeloma and colorectal cancer. Both trials are expected to report results in the second half of 2011.
AEZS raised $12M selling 8.8M shares at $1.36 a share in June of this year. AEZS is currently covered by six research analysts with an average "buy" recommendation with a high target of $3 and an average $2.25 target.
If you lost money investing in Arena Pharmaceuticals (NASDAQ:ARNA) you might want to consider buying AEZS before it doubles.
Disclosure: Author long AEZS and KERX