As you can probably guess by the variance in summary bullet points above, this article will have quite a broad approach towards Coca-Cola's (NYSE:KO) current position in the markets and why it is a definite long-term stock to have in your portfolio. Coca-Cola is currently exporting to every country in the world (with an exception of North Korea and Cuba) which provides them with greater financial stability than most other companies, as it doesn't rely on a single country's economy.
Balance Sheet, Gross Margin and Operating Margin
To begin Coca-Cola's analysis, let's begin with its balance sheet, gross margins and operating margins.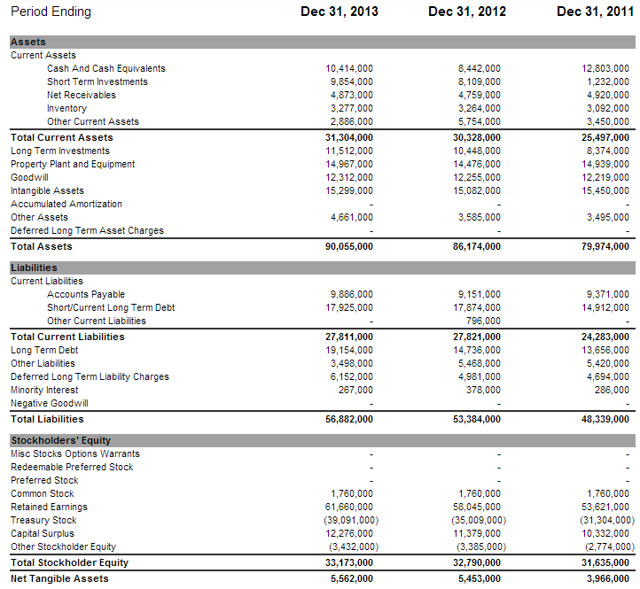 Data by Yahoo
For many years now, Coca-Cola has managed to keep up its balance sheet with several strong traits such as a low liabilities to assets ratio. Additionally, Coca-Cola has an impressive book value and substantial retained earnings as can be observed on the figure above.
As for operating margins, let's first define Coca-Cola's main competitors:

Data by Yahoo
As we can observe on the chart above, KO has significantly higher values for gross margin and operating margin in its industry, both in comparison to its competitors and to the industry average. This gives Coca-Cola a noticeable advantage in terms of profitability which further reinforces the recommendation of buying KO.
EPS Forecast
As the graph below indicates, the estimated EPS (earnings per share) for the second quarter of 2014 will be very strong and the following quarters will follow up with higher than usual EPS values.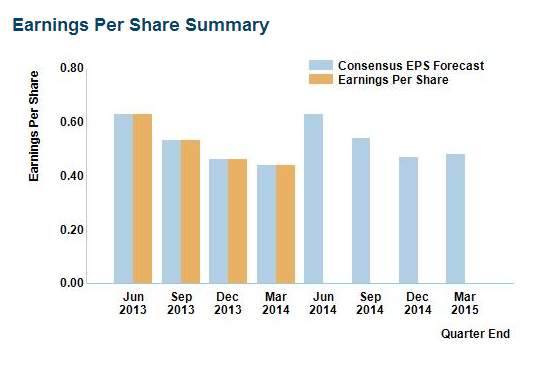 Data by Nasdaq
Emerging Market Growth and China's Investment
After analyzing the Q1 2014 report for Coca-Cola, there are two main things happening in terms of growth. In developed markets, KO's volume was down a mere 1%, yet in emerging markets volume grew by 3%. This volume increase was more significant in Brazil, Russia and China although other countries had increases also. Growth in emerging markets allows Coca-Cola to expand with adapting economies that will flourish alongside KO.
Coca-Cola also plans to invest $4 billion in China by 2017. This investment will mostly focus on building new factories, adding new products and counter rising competition. These kinds of long-term investments show that KO has substantial potential for growth and is a great buy and hold.
Analyst Recommendations
Although I do not usually rely on analyst recommendations, it is always good to get a second (or in this case, around 14) opinion on any investment you may want to do. In this case we can clearly see that the majority of the Analyst Recommendations are "Strong Buy".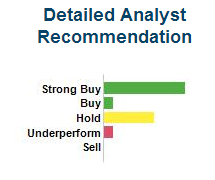 Data by Nasdaq
Dividend History and Growth
During February of this year Coca-Cola announced an increase in its quarterly dividend of 8.9%, raising it from $0.28 to $0.305. KO's dividend has been steadily increasing for numerous years now (keep in mind that in 2012 Coca-Cola had a 2:1 stock split, thus explaining the proportionally lower dividend).

Data by Ycharts
Conclusion
Regardless of the concerns about Coca-Cola's viability for long-term growth, I believe that following all of the above factors, KO would be a great buy right now. Additionally new investments, innovation and affiliation/partnerships will allow Coca-Cola to keep up its historic trend and outperform its competitors. To conclude, this company is very well positioned in the current markets and has very little downside and a very good potential upside, making it very attractive overall.
Lastly, here are some final key points for Coca-Cola:
Disclosure: I have no positions in any stocks mentioned, and no plans to initiate any positions within the next 72 hours. I wrote this article myself, and it expresses my own opinions. I am not receiving compensation for it (other than from Seeking Alpha). I have no business relationship with any company whose stock is mentioned in this article.