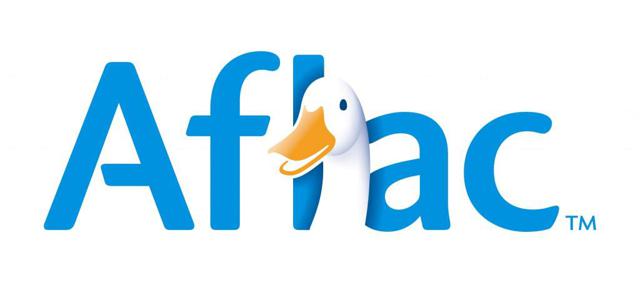 Aflac (NYSE:AFL) is the world's leading seller of cancer insurance. Aflac sells life, health, and cancer insurance policies in the US and Japan. About 75% of Aflac's revenue is generated in Japan. The company's Japanese revenue concentration makes it susceptible to fluctuations in the dollar/yen conversion rate. It is important to note that the company does not actually convert Yen to Dollars, so the exposure to Yen does not affect operations.
Current Events
Aflac breaks its operations down into 2 divisions: Aflac Japan and Aflac US. Aflac Japan accounts for 74% of the company's revenue, while Aflac US accounts for the remaining 26% of revenue.
Aflac Japan's premium income rose 1.4% in yen terms for the first quarter of 2014. Net investment income increased 9.45 compared to the year ago period. Aflac Japan's revenue increased 2.2% in yen terms overall. In dollar terms, Aflac Japan's revenue decreased 8.1% for the first quarter. The yen-to-dollar conversion rate does not affect the competitive advantage of the business. Judging Aflac based on yen only, the company's first quarter sales are in line with long-term results. Judging the company based on dollars, the company performed very poorly. Aflac Japan should be judged on a yen only basis, as it has no control over the yen to dollar exchange rate. The exchange rate does not affect underlying business growth.
Aflac US premium income rose 1.1% for the first quarter compared to the year ago period. The company's investment income increased 2.5% as well. Overall, Aflac US recorded a 1.2% increase in revenues compared to last year.
Aflac has managed to grow per share revenue by 8.5% per year over the last decade by opening new distribution channels for insurance in Japan. The company sells in banks and post offices throughout Japan, as well as through traditional channels. Aflac's future growth will come from greater need for health coverage for Japan's aging population. Aflac also has room to expand market share in the competitive US insurance industry.
Shareholder Return
Shareholders of Aflac can expect a CAGR of 6.5% to 11.5% from growth (2% to 7%), dividends (2.5%), and share repurchases (2%). Aflac's management has been strategic with their share repurchases. The company attempts to allocate capital to share repurchases when they believe the business to be undervalued.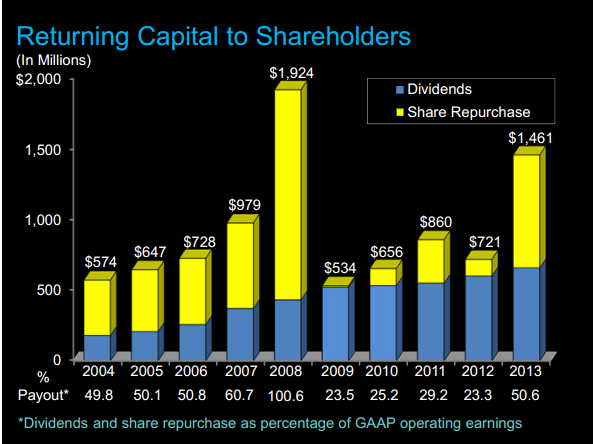 Source: Raymond James Investor Conference
Valuation
Aflac is undervalued compared to other businesses with 25+ years of dividend increases. Aflac has the lowest P/E ratio of all Dividend Aristocrats. The company also appears somewhat undervalued compared to other accident & health insurance businesses:
| | | |
| --- | --- | --- |
| Ticker | Company | P/E |
| AFL | Aflac Inc. | 9.69 |
| UNM | Unum Group | 10.62 |
| AIZ | Assurant Inc. | 10.34 |
| CNO | CNO Financial Group, Inc. | 16.86 |
| SFG | StanCorp Financial Group Inc. | 12.12 |
| PRA | ProAssurance Corporation | 9.46 |
| GLRE | Greenlight Capital Re, Ltd. | 7.93 |
| EIG | Employers Holdings, Inc. | 10.26 |
| GTS | Triple-S Management Corporation | 10.72 |
| FAC | First Acceptance Corp. | 11.09 |
| AMIC | American Independence Corp. | 27.52 |
Source: Finviz
Aflac trades at about half the markets P/E ratio of 19. Shares of Aflac have not participated in the recent market rally, making the company especially timely compared to many other stocks today.
Consecutive Years of Dividend Increases
Aflac has managed to increase its dividend for 31 consecutive years. A 3+ decade streak of consecutive dividend increases is evidence of a strong competitive advantage.
Why it matters: The Dividend Aristocrats (stocks with 25-plus years of rising dividends) have outperformed the S&P 500 over the last 10 years by 2.88 percentage points per year.
Source: S&P 500 Dividend Aristocrats Factsheet, February 28 2014, page 2
Dividend Yield
Aflac has a dividend yield of 2.37%, which ranks it at 57 out of 112 businesses with 25+ years of dividend payments without a reduction.
Why it Matters: Stocks with higher dividend yields have historically outperformed stocks with lower dividend yields. The highest-yielding quintile of stocks outperformed the lowest-yielding quintile by 1.76 percentage points per year from 1928 to 2013.
Source: Dividends: A Review of Historical Returns
Payout Ratio
Aflac has a payout ratio of only 22.20%. The company has significant room to raise its dividend much faster than overall company growth for several years due to the company's low payout ratio. Aflac compares favorably to other businesses of 25+ years of dividends without a reduction, ranking at 8 out of 112 based on this category.
Why it Matters: High-yield, low-payout ratio stocks outperformed high-yield, high-payout ratio stocks by 8.2 percentage points per year from 1990 to 2006.
Source: High Yield, Low Payout by Barefoot, Patel, & Yao, page 3
Long-Term Growth Rate
Aflac has grown revenue per share by 8.53% over the last decade. The company's solid revenue per share growth comes from consistent organic growth and well timed share repurchases. Aflac ranks at 12 out of 112 businesses with 25+ years of dividend payments without a reduction based on per share growth.
Why it Matters: Growing dividend stocks have outperformed stocks with unchanging dividends by 2.4 percentage points per year from 1972 to 2013.
Source: Rising Dividends Fund, Oppenheimer, page 4
Long-Term Volatility
Aflac's heavy exposure to the Yen gives the company very high volatility. Aflac is among the most volatile stocks with 25+ years of dividend payments without a reduction. Aflac's long-term standard deviation of 43.52% ranks it at 106 out of 112.
Why it Matters: The S&P Low Volatility index outperformed the S&P 500 by 2 percentage points per year for the 20-year period ending September 30th, 2011.
Source: Low & Slow Could Win the Race, page 3
Conclusion
Aflac is a well managed insurance company operating as the dominant player in the profitable cancer insurance niche. Aflac's management is extremely efficient at allocating capital. The company's timely share repurchases during the market bottom of 2009 are very impressive. The business ranks in the top 25% based on the 8 Rules of Dividend Investing. Aflac is a long-term buy and hold for investors who can tolerate its high volatility.
Disclosure: I have no positions in any stocks mentioned, and no plans to initiate any positions within the next 72 hours. I wrote this article myself, and it expresses my own opinions. I am not receiving compensation for it (other than from Seeking Alpha). I have no business relationship with any company whose stock is mentioned in this article.