The share price of Qualcomm (NASDAQ:QCOM) has risen by 29% over the past 12 months, outperforming a 19% gain for S&P 500 Index. To meet investors' demand for higher capital return, management established a target of returning 75% of annual free cash flow to shareholders in the form of dividend and share buyback. In this article, I will provide readers some perspectives on what this 75% payout target means to Qualcomm's future dividend growth.
My first analysis was to project Qualcomm's free cash flows from fiscal 2014 to fiscal 2016. My calculation started with consensus revenue estimates which predict the top line to grow by 8.0% CAGR from $26.6B in fiscal 2014 to $31.1B in fiscal 2016. It is noted that the company's operating cash flow margin expanded from 32.8% in fiscal 2011 to 35.3% in fiscal 2013. I assumed a flat operating cash flow margin of 35.0% through fiscal 2016, which is believed to be conservative given a consensus view that Qualcomm's EBITDA margin will expand by more than 400 bps in the current and next 2 years. For capital expenditure, I put down a steady figure of $1.5B through fiscal 2016, which represents more than 40% growth from the level in fiscal 2013. Based on these assumptions, I projected free cash flow to grow by 9.5% CAGR from $7.8B in fiscal 2014 to $9.4B in fiscal 2016. According to management's 75% target, Qualcomm's total capital return to shareholders will increase from $5.9B in fiscal 2014 to $7.0B in fiscal 2016 (see chart below).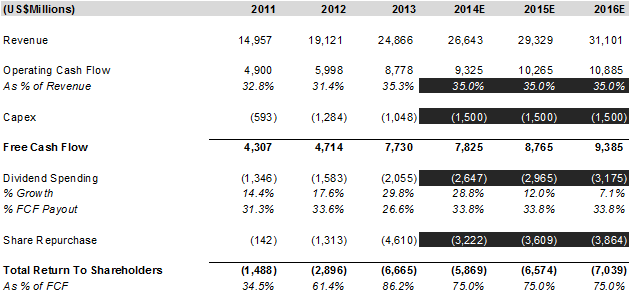 As the company has just announced to raise its quarterly dividend by 20% to $0.42, it is expected that the annualized dividend for fiscal 2014 would be $1.54. Based on my calculated share count of 1.7B (discussed later), I estimated that Qualcomm's total dividend payment for fiscal 2014 would be about $2.6B, which implies a free cash flow dividend payout ratio of 33.8% and that the share repurchase for the year would be approximately $3.2B (of which $2.0B was already purchased in Q1 and Q2). On a sustainable basis, the free cash flow dividend payout ratio should stay flattish over time. Hence, at 33.8% dividend payout, my model projects the annual dividend spending will grow by 12.0% and 7.1% in fiscal 2015 and 2016, respectively, and share repurchase would be about $3.6B and $3.9B in the two fiscal years (see chart above).
To examine a sustainable dividend plan, one would also need to look at the trend of earnings dividend payout ratio. Based on my share repurchase projections over the forecast period and an assumption that buyback price will grow by 10% per annum from $80, I estimated that Qualcomm's weighted average share count will drop to 1.6B by fiscal 2016, representing a 6.3% decrease from fiscal 2013 level. This is in line with management's expectation that total share count will reduce by 5%-10% in the next 5 years owing to the buyback plan. As such, I projected dividend per share to grow by 11.9% CAGR from $1.54 in fiscal 2014 to $1.93 in fiscal 2016. Based on consensus EPS estimates over this period, my forecasts imply that the earnings payout ratio will rise slightly from 30.0% in fiscal 2014 to 32.3% in fiscal 2016. As both the free cash flow and earnings payout ratios are in somewhat steady trends in this scenario, I believe my dividend forecasts are within sustainable ranges (see chart below).

The table below shows a quarterly breakdown (on calendar year basis) of my annual dividend per share forecasts from fiscal 2014 to fiscal 2016. The next two dividend hikes in Q2 2015 and Q2 2016 were projected to be 10.1% and 8.8%, respectively.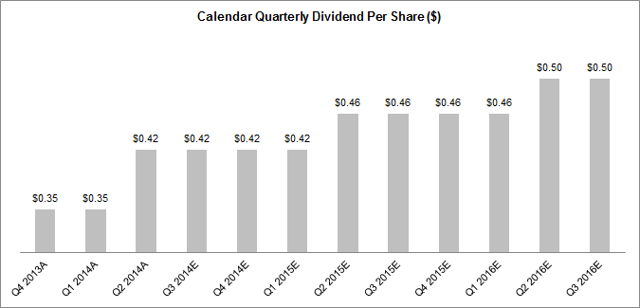 Based on current annualized dividend of $1.68 per share and 12% cost of equity (the CAPM model would result in 9.7% cost of equity based on 3% risk-free rate, 6% equity risk premium, and Qualcomm's 5-year beta of 1.12), the Gordon Grow Dividend Discount Model suggests that the current share price of ~$80 has priced in a dividend growth rate range of 9.5%-10.0%, which is in line with my expectation (see chart below).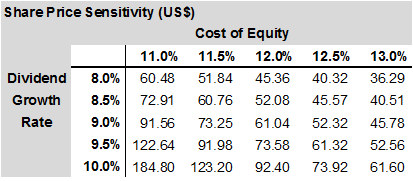 In conclusion, if management plans to pursue a sustainable dividend plan (i.e. maintaining stable dividend payout ratios), the 75% payout target would mean that growth for dividend per share has to decelerate to single digit level in the next few years.
All charts are created by the author, and data used in the article and the charts is sourced from S&P Capital IQ, unless otherwise specified.
Disclosure: I am long QCOM. I wrote this article myself, and it expresses my own opinions. I am not receiving compensation for it (other than from Seeking Alpha). I have no business relationship with any company whose stock is mentioned in this article.