After General Electric (NYSE:GE) has signaled that it will make concessions to not only guarantee Alstom (OTCPK:ALSMY) jobs in France, but to even add 1,000 industrial jobs within the next three years, it is likely that GE's offer for the Thermal Power, Renewable Power, and Grid businesses of Alstom will receive the blessing of the French government. If GE will have to make further concessions with respect to Alstom's nuclear technology or parts of GE's transportation segment remains to be seen. Siemens (OTCPK:SIEGY) has been cautious with a counteroffer for Alstom, asking for more time and proper due diligence. Siemens will also not be able to give similar guarantees for Alstom's workforce in France. I assume that Siemens will most likely play along, produce an unattractive offer, and then withdraw to observe how GE occupies itself with Alstom.
A major investment in France bears certain political risks. The French government will likely interfere in any future decisions which have an impact on Alstom's workforce in France. The competitiveness of France has been declining over the years as wages have risen, working hours have been reduced, and on the other side taxes and social welfare costs have increased. Consequently, the economy struggles, governmental debt is growing, and neither the conservative government in the past, nor the socialist government today have taken any measures to reverse this trend despite various announcements. The French jobless rate still rises continuously, whereas other European countries have started to make progress. In the 2014 "Index of Economic Freedom," France now resumes the inglorious 70th place, surpassed by countries like Rwanda, Ghana, and Kazakhstan. This is the context in which the French government's reaction to an acquisition of Alstom has to be seen: President Francois Hollande stands with his back against the wall, especially after the recent European elections where the French nationalists have gained dramatically.
It cannot be denied that the acquisition of Alstom has a certain appeal as it would complement GE's portfolio and extend its geographical reach. Nevertheless, Alstom has severe problems and the reason why Alstom's management supports the deal in the first place is because it is convinced that it cannot survive alone.
Another potential acquisition target which would be a better match for GE is Siemens itself. As it has 5x the size of Alstom's power and grid businesses, it would make a potential takeover one of the largest deals in history. More importantly, both companies have a long tradition, an own culture, and are competitors in many markets. I will try to describe a scenario that illustrates that such a deal is theoretically possible and how it would create a new global industrial giant. Of course, the deal is highly unlikely and would be very difficult to realize, but would it be truly impossible...?
Pros and Cons
The pros and cons for an acquisition of Siemens can be briefly summarized like this:
Pros:
Good match to GE's portfolio
Geographical complementation
Strengthens industrial business significantly
Siemens is profitable and has low debt, many synergies can be expected
Siemens is undergoing a fundamental restructuring anyway
Less interference from Germany to be expected
Formation of a global industrial giant
Cons:
Bring two old rivals together
Difficult to include Siemens management and employees
Might only be possible through an unfriendly takeover
Herculean task to integrate the company
Expensive
Anti-trust considerations for some businesses
Architecture of the Mega Deal
Siemens has a market capitalization of $117B (for all calculations, an exchange rate of $1.36 is used). Considering a premium of 20 to 30% of the current share price, Siemens price tag would be between $140B and $152B. This would make it the third largest deal ever, but relatively close to the recent acquisition of Verizon Wireless from Vodafone for $130B. Based on Siemens' 2014(e) EBITDA of $14B, it would correspond to a multiple of 10 to 11 and a 2014(e) P/E of 19 - not a bargain, but a justifiable price. Compared to Alstom, Siemens is very profitable, has a good future perspective, and little debt.
GE has a large amount of cash (approx. $90B) and much of it is located outside the US. An offer would typically comprise a combination of cash and shares, e.g. $60B in cash and $80B in shares (corresponding to approx. 3.0 billion shares) which should be attractive for many Siemens shareholders.
GE's net debt would increase as a considerable amount of cash had to be used for the acquisition. However, GE's debt load has been higher in the past, and the huge cash-flow of the new company would reduce debt quickly. Divestitures, like the announced IPO of GE's North American retail finance unit, would further help to cut the debt. After a merger, more non-core assets would likely be divested which would further lower debt.
The Crucial Questions
Because of their long history and the old rivalry, a friendly takeover of Siemens seems almost impossible. Initial support for the idea from Siemens' top management is unlikely, the CEO Joe Kaeser has taken over only one year ago and has own plans for the future of the company (Siemens Vision 2020).
I assume that many shareholders would appreciate an offer with a premium of 20-30% of the current share price. Siemens' free float is high and the majority of company is in the hands of institutional investors. The only relevant single shareholder is the Siemens family with 6.2% of the shares.
Ultimately, there are the employees and the German public which would play a very important role. Siemens is undergoing a fundamental restructuring anyway, the number of division will be reduced from 16 to 9 and the whole organization will be streamlined. Hierarchies will be flattened, support functions centralized, and jobs will be cut. In this light, an approach of GE might not be opposed by employees and by the public as severely as one would expect if the company was in quiet waters. One key success factor would surely be to develop a vision for a joint company in which the "old" Siemens still plays an important role in the sense of a "merger of equals." This should not be too difficult since the NewCo would have two centres of gravity - one in the US and one in Europe.
The final question is of course if two companies of the size of GE and Siemens could be merged at all. 360,000 persons work for Siemens globally and 300,000 for GE, both corporations are immensely complex. Would it be possible to integrate them with manageable efforts and a reasonable amount of time or would the organization be paralyzed for years and occupied with itself?
The New Co
GE's and Siemens' industrial businesses are a good match and they also complement each other geographically. The turnover of the NewCo would be close to $250B before divestments and GE's industrial business would double. The largest industrial giant would have a market capitalization in the range of $400B. Based on last year's combined net income and an estimated number of 13B shares outstanding after the takeover, EPS and the dividend can be calculated at $1.46 and $0.88.
Key data of GE and Siemens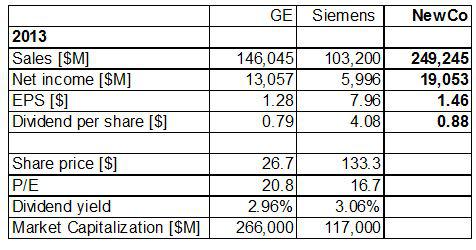 Source: Company reports (Siemens FY ending Sept., 30th) and own calculations.
NewCo's revenue in the US and in EMEA would be similar, and the deal would increase market share in Asia and Latin America strengthening the company's position in these growth regions significantly.
Regional Sales Distribution

Source: Company reports and own calculations.
Siemens is currently organized in four sectors which include several segments. The Energy sector corresponds in fact to the business which GE intends to buy from Alstom, with the exception of Oil & Gas. Healthcare comprises diagnostics, imaging & therapy, and clinical products and is quite comparable to GE Healthcare. In the Industry sector which consists of the segments Industry Automation and Drive Technologies, there is the least overlap with GE. The Infrastructure & Cities sector combines Power Grid Solutions & Products, Transportation & Logistics as well as Building Technologies. Compared to GE, Financial Services do only play a minor role at Siemens.
Siemens 2013 Sector Sales in $M and Segment Sales in $M (before reconciliations)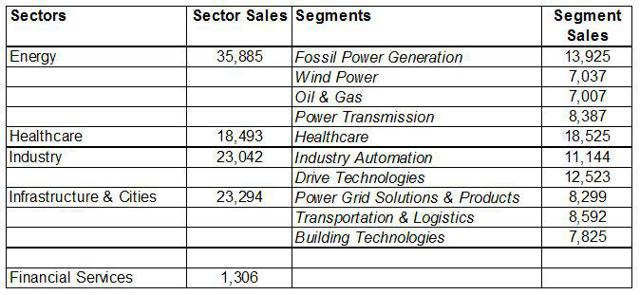 Source: Siemens 2013 Annual Report.
Looking at GE's Operating Segments, it would add to all segments with the exception of Aviation.
GE 2013 Segment Sales in $M before corporate items and eliminations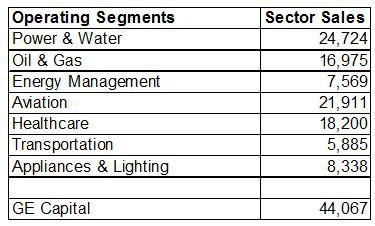 Source: General Electric Form 10-K, 2013.
The combined industrial sales of the NewCo could be segmented in the following way. As a result, the Power & Water segment would remain the largest. Similar synergies as from a takeover of the Alstom businesses could be expected: In Fossil Power Generation, Siemens is similarly positioned as Alstom, the Wind Power segment is larger and has a higher market share. The Power Transmission segment would complement GE's Energy Management activities. NewCo's second largest segment, Healthcare would double and gain significant market presence. Oil & Gas would be mainly based on GE assets whereas "Industry" would be dominated by the old Siemens' segments. The new Industry sector would be the one with the smallest share of sales in the US, giving it the opportunity to profit from GE's strength there. Appliances, Lighting & Building would be a diverse conglomeration of various businesses, where some would be candidates for divestment. Finally, the smallest operating segment, transportation would double as well and should profit from the diversity of the original portfolios of GE and Siemens and their regional coverage.
NewCo's Industrial Segment Sales in $M based on 2013 figures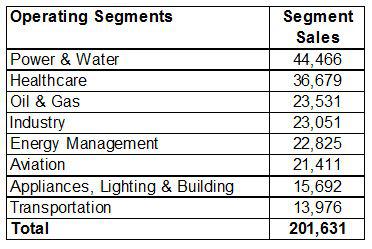 Source: Own calculations.
Conclusion
An acquisition of Siemens is a truly visionary scenario for GE as it would transform the company more than anything else that has occurred in the past. It would create a unique global industrial giant, having the second largest market capitalization of all enterprises. Financially, GE could shoulder a Siemens takeover, and with an appropriate offer, Siemens shareholders could likely be convinced. If two extremely large and complex companies of GE's and Siemens' size could be integrated at all, remains the critical question. In any case, a successful merger would only be possible if all involved parties could agree on a joint vision and strategy. As mentioned in the beginning, a highly unlikely, but not completely impossible scenario, at least one which is interesting to think about...
Disclaimer: Opinions expressed herein by the author are not an investment recommendation, any material in this article should be considered general information, and not relied on as a formal investment recommendation. Before making any investment decisions, investors should also use other sources of information, draw their own conclusions, and consider seeking advice from a broker or financial advisor.
Disclosure: I have no positions in any stocks mentioned, and no plans to initiate any positions within the next 72 hours. I wrote this article myself, and it expresses my own opinions. I am not receiving compensation for it (other than from Seeking Alpha). I have no business relationship with any company whose stock is mentioned in this article.
Editor's Note: This article discusses one or more securities that do not trade on a major U.S. exchange. Please be aware of the risks associated with these stocks.