Over the next few weeks, I will be assessing dividend coverage for most of the 26 BDCs that I cover in an effort to uncover companies that have the potential to sustain or increase current dividends. I will also be using this information to update my latest "BDC Rankings: May 2014." For more details regarding this series and for the dividend coverage results for Hercules Technology Growth Capital (NASDAQ:HTGC), FS Investment Corp (NYSE:FSIC), Ares Capital (NASDAQ:ARCC), TCP Capital (NASDAQ:TCPC), THL Credit (NASDAQ:TCRD), New Mountain Finance (NYSE:NMFC) and Medley Capital (NYSE:MCC) please see:
PennantPark Investment (NASDAQ:PNNT) is a component in my suggested 'Higher Total Return' portfolio and has been recently added to my 'High-Yield' and 'Value & Growth' portfolios. Over the last five quarters, PNNT has had higher-than-average declines in its portfolio yield from 13.5% and 12.7% but was able to cover its dividend with core net investment income ("NII") last quarter.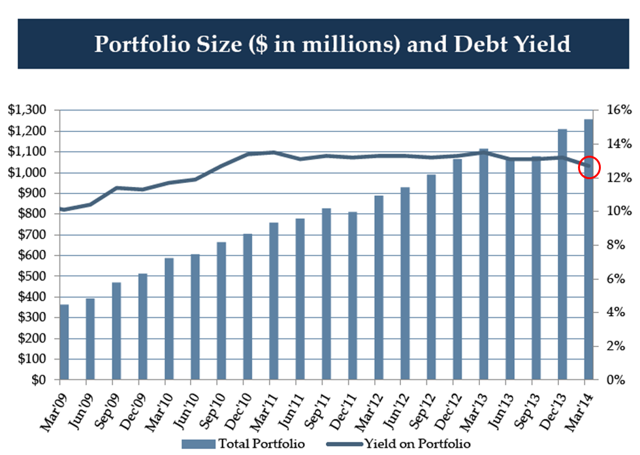 Click to enlarge
PNNT has not raised equity capital since 2012 and has been growing its portfolio using debt and now has a debt-to-equity ratio of 0.72 as shown in the chart below.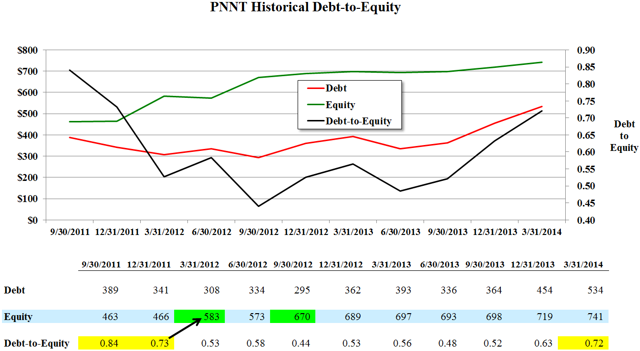 Click to enlarge
Other income has not been a major driver for PNNT and I consider this a positive since it can be lumpy and inconsistent for projecting BDC earnings. PNNT is an externally managed BDC that pays its Investment Adviser a base management fee of 2.00% of total assets less cash. Incentive fees are a standard 20% of pre-incentive fee income and gains, but for projection purposes I use core NII that excludes both income and incentive fees related to capital gains.
The following table shows the results for the most recent quarter along with projections at various levels of leverage and using a stable portfolio yield of 12.7% to determine the impacts on dividend coverage. Each of these scenarios assumes a full quarter of benefit from interest income but also a full quarter of interest expense, base management and income incentive fees.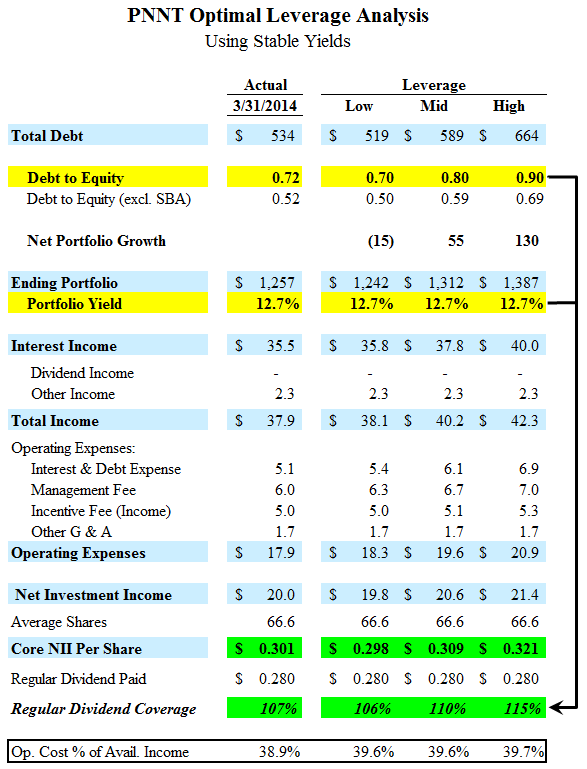 These scenarios assume the highest level of efficiency and actual results could be lower because there will always be some turnover in the portfolio (that could drive higher fee income). This analysis implies that the current dividend is sustainable.
Side by Side Comparison:
For the side by side comparison I will be using the amount of equity as of March 31, 2014 (or most recent) along with a debt-to-equity ratio of 0.80 and current portfolio yield to project income and expenses, tracking the following metrics:
Dividend coverage (using a debt-to-equity 0.80)
BDC expenses (as a % of available income)
'Available income' is total interest and fee income less interest expense from borrowings and is the amount of income that is available to pay management expenses and shareholder distributions. BDCs with lower expenses can pay higher amounts to shareholders without investing in riskier assets.
The following table compares the results from the previous table for PNNT to HTGC, FSIC, TCRD, TCPC, ARCC, NMFC, PNNT and MCC. As you can see PNNT has the highest base management fee of the companies that have been reviewed so far, giving it a higher 'operating cost as a percentage of available income.' At this point I believe TCPC, HTGC and FSIC have a much higher potential for dividend increases than the average BDC. I will continue to add more companies in the following articles.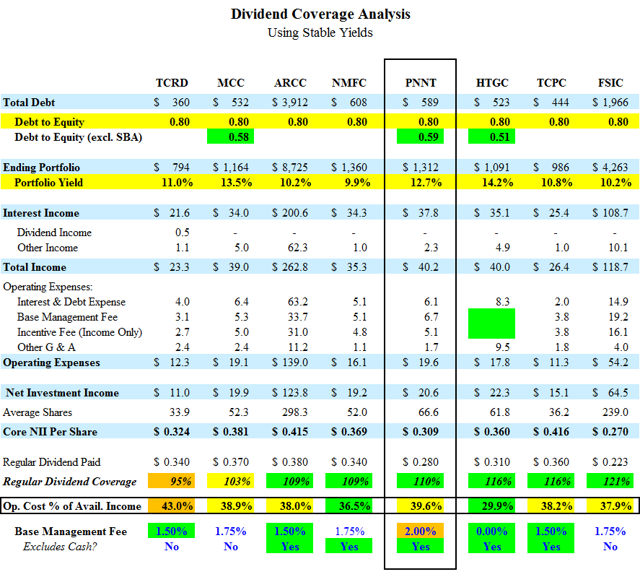 Click to enlarge
For more details including some of the potential variances to this methodology for assessing dividend coverage please see "Part 1" of this series. Investors should only use this information as a starting point for due diligence and to learn more about PNNT, please see "PennantPark Investment Articles" or for more information on BDCs see the following:
Disclosure: I am long MAIN, ARCC, FSIC, HTGC, TCPC, NMFC. I wrote this article myself, and it expresses my own opinions. I am not receiving compensation for it (other than from Seeking Alpha). I have no business relationship with any company whose stock is mentioned in this article.