On June 4th, the Bank of Canada hit the "repeat button" by maintaining its target for the overnight rate at 1%. The rest of the statement was not a repeat: it included a slight increase in bearishness from the Bank of Canada, which may in turn foretell a weaker Canadian dollar (NYSEARCA:FXC) in the future, especially when combined with net labor market dynamics that continue to stagnate.
Inflation has reached the Bank of Canada's target. Instead of celebrating an accomplishment that other central banks are struggling to hit, the Bank of Canada dismissed this turn of events as temporary:
Total CPI inflation has moved up to around the 2 per cent target, sooner than anticipated in the Bank's April Monetary Policy Report [MPR], largely due to the temporary effects of higher energy prices and exchange rate pass-through. Core inflation remains significantly below 2 per cent although it has drifted up slightly, partly owing to past exchange rate movements.
I am not sure whether the Bank of Canada is implying that it expects the exchange rate to strengthen and thus eliminate the inflation "dividend" or whether it is implying that the impact of the lower exchange rate is temporary. Hopefully, more clarity will come next month when the Bank provides its next full report on its outlook for the economy and inflation. I suspect the Bank still expects a lower exchange rate, given that it continues to look forward to an exchange-related boost to exports:
The ingredients for a pickup in exports remain in place, including the lower Canadian dollar and an anticipated strengthening of foreign demand. Improved corporate profits, especially in exchange rate-sensitive sectors, should also support higher business investment in the coming quarters.
The most significant part of the June statement came in the downgrade in the Bank's assessment of risks given economic prospects which suddenly do not look as good as previously anticipated:
Global economic growth in the first quarter of 2014 was weaker than anticipated in the MPR and recent developments give slightly greater weight to downside risks. The U.S. economy is rebounding after a pause in the first quarter, but there could be slightly less underlying momentum than previously expected…
The employment report on Friday, June 6, provided plenty of reason to keep a lid on the Bank's mood. The employment rate ticked up slightly to 7.0% as more people entered the workforce. More importantly, employment growth over the last year remains lackluster. The net growth of 86,000 jobs, and 0.5%, has all come from part-time employment according to Statistics Canada. The chart below shows that progress has essentially come to a halt since the beginning of 2013.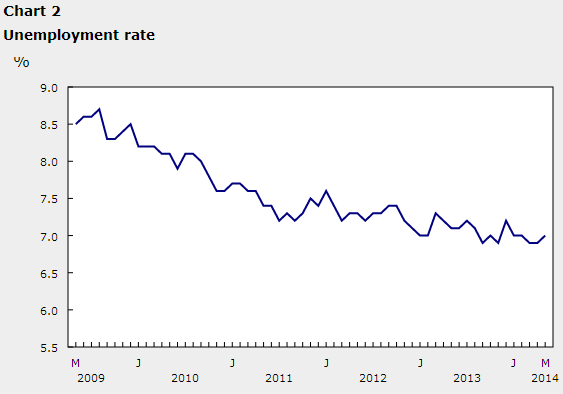 Canada has been unable to make a dent in its unemployment rate since early 2013
Source: Statistics Canada, Labour Force Survey, May 2014
These labor force growth characteristics compare unfavorably to those in the U.S. Canada still has a large edge over the U.S. in total employment relative to pre-recession levels. The post-recession advantage is similar to the last recession. Note how Canada has flattened recently, while the U.S. continues to grow. The data are through the end of 2013.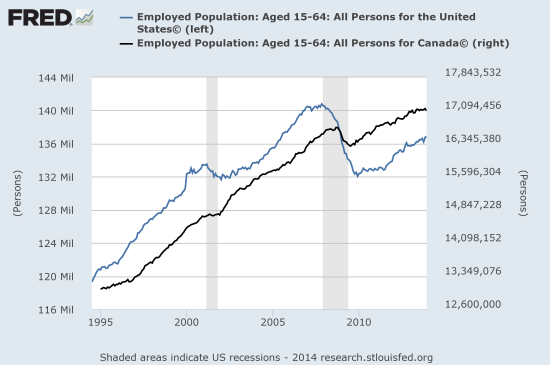 Comparison of Total Employed Populations Aged 15-64: US vs Canada
Source: St. Louis Federal Reserve through Organisation for Economic Co-operation and Development [OECD], "Main Economic Indicators - complete database", Main Economic Indicators (database), (Accessed on June 7, 2014). Copyright, 2014, OECD. Reprinted with permission.
Currency markets are all about relative differences, and the post-recession advantage of Canada has long since been priced into the exchange rates. Now, and going forward, the U.S. economy is the more dynamic one with more potential upside. Moreover, Canada still needs a lower exchange rate to get back on track with export growth. So, my bet continues to stay bearish on the Canadian dollar, and I continue to buy the dips for short-term/swing trades.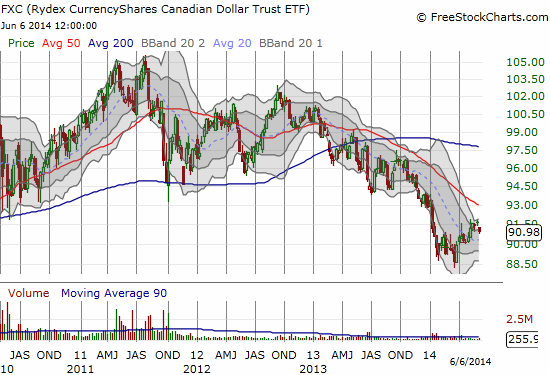 Despite recent bounce, CurrencyShares Canadian Dollar Trust remains in a downtrend in place since the unemployment rate stopped declining
Source: FreeStockCharts.com
Be careful out there!
Disclosure: In forex, I am long USD/CAD. I have no positions in any stocks mentioned, and no plans to initiate any positions within the next 72 hours. I wrote this article myself, and it expresses my own opinions. I am not receiving compensation for it (other than from Seeking Alpha). I have no business relationship with any company whose stock is mentioned in this article.