With intense negativity surrounding the company related to the data breach and its fallout, and with Target's (NYSE:TGT) stock down substantially in the last few months, the stock seems to be a likely contrarian pick, but contrarian logic is flawed when taken too far. A pullback and negativity are contrarian indicators of a possible opportunity, but there must be more to substantiate it. In the case of Target, I think the market consensus has it right this time.
Economics
I like where Target is and where it could go as a business. I don't think the company has scale, supply chain efficiencies, or low prices on the same level as Wal-Mart (NYSE:WMT), but the company scores well in each category. Target does have good prices, is still a very large company with nearly 1800 U.S. stores, and does have a sophisticated, integrated supply chain. People I know also seem to think the stores are cleaner and the products of higher quality than that of Wal-Mart. The majority of customers seem loyal, even in the face of the recent data breach. The company is also investing aggressively in new technologies in retail, like mobile ordering and PIN & chip credit cards. I don't think the company has an ultra-strong moat like Wal-Mart, but it does seem to have a strong competitive position in the U.S. Maybe 'narrow moat' is appropriate in this case.
I also see a few opportunities for the company through international expansion and an increased push in specialty grocery products. The company has almost 1800 stores in the U.S. and opened 124 in Canada last year. The Canadian stores have really struggled, but are apparently showing improvement. Other than that, the company has no other international presence. That is surprising for a company of Target's size, and a real opportunity that could become important very soon, as the company is having trouble finding suitable real estate in the U.S.
Retail is really tough, but there are certain high-growth niches to be exploited. The natural/organic/specialty grocery industry has and continues to grow at a high rate. From SFM 2013 10-K:
According to the Nutrition Business Journal, sales of natural and organic food have grown at a CAGR of 12.0% from 1997 to 2012, reaching a total market size of $54 billion in the United States and are expected to continue to grow to $113 billion in 2020, representing a CAGR of 11.3% from 2013 to 2020.
I am actually invested in this trend through The Fresh Market (NASDAQ:TFM). Here is a relevant portion of my article on TFM:
The specialty grocery industry is tough like almost all of retail, and getting tougher. It has gone from being seen as a niche market to now being in the crosshairs of giants like WMT and TGT. Target in particular seems to be making an aggressive push. I was in the store a few days ago and noticed lots of high quality, pre-seasoned, ready to cook meats, cheeses, nontraditional deserts like gelato, etc.

This niche-to-mainstream shift has really scared investors invested in the specialty grocers. The four publicly-traded firms have all declined a very similar amount since 10/25/13 (indicating the move in each stock is industry-related). The firms are down an average of about 43% in a little over 7 months.
As I mentioned then, Target seems to be making a push into natural/organic/specialty, and I think that is an excellent direction for the company. I think this aligns well with the company's demographic, which is slightly wealthier than Wal-Mart's. It also fits the brand. The company's motto is "Expect more, pay less," and I think there is an opportunity for a retailer of high quality specialty/natural/organic foods at low prices. Target's grocery business could move towards being almost a hybrid of Wal-Mart and Whole Foods (NASDAQ:WFM). It certainly would be a differentiated strategy.
Overall, in thinking about TGT's business position and prospects, I am being careful not to be overly optimistic. I am always highly skeptical of retail businesses because it is so tough, and Target is not best of breed, but Target seems well-positioned with opportunities ahead. "Narrow moat" and "cautious optimism" seem fitting here.
Timeliness
This is probably the most bullish element of the thesis and what initially drew me to the stock, though it does not require many words to explain. Target's stock is well off its 52-week high and below moving averages. I love buying after substantial pullbacks as a form of security, and in that case, right now seems to be the time to buy: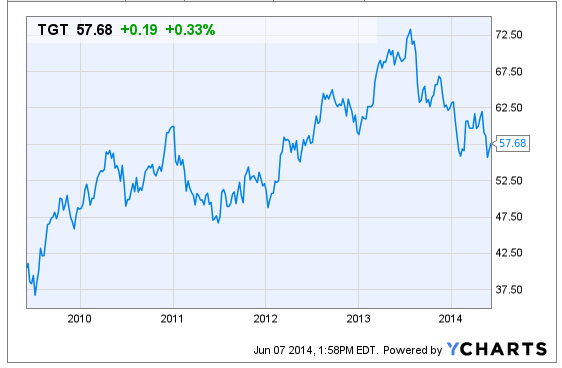 (Source: FinViz.com)
Performance & Valuation
Target has not performed well of late due to a poorly-executed entry into Canada and the data breach announced last December, in addition to lower revenue, margins, cash flow, comps, traffic, a guidance revision, etc. However, the company expects comp improvements in the next few quarters, and I expect other metrics will also revert in the next 3-5 quarters.
The company is and probably will continue to move to normal, but what is normal for Target? To get a better picture of normalized performance, I looked at longer-term charts and used trend lines.
Revenue has grown 5.5% annually since 2005. Margins have fluctuated. I think 5.5% revenue growth sounds about right going forward, and I am also assuming a normalized profit margin of 3.5%.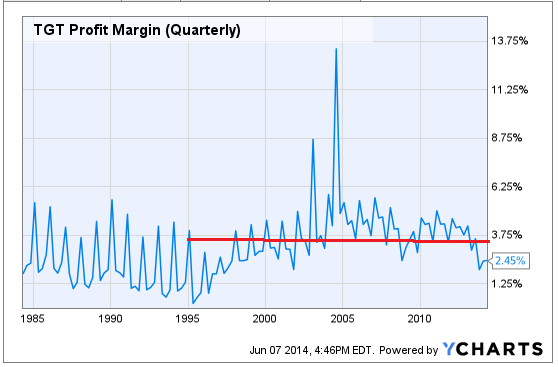 Based on the company's trailing $72.94B in revenue, normalized trailing profit is $2.55B. I think margins will remain stable at 3.5%, and so I expect net income growth to track the 5.5% revenue growth. The company pays a dividend that works out to a 2.98% yield at the current price and has reduced share count at a CAGR of -3.8% since 2005. The 5.5% net income growth combined with the share count reductions works out to 9.7%. Analysts expect long-term EPS growth of almost 12%, but this number should be expected to be higher than normal growth, as earnings are currently depressed. Based on 9.7% expected earnings growth and a nearly 3% yield, I think TGT stock would be really cheap and possibly worth buying at 10-12x my normalized net profit number, and fairly valued at 14-16x. At the current quote of $57.68, the stock trades at 14.43x my profit number. The stock seems fairly valued; maybe slightly undervalued, but nothing meaningful.
Negatives
The last thing I'd like to add is that Target's highly-publicized non-financial issues, the data breach and management transition, actually do hold some weight. I think the best contrarian opportunities occur when the negatives that the majority of the market is getting caught up on are completely temporary and overstated. With Target, the breach actually damaged the company in a material way as seen in the recent quarterly results. I think the traffic and comps decline that has resulted from the breach are temporary, but the CEO transition won't be, and it is unclear what the long-term impact to Target's brand will be. I do think the issue is overstated, but I also feel it is material. For that, I am just a little bit more reluctant to invest.
Conclusion
With lots of bad press and a steep decline in share price, Target seems an intuitive contrarian pick. However, being bullish on a stock just because everyone else isn't is flawed logic. The market consensus is often right, and I believe that is the case with Target stock right now. The company will likely return to earnings growth while paying an increasing dividend over the next few years, has a narrow moat and decent prospects, but the stock price seems to reflect all of that, and the negatives impairing the company actually do hold some weight.
Disclosure: I have no positions in any stocks mentioned, and no plans to initiate any positions within the next 72 hours. I wrote this article myself, and it expresses my own opinions. I am not receiving compensation for it (other than from Seeking Alpha). I have no business relationship with any company whose stock is mentioned in this article.