Global X's Colombia exchange traded fund is one of the top-performing funds of the year so far. Let's pull back the curtain and see what's driving it higher.
The Colombian economy, which is emerging from a slowdown last year, grew 4.4% in the first quarter, with the GDP expected to expand 5% for the second quarter of this year, says The Wall Street Journal.
Colombia's central bank foresees increased capital flows into the economy through early 2011 and expects inflation to remain within policy makers' long-range targets, despite the lowered pace of recovery for the globe, reports Helen Murphy for BusinessWeek.
Favorable terms of trade, larger capital flows, low international interest rates and a weak recovery in external demand for the country's non-traditional products, will work in favor for the Colombian economy.
The ETF Professor for Benzinga reports that Colombia is also bolstered by increased oil production and a government that has worked diligently to change the world's perception of the country. Formerly known for its illegal exports and Marxist rebels, Colombia is now a legitimate destination for international investment capital.
Global X/InterBolsa FTSE Colombia 20 Index (NYSEARCA:GXG)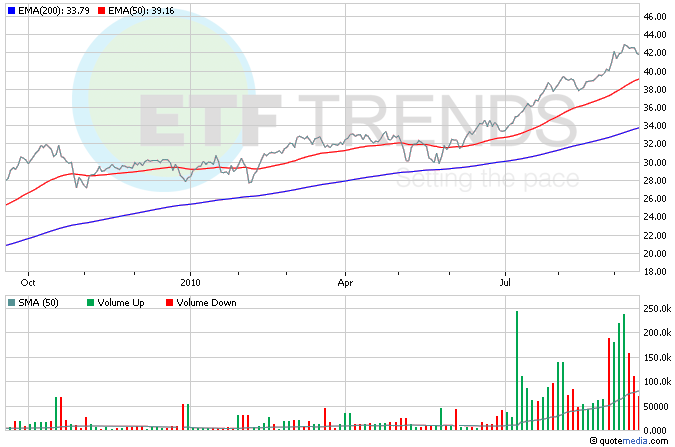 Tisha Guerrero contributed to this article.
Disclosure: None