The non-farm payroll report for May was heralded for marking the long overdue recovery of all the jobs lost in the last recession. Employment for residential construction is still a far cry from such a recovery. The May jobs number for this sector was flat month-over-month, exactly in-line with 2013′s April to May change and much better than the monthly declines seen from 2006 to 2011. Year-over-year growth was 7.7%.
The chart below shows how dramatically employment in residential construction still lags the overall job creation in the rest of the economy. In fact, total jobs in the sector remain well below the worst point of the last economic cycle. A recovery of all the jobs residential construction lost to the recession remains many years away even if the current torrid pace of growth somehow sustains itself. For example, if the trend growth rate from January, 2011 continued, it would take another NINE years just to get back to the roughly 896,000 in place right before the recession started. The trend growth rate accelerated around October, 2012. At that rate, it would still take another 3 1/2 years for the full recessionary recovery. (The historical data used in these estimates can be downloaded from the Bureau of Labor Statistics or the St. Louis Federal Reserve as shown in the chart below).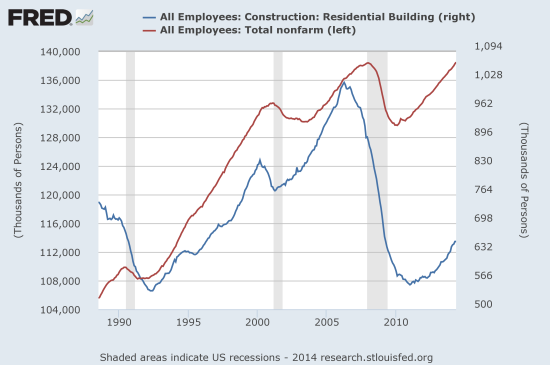 Residential Construction Significantly Lags Total Employment
Source: St. Louis Federal Reserve
The divergence in job creation is the most notable feature of the above chart. The share of total jobs is another angle to see the overall dramatic collapse in job creation for residential construction; its share of total jobs is STILL at historic lows (data available back to 1985). The vertical (left-hand) axis represents percent of all jobs.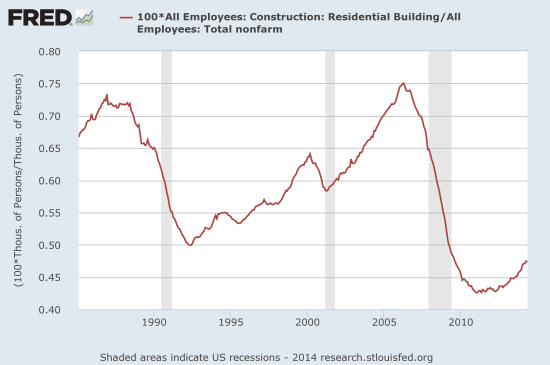 Residential Construction's Share of Total Employment Remains At Historic Lows
Source: St. Louis Federal Reserve
I think it is fair to say that the economy is far less dependent on housing than prior cycles. This detachment is probably a healthy feature, and perhaps it will even allow the current bullish cycle in the economy to last longer than it otherwise would with housing contributing a late cycle kicker.
So instead of looking to housing to lead the way, it is the general market providing the tailwind for housing. Indeed, the relentless march higher in the S&P 500 (NYSEARCA:SPY) seems finally to be spilling over to the stocks of home builders. Despite ongoing robust earnings performances for many quarters, homebuilders have essentially remained stuck in neutral for 2014. For most homebuilders, post recession peaks occurred in May, 2013; Toll Brothers (NYSE:TOL) is a notable exception, with a fresh peak occurring in March of this year. Lennar (NYSE:LEN) matched its post-recession peak in late February of this year. As I have argued before, the market apparently rushed to price in a long string of good results. The year-long consolidation will likely break to the upside if the general stock market continues higher (see previous posts like "Where Is The Risk? The Ironies And Tensions Between Low Volatility And Accommodative Monetary Policies" for my impression on the risks embedded in this run-up). For traders and investors feeling left behind, the lagging homebuilders provide a fertile ground for playing catch-up.
As I have pointed out in earlier posts, the 200-day moving average on iShares US Home Construction (NYSEARCA:ITB) is a key pivot to monitor. Sure enough, the 200DMA has held up and a slow breakout higher seems underway.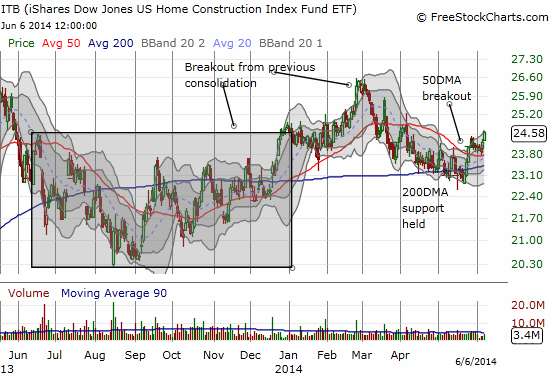 iShares U.S. Home Construction is waking up again
The iShares US Home Construction severely under-performed the S&P 500 until the sell-off in 2011, where ITB looked ready retest the historic March 2009 lows. The chart below shows ITB is behind the S&P 500 again…and ready to catch it again.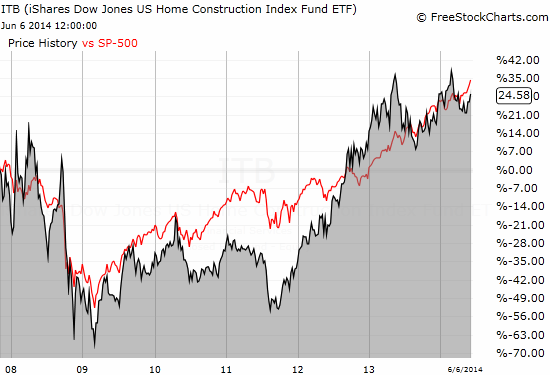 Time for ITB to soar past the performance of the S&P 500 again?
Source for charts: FreeStockCharts.com
In previous posts, I have pointed to the steady decline in short interest on ITB as a reason for optimism. I neglected to compare simultaneously the short interest in SPDR S&P Homebuilders ETF (NYSEARCA:XHB). XHB is misnamed, as it includes a lot of different housing-related stocks beyond homebuilders. Its average daily volume is roughly the same as ITB (using data from Yahoo Finance), so the two are likely just as closely watched and deserve equal attention. It turns out that ITB shorts were likely not just leaving for more fertile ground among waning momentum and related high-multiple stocks. Instead, it seems even more likely they switched bets to load up on XHB. (Interestingly, the open interest put/call ratios for both indices are well off 2013 peak levels according to Schaeffer's Investment Research).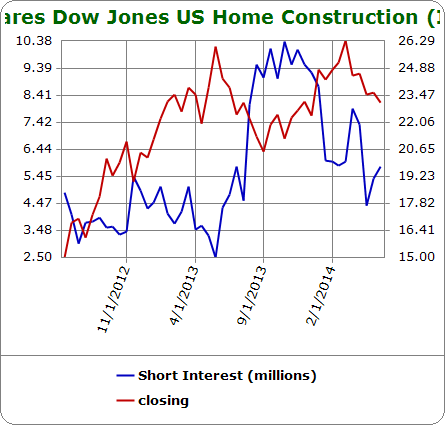 While shares short remain elevated compared to 2013, bears have generally backed away from ITB in 2014.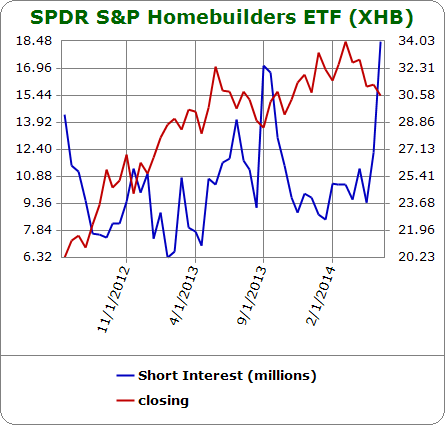 …but bears have congregated around XHB instead
Source for charts: Schaeffer's Investment Research
Wide swings have marked shares short in both ITB and XHB. Shares short in ITB are down 33% this year and were down as much as 50% as recently as mid-April. Shares short in XHB are at least at two-year highs and have essentially doubled in just a month. The last time shorts tried to chase a downward move in XHB this late in the trend, XHB bottomed out (see early September, 2013). History need not repeat itself, but these dynamics are powerful enough to warrant monitoring.
I strongly suspect the latest rush to short XHB comes from a recommendation from Jeffrey Gundlach who in early May, touted the trade at the 19th annual Sohn Investment Conference as a contrarian move to an "overbelieved and overrated" sector. My impression is quite the opposite, especially after Janet Yellen shortly thereafter cited her disappointment in the housing recovery so far this year in her report on the economic outlook before the Joint Economic Committee of the U.S. Congress. Indeed, the rush to short XHB shows the readiness to adopt the bearish viewpoint. It will be interesting to see whether Bill Miller's counterpoints about 10 days later cools the heels of the shorts. The net result should say a lot about true sentiment in the sector.
I hope to compare and contrast the points made in the debate among the bigtime institutional investors in another piece. I particularly want to address Gundlach's point about potential supply coming from aging Baby Boomers as I have written numerous pieces on this topic over the past year. For now, I will say that I think it is important to separate out the average or aggregate housing market dynamics from the much more focused business practices of homebuilders who remain scarred from the housing bust and are acting accordingly. I also like to keep in mind that housing is locked into the very early stages of a recovery (for example, the relative depressed state of housing jobs as shown above) that will continue to drag out longer than historical norms and so should produce bumpiness that can easily get misinterpreted as an imminent return to a bust.
In the meantime, a tailwind from the general market will likely blow housing-related stocks higher no matter how these debates play out in the short to intermediate term. Already, D.R. Horton (NYSE:DHI) is closing in on its 2014 high. Other homebuilder stocks have much further to go and will likely get snapped up at a faster pace by traders playing catch-up. Next to the seeming budding recovery in "momentum" stocks, homebuilder stocks could be high on the list of stocks to watch in the tailwinds of a summer rally. (For some historical perspective on summer rallies in the stock market, see my 2011 piece titled "Summer's Positive Gains Can Come With High Risks").
Be careful out there!
Disclosure: I am long ITB and TOL through call options and am long DHI. I wrote this article myself, and it expresses my own opinions. I am not receiving compensation for it (other than from Seeking Alpha). I have no business relationship with any company whose stock is mentioned in this article.