By Anil Daka
After a period of gradual consolidation, followed by Boeing's (NYSE:BA) acquisition of McDonnell Douglas in 1997, two main assemblers, Boeing and Airbus, have dominated commercial aviation. While a duopoly might seem to indicate a strong buyer power over suppliers, assemblers have a symbiotic relationship with their supply chain, leading to competitive advantages for both suppliers and assemblers. Further, with new manufacturers from China and Russia looking to challenge the duopoly, assemblers appear to have a fight on their hands.
Aircraft manufacturers choose the parts of the value chain they would like to own, outsourcing the rest. This classic "make or buy" decision is a result of what the firm considers its core competency and the financial benefits associated with either decision. Staying vertically integrated has its benefits. By controlling the entire supply chain, firms minimize project delays and can respond quickly to production challenges. However, vertical integration is capital-intensive and entails large fixed costs. Moreover, when the product needs to be technologically advanced, no firm has the wherewithal to handle the entire risk itself. Prudence suggests outsourcing risk to supply chain partners.
Modern aircraft integrators realize the benefits of outsourcing and rely on a complex global supply chain to manufacture aircraft. For example, General Dynamics (NYSE:GD) is using this approach to maintain an extremely lean operation at its G650 plant in Savannah, Ga. Likewise, Lockheed Martin (NYSE:LMT) collaborated with Northrop Grumman (NYSE:NOC) and BAE Systems (OTCPK:BAESY) to win the Joint Strike Fighter competition. Northrop provides the stealth technology and manufactures the center fuselage, while BAE Systems brings in short take-off/vertical landing experience. Lockheed makes the forward fuselage and functions as the final integrator. In a telling move, Boeing sold its aero structures manufacturing division, Boeing Wichita, to Onex Corporation in 2006 to focus on its core business. This division currently trades publicly as Spirit AeroSystems (NYSE:SPR).
The consequence of such outsourcing is that the assemblers depend on supply chain partners for key technologies. Today, GE (NYSE:GE), Rolls Royce (RR), and Pratt and Whitney dominate the engine scene, while Rockwell Collins (NYSE:COL) and Honeywell (NYSE:HON) provide avionics. Hamilton Sundstrand and Ametek (NYSE:AME) supply electrical systems, while Crane (NYSE:CR) and Goodrich (NYSE:GR) are the key players in designing braking systems. Such mutual reliance ensures economic profitability for both assemblers and suppliers.
When aircraft manufacturers outsource manufacturing, they retain asset-light operations like design, integration, and certification. Activity in these parts of the value chain involves labor-intensive asset-light operations like research, supply chain management, and testing. This would imply that with adequate human resources and relatively little capital, new entrants could successfully manufacture aircraft, or older firms could expand their products.
A consequence of this dynamic is evident in older players like Bombardier (C Series) and Embraer expanding their offerings while new companies from Russia (MS 21 and Sukhoi Super 100), China (ARJ 21, COMAC 919), and Japan (Mitsubishi Regional Jet) are looking to compete in the narrow body category.
Selling an airplane is not easy. After all, capable players like Lockheed and General Dynamics decided civilian aircraft manufacturing is not their cup of tea. Indeed, airlines prefer buying planes from firms like Boeing and Airbus, which boast established product lines and have a long history of successful aircraft. However, two factors are contributing to the possible success of new entrants.
As technology improves, established designs like the A320 and Boeing 737 can accommodate some improvements but cannot include design changes without significant rework. A prime example of this situation is the geared turbo fan engine that promises about 15% better fuel consumption, 20% lower emissions, and 20 decibels lower noise levels. In this instance, while Bombardier and Mitsubishi could accommodate this technology for the C series and MRJ, Boeing and Airbus will need to redesign existing offerings to do the same. Further, while switching costs prevent established airlines from trying new products, startups and fast-growing carriers in emerging countries do not have the same obstacle.
We note that although new players are entering aircraft manufacturing, their reliance on the current supply chain is undiminished. For example, COMAC relies on Western aerospace suppliers almost entirely, using Chinese components only for the empennage and fuselage. (Click to enlarge)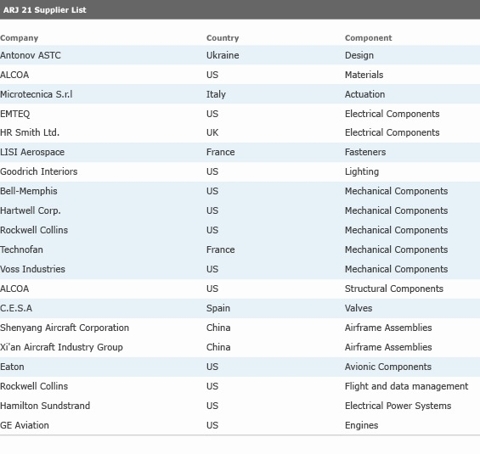 Source: Airframer.com, Morningstar
Russia's United Aircraft is following a similar route for export versions. Aircraft component manufacturing is on a constant upgrade cycle, and most manufacturers reinvest a significant portion of their earnings in product research. Increasing fuel efficiency standards, pollution norms, and higher safety standards requires significant product expertise. New players do not possess the knowledge and resources to challenge incumbents, and we think barriers to entry are still high in the aerospace supply chain.
Disclosure: Morningstar licenses its indexes to certain ETF and ETN providers, including Barclays Global Investors (BGI), First Trust, and ELEMENTS, for use in exchange-traded funds and notes. These ETFs and ETNs are not sponsored, issued, or sold by Morningstar. Morningstar does not make any representation regarding the advisability of investing in ETFs or ETNs that are based on Morningstar indexes. Tim handles their stock strategist posts (separate feed) if you need help formatting or have other Morningstar-related questions.