With the proliferation of information, the market has become exceedingly more efficient. Securities are repriced to reflect new developments in a matter of seconds. Although in many occasions this efficient mechanism works perfectly, it sometimes leads to mispricings. Either sentiment turns overly negative or the true risk exposure is not taken into account. When these circumstances occur, investors can profit by capitalizing on them. Diamond Offshore Drilling (NYSE:DO) is a company that certainly falls under the former category and presents a ripe buying opportunity.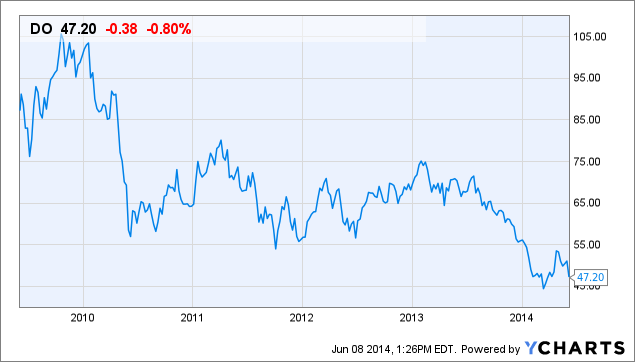 About Diamond Offshore Drilling
Diamond Offshore Drilling provides contract drilling services to the energy industry around the globe. The company has a total fleet of 45 offshore drilling rigs of which 7 are under construction. Their fleet consists of 33 semisubmersibles, 2 of which are under construction, 7 jack-ups, 1 of which is for sale, and 5 dynamically positioned drillships, 3 of which are under construction. Since 2009, the company has committed over $5 billion towards upgrading its fleet.
Offshore Drilling Market Outlook
Analysts are projecting a downcycle lasting around two years for the offshore oil and gas drilling industry. The reason for a pessimistic outlook is two-fold. First, projections are mounting that oil companies will seek to reduce expenditures which will slow exploration and production spending. Second, analysts believe that the market for jack-up drilling units is oversupplied. After the near term slowdown, consensus is that the industry will experience an up-cycle in the second half of 2015 or the beginning of 2016.
Management Insight
DO's Chairman of the Board, James Tisch, outlined this cyclicality in the annual report:
"The past year, however, reminds us that offshore drilling tends to be a cyclical industry, and we are currently seeing indicators of weakening business fundamentals."
He further goes on to say that dayrates have come under some pressure and the duration of contracts has been reduced to 2-3 years rather than the 5 year opportunities that were prevalent in the past few years.
However, management has positioned DO to capitalize on this cyclicality:
"Our strong and flexible balance sheet, among the least levered of our industry peers, should position us to take advantage of future opportunities."
DO has only $2.5 billion in long-term debt compared to the staggering $13.9 billion for SDRL. This downturn could result in a scenario where others in the industry have trouble servicing their large debt loads and will sell off assets in order to stay afloat (no pun intended). So it is clear that DO's management has prudently positioned DO to take advantage of the cyclicality in this industry.

Limited Jack-up Exposure
There is a significant divergence between the revenue and ultimately operating income derived from floaters and jack-ups for DO. In Q1 of 2014, floaters accounted for 93% and 94% of revenue and operating income respectively. Jack-ups on the other hand only represented 7% and 6%.
Part of the bear argument for offshore drillers is that jack-ups are being oversupplied which will compress average daily revenue charged for them. Since jack-ups are such a miniscule segment of their business, this negative sentiment is not warranted for Diamond Offshore Drilling. To put this into perspective jack-up revenue for a major competitor, Sea Drill (NYSE:SDRL), was nearly 30% of total revenue in the last quarter.

Aging Fleet
The most prominent bear argument centered around DO specifically is that its fleet is aging which requires more funds for maintenance and lowers the rates it can charge.

As you can see, much of DO's fleet is in fact quite aged, more specifically, jack-ups and midwaters (A full list of the fleet can be found below). Luckily for DO, the oversupply of jack-ups coupled with a lower revenue outlook for the industry in the short-term could create an opportunity to purchase these assets at distressed levels.
The Chairman of the Board, James Tisch, hinted at this in the annual report:
"Over the years, we have employed a strategy of taking advantage of industry cyclicality to make opportune investments at times of distress, or when others are unwilling or unable to acquire assets"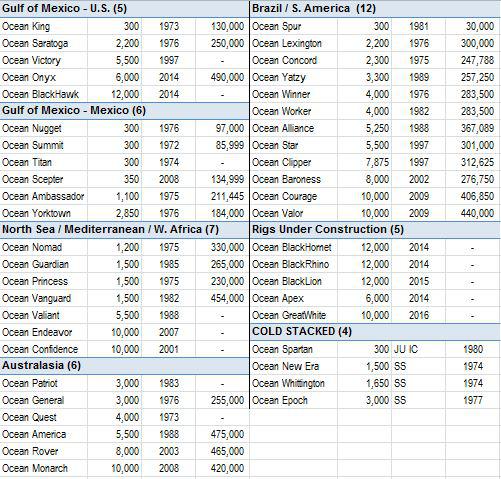 Source: 2013 Annual Report
Conclusion
The market has overly priced in negative sentiment and short interest has subsequently risen to near all-time highs for DO. In the industry DO has limited jack-up exposure and its balance sheet is in great shape to rejuvenate its fleet. Although it is speculative to assume the successful acquisition of distressed assets, I believe the market direction along with DO's superior financial position provides an likely scenario where this will occur. In that event, with such high short interest, a short squeeze could facilitate a substantial run-up for this stock.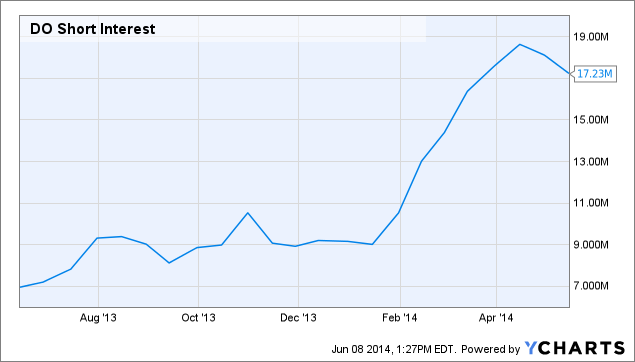 Disclosure: I have no positions in any stocks mentioned, and no plans to initiate any positions within the next 72 hours. I wrote this article myself, and it expresses my own opinions. I am not receiving compensation for it (other than from Seeking Alpha). I have no business relationship with any company whose stock is mentioned in this article.