Franklin Covey Company (NYSE:FC) is a consulting/educational company that provides execution, leadership, and personal effectiveness training. In other words, it helps its clients, individuals and organizations, to perform and execute at the highest level. Over the years, it provided its products and services to 97 of the Fortune 100 companies.
You might think that because the company helps others achieve success, it must be a dream-come-true for investors like you and I. Well, if you think this, you will be surprised to learn that ever since it became Franklin Covey, it has delivered horrible performance to its shareholders.
History
The company was founded in 1981 by Hyrum Smith, who read Benjamin Franklin's autobiography and was inspired to build a time management and motivational seminar business based on Franklin's teachings. He originally named the company Franklin Institute.
From 1983 to 1990, he spent most of his time traveling the country and giving seminars. His efforts built the company's reputation and helped its fabulous performance during the late 1980s and early 1990s. This was a good time for time management and motivational seminars because U.S. corporations were struggling with foreign competition. They were searching for solutions that Franklin Institute was providing.
In 1984, the company introduced the Franklin Day Planner to be used with the offered time management system. It became a real money maker as the growing base of customers would purchase refill materials every year.
In 1985, Smith decided to open a local retail store to sell the Day Planner and other related merchandise. The store turned out to be a success, so he opened many more stores situated in high-traffic areas, such as malls, because he wanted to attract walk-in customers.
In 1992, Franklin Institute went public and changed its name to Franklin Quest. The purpose of going public was to raise money to purchase companies that would diversify Franklin's training and seminar business.
Over the next two years, Franklin Quest expanded into new markets and increased the sales of existing products and seminars.
Unfortunately, in 1995, the company's growth hit a roadblock. For the first time since going public, the company missed its earnings estimates, and this caused the stock to lose a third of its value. To fix this problem, the management decided to buy itself out of the predicament through acquisitions.
In 1997, it merged with the Covey Leadership Center, which was founded in 1980 by Stephen Covey, the author of the best-selling book The 7 Habits of Highly Effective People.
Upon the merger, the company became Franklin Covey Company.
This was supposed to be a perfect marriage between the time management guru and best-selling efficiency guru. With all their knowledge, they were going to make shareholders very happy.
Performance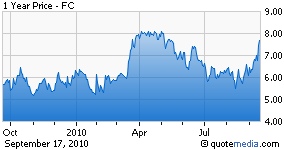 Unfortunately, the merger turned out to be a complete disaster. Ever since becoming Franklin Covey Company, the company destroyed shareholders' value and stock holders paid a huge price because they lost 99% of their investment from the time of the merger to 2003.
Instead of creating synergies, the company failed to eliminate overlapping jobs and kept operating two headquarters. This increased overhead and destroyed margins.
In 1999, operating earnings decreased 94 percent from the previous year even though revenues increased.
Soon, the board of directors removed the two gurus, Smith and Covey, from executive positions and assigned them titles of non-executive vice-chairmen. The board figured that they were much better at teaching others how to achieve success than actually achieving it themselves.
In 1999, Robert Whitman became the CEO. He was supposed to be an interim CEO but he is still the CEO today. Ever since he took over, he has been reorganizing the company through activities such as selling non-core businesses.
Operationally, it doesn't seem like much has improved. Actually, sales decreased from $572 million in 1999 to $130 million in 2009. Shareholder's equity decreased from $378 million in 1999 to $69 million in 2009.
Conclusion
It is really amazing that a company that teaches others about success delivers such terrible performance to its own shareholders.
However, based on the most recent conference call, it appears that the company might finally be turning around. The stock market obviously agrees with this because the trading price has increased tenfold since its lowest point in 2003.
I wish that the management would apply their own teachings on how to execute better and begin delivering value to its shareholders.
Disclosure: None