Google (NASDAQ:GOOG) continues to prove itself as one of the most powerful technology innovators of the 21st Century.
New Satellite Venture
During the past several years, Google has been exploring alternative wireless technology. One concept under serious consideration is an army of very low orbiting transceivers.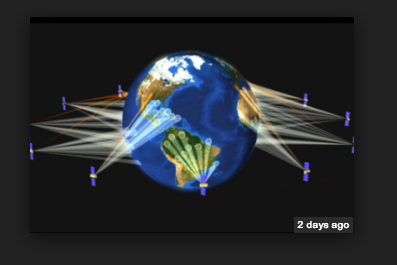 (Concept can be found here.)
As noted in the MIT Technology Review, Google plans to invest $1 billion in 180 satellites, helping provide Internet access to rural and developing areas. This both competes with and supports Facebook's (NASDAQ:FB) Internet.org initiative.
Competitor and Collaborator
When Google provides access to areas with low connectivity, a ripple effect is often produced, bringing increases in speed and decreases in price overall.
According to Rob Faris, of Harvard's Berkman Center for Internet & Society, if Google begins to enter countries with simple, sluggish, and government-controlled systems, such as North Korea and Burma, "that could be a game changer for a huge swath of the globe."
While Google search hits would obviously increase with more Internet users, this could coincidentally also boost users for Facebook and other tech/media/social giants, which rely on Internet connectivity.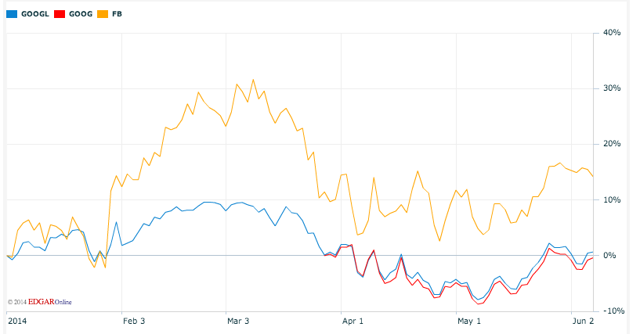 Click to enlarge
(Nasdaq.com)
AT&T Analogy
Just as AT&T (NYSE:T) was well aware of wireless telecommunications used successfully as far back as WWII for military purposes, we know Google is aware of current SAT phone technology. Having openly explored various alternatives and reportedly now hiring people with satellite engineering capabilities, solid innovative concepts are evidently crystallizing at Google.
Google Could More Than Double Its Search Users
Currently just 40% of the world now uses the Internet. This shows the potential for Google to more than double its search users.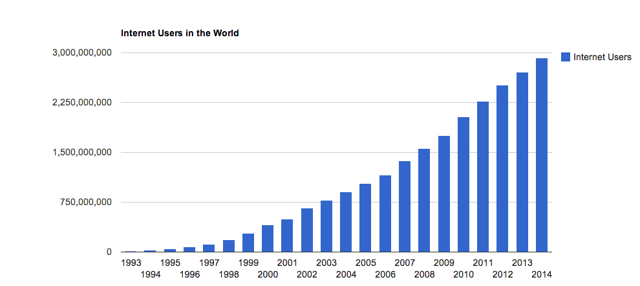 Click to enlarge
(Source)
By region, Asia has the largest number of users, followed by Americas (North and South combined).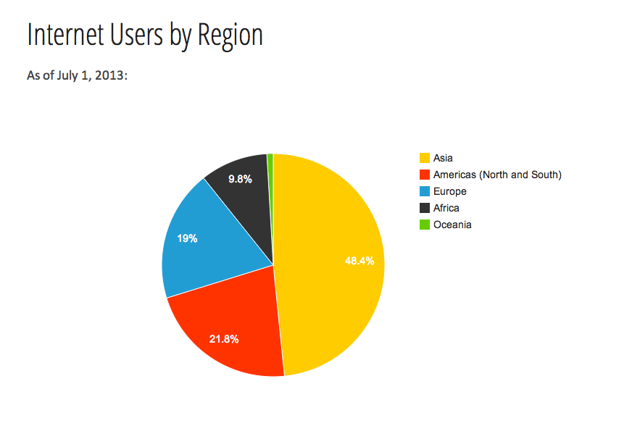 Click to enlarge
(Source)
Additional Avenues
With some analysts estimating Google's free cash flow this year to be as high as $17.5 billion (on top of its $59 billion), it is very well positioned to make strategic new investments and develop technologies, such as its satellite fleet.
Additional avenues Google could go down include:
· Acquiring Wi-Fi providers, such as Boingo Wireless (NASDAQ:WIFI), iPass (IPASS), Gogo (NASDAQ:GOGO) and Ruckus (NYSE:RKUS)
· Building out its wearable products by buying companies like STMicroelectronics (NYSE:STM) and/or QuickLogic (NASDAQ:QUIK), along with Splunk (NASDAQ:SPLK), which helps analyze the data wearables could generate.
· Boosting its own speech-recognition technology by purchasing Nuance Communications (NASDAQ:NUAN)
Conclusion
The power of Google's satellite fleet to boost search hits is enormous. With access to the world's information, users in nations with previously slow, government-controlled, and/or simply sluggish systems will likely quickly ramp up their Google searches to learn and connect with the larger world.
This could be particularly key in China, the world's largest group of Internet users, as the government has currently banned Google.
While Q1 earnings were lower than expected, Google's large cash position will continue to serve it well as its acquisitions take time to return their purchase price.
Shareholders should be pleased that Google has demonstrated an invaluable core competency, while continuing to invent itself again and again, through constant new product and service implementation.
We are very positive on Google moving forward in 2014.
We invite readers wishing to join the discussion on Google, Facebook, and global Internet usage should click the +FOLLOW button above the title of this article and follow @DRDInvestments on twitter.
Disclosure: I have no positions in any stocks mentioned, and no plans to initiate any positions within the next 72 hours. I wrote this article myself, and it expresses my own opinions. I am not receiving compensation for it (other than from Seeking Alpha). I have no business relationship with any company whose stock is mentioned in this article.