I was wrong about Apple (NASDAQ:AAPL). Despite its surging stock price, its longer term outlook is worse than I thought.
Apple's fiscal Q2 performance has been the subject of a lot of ink, the latest being a review by DazeInfo which reported a Needham & Company LLC assessment of the mix of iPhones sold during the period.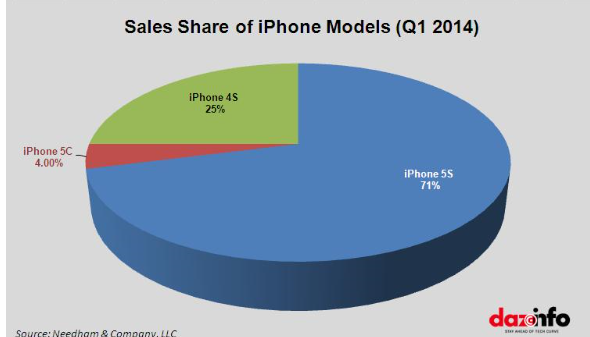 The data are revealing. 71% of the sales were the very popular iPhone 5S and another 25% the iPhone 4S put back into production for discounted sales to Brazil, Indonesia and India. Given Apple sold 43.7 million iPhones during the quarter, and applying the percentage mix from Needham, we can get a picture of how the Q2 sales of iPhones shaped up.

Source: Blair analysis
The data suggest that the iPhone 5C just can't find a market, making up only about $1 billion of sales. The ageing iPhone 4S was quite popular no doubt owing to its being priced in the $349 range, a price point Apple has never really served before. If Needham is correct, almost 11 million of the iPhone 4S devices were sold in the quarter.
Had Tim Cook not decided to launch the low cost iPhone 4S in developing markets, the Q2 results would have been seen by most as a bit of a disaster. As it was, the move was either genius or evidence of panic and we won't really know which for a couple of quarters.
It seems Cook was waking up to the fact that global growth in smartphones has stalled in North America, Europe and Japan, and growth has shifted to China, India and the BRIC countries. Selling over 10 million iPhone 4S units (largely into those BRIC markets I presume) allowed Apple to report an unexpectedly solid Q2 which propelled the stock to a 20% gain in a few weeks.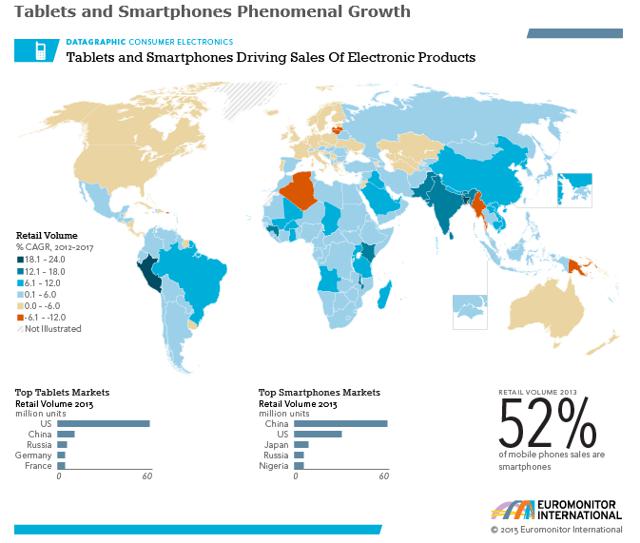 Source: Euromonitor International
The gambit paid off but it also demonstrated the importance of a cost competitive product in emerging markets. According to Needham, Apple's low priced iPhone 4S made up 25% of its Q2 sales. With growth now concentrated in emerging markets, that percentage is likely to grow and with its growth average selling prices and margins will fall sharply.
It is worth looking at each of those emerging markets for a moment.
Brazil
Apple has been an also-ran in Brazil for quite some time ending 2013 with a market share in the 4% range, about tied with Windows OS phones.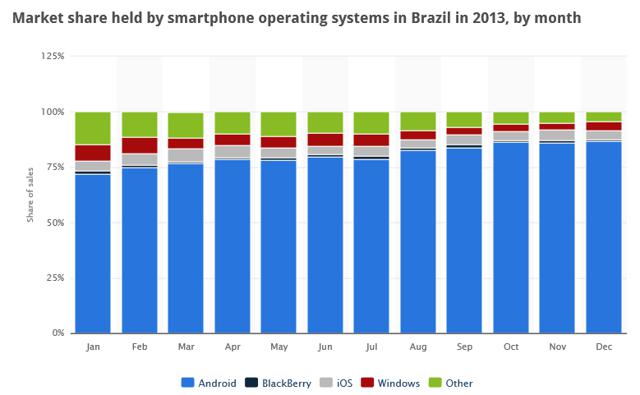 Source: Statista
That weak showing took place despite drastic cuts in iPhone prices in early 2013.
Brazil is the largest of the Latin American markets based on internet usage comprising almost 40% of the total, and likely the area's largest mobile market.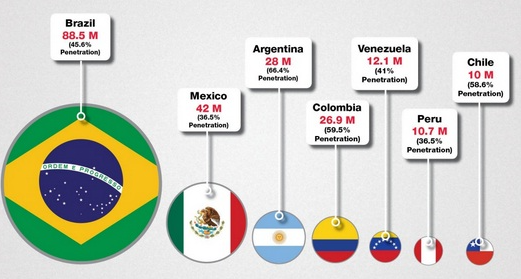 Source: PulsoSocial
Apple's historically weak performance in Brazil has been a direct result of its pricing in the region, in my view, with Brazilians being asked to pay double what an iPhone sells for in the United States.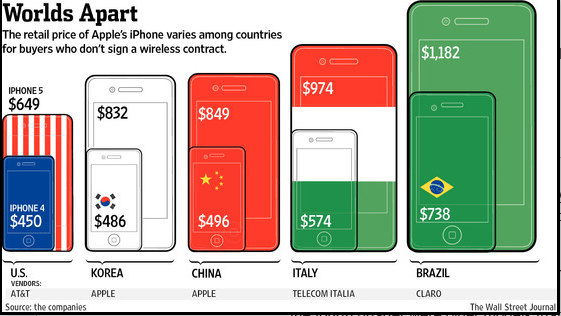 The re-launched and discounted iPhone 4S made some inroads in Brazil according to Tim Cook who highlighted Apple's progress in Brazil in his earnings' conference remarks. Having said that, it was growth in the market in Brazil that accounted for Apple's sales uptick, if you believe the latest data from Kantar Worldpanel which show Apple still losing share in Brazil with 3% in March versus Windows OS phone which has risen to 5.5%.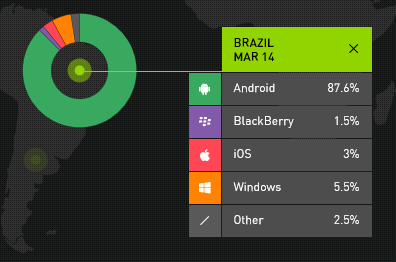 Source: Kantar Worldpanel
The iPhone 4S at $349 more or less may have bought Apple some volume in Q2, but it will not have legs based on the stiff competition from Android and Windows, both of which seem to have the wind at their backs while Apple struggles in the country.
India
Apple's efforts to gain some ground India follow 2013 in which iPhone sales in the country totaled some 460,000 according to reports. That compares to 19.6 million units sold into China in 2013 and 1.4 million sold into Brazil.
Apple's market share in India of 7% in the December quarter of 2013 was less than Sony.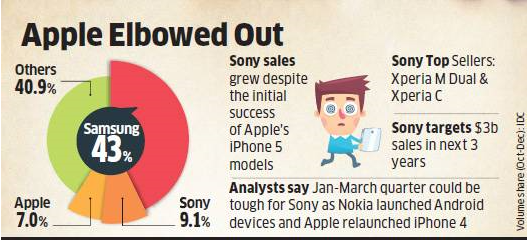 Source: Dazeinfo
For the year as a whole, Apple missed the cut for the top three spots which went to Samsung, Micromax and Karbonn.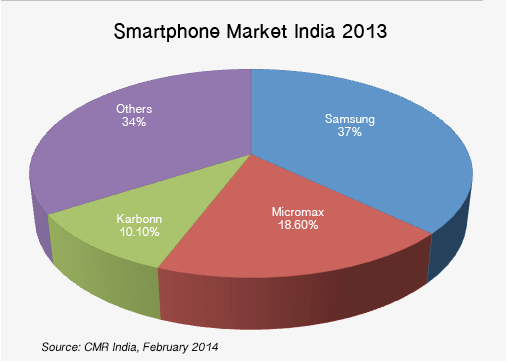 Indian customs web site Zauba.com's records show that iPhone 4S shipments into India, while growing, remain at about 25,000 to 30,000 a month, which is not enough to move the Apple needle very far.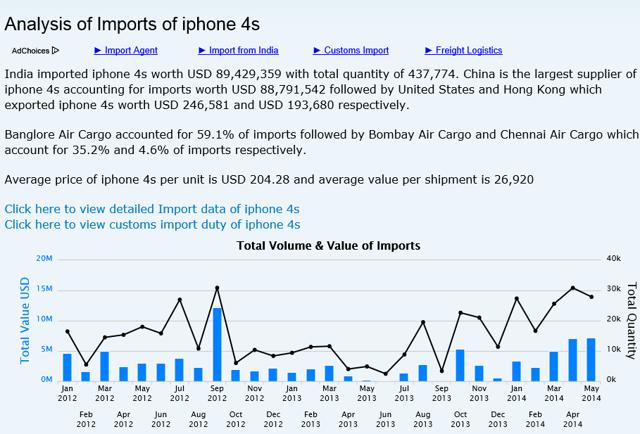 Source: Zauba.com
Of course, Apple also sells its flagship iPhone 5S into India, but those volumes have been dropping sharply and in May amounted to less than 20,000 units.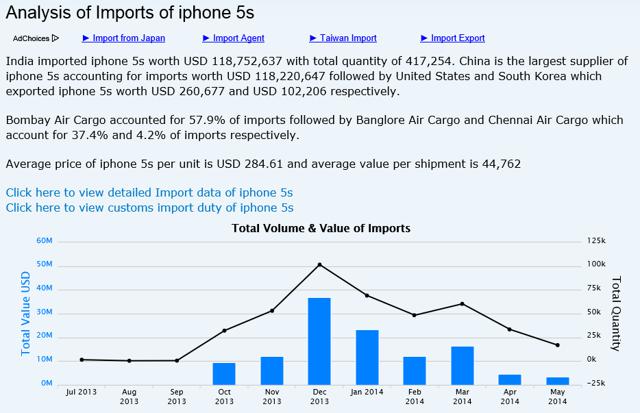 Source: Zauba.com
With India very likely to become one of the largest smartphone markets in the world and Apple barely present, the outlook for Apple's worldwide market share and volumes is bleak.
Indonesia
The smartphone market in Indonesia is growing rapidly.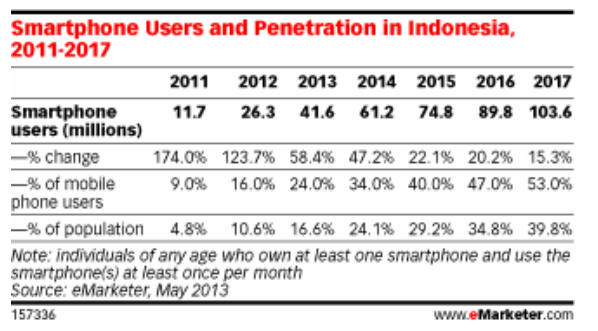 Source: eMarketer
Within that market, iOS has not been a factor with its 3% market share dwarfed by Android and BlackBerry (NASDAQ:BBRY) and the more recent growth of Windows OS phones in the country.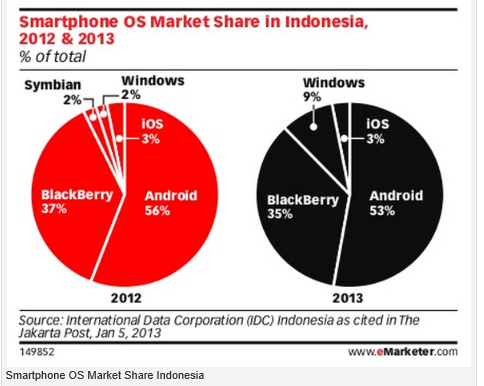 Source: NextWebTechnologies
Apple's Q2 reported strong double-digit sales gains for iPhones in Indonesia according to reports. Double digit gains from a base of a 3% market share is unimpressive in absolute terms and more so when you consider that Apple was offering a deeply discounted iPhone 4S to Indonesian users.
Q3 Outlook
The market eagerly awaits the iPhone 6 launch likely to take place sometime this fall. I would expect many iPhone buyers will wait to see what the new device offers and the deferral of those purchasers will weigh on unit sales in the June quarter. That phenomenon should not impact sales of the iPhone 4S in developing markets since consumers opting for a deeply discounted older iPhone 4S are not prospective buyers of an iPhone 6 in any event.
Morgan Stanley's Katy Huberty recently reported from a trip to China that while smartphone shipments into China rose 37% in the March quarter actual sales to end users fell 9% with the balance piling up in carrier inventory. Apple recognizes revenues when the devices are shipped to carriers rather than when purchased by end users. The inventory pile up in China helps explain why Apple's Q2 was as strong as it was and why my forecast of iPhone sales was well below the 43.7 million Apple reported. As it turns out, it seems likely that sales of iPhone 4S made up the volume beat while shipments to China inventory made up the margin. These factors correct themselves in future periods.
Strong demand for the iPhone 6 could swamp the numbers and give Apple a pass in Q3 if high enough to offset the correction for the Q2 inventory accounting impact. If not, the numbers might be revealing and unpleasant for the bulls.
Huberty also updated her forecast for 2014 calling down the China market to 447 million units with a 5% reduction in demand for branded smartphones; reducing her sales forecast for smartphones in Japan by 7%; and increasing her forecast for North American sales by 5%.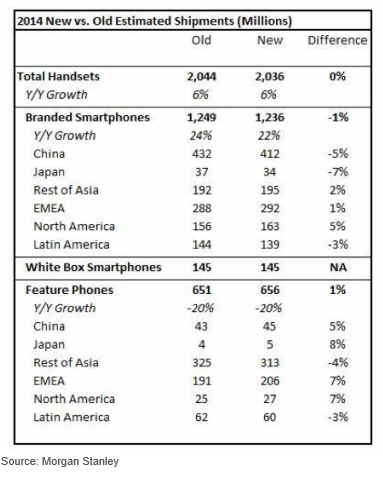 What I see project for Q3 is about 33 million iPhones sold worldwide with 9 million of those the low priced iPhone 4S.

Source: Blair estimates
For Apple's fiscal year as a whole, I come up with just short of 160 million iPhones worldwide based on Huberty's assessment of demand and my estimates of Apple's market share by region.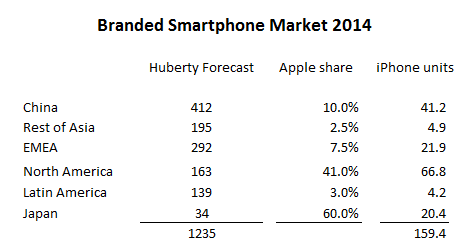 Source: Blair analysis
While that forecast is a year over year gain of about 8 million units for Apple, over 30 million of those units comprise iPhone 4S devices sold at a discounted price with some further price erosion to clear slow moving iPhone 5C units and an inventory mix shift reducing the effective price of iPhone SS marginally. The result is that revenues from iPhones would be flat year over year despite the volume increase.

Source: Blair analysis
Those numbers will improve if the expected iPhone 6 makes it into the market before September 30, 2014 at a higher price than currently charged for the iPhone 4S.
Longer-term outlook
The forces that suggest lower selling prices and margins for smartphones are hard to rebut. Both Samsung and Apple have made enormous margins selling their high end devices for prices of 2 or 3 times their manufacturing costs. Those high margins have made both companies very sensitive to volume, and both have benefited from market growth.
The Samsung S5 has a cost of about $257 according to IHS Technology. Samsung sells the device for $599 more or less.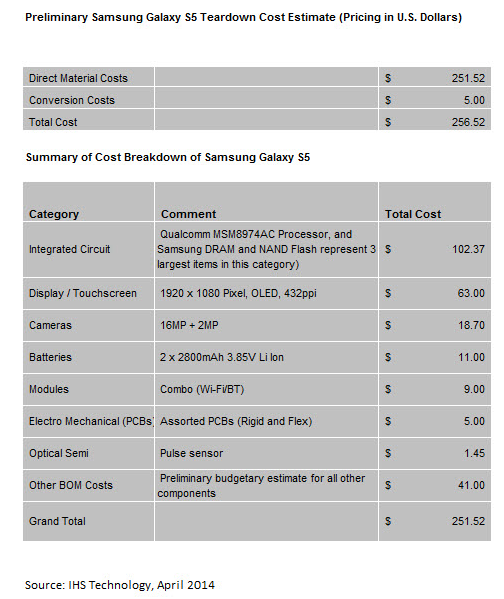 Of course Samsung has a wide range of smartphones and sells about double the number of smartphones that Apple sells - 314 million in 2013 compared to 153 million for Apple; and, 89 million in the first calendar quarter of 2014 versus 44 million for Apple. These two juggernauts comprise half of the industry today and are the most vulnerable to lower volumes or lower average selling prices.
Apple devices are made with less expensive components than the Samsung S5 with bill of materials' costs under $225.
iPhone Bill of Materials Estimates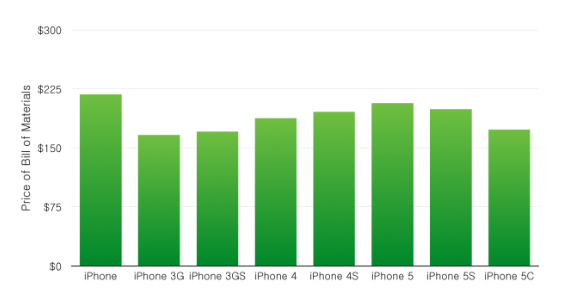 Source: Dazeinfo
The main differences in the cost of an iPhone 5S and a Samsung S5 is the cheaper display in the iPhone, a product of its smaller screen size, and a cheaper camera offering less image resolution.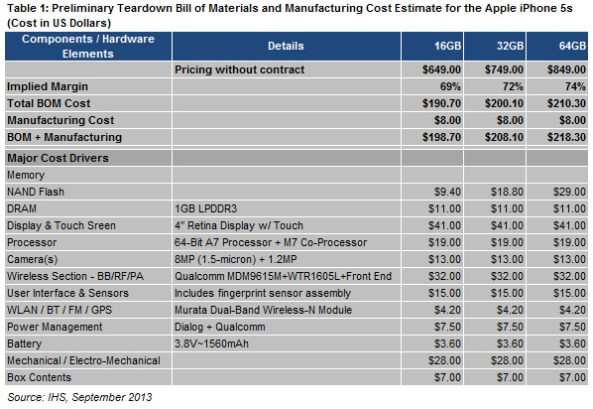 Despite the lower value components, Apple has commanded premium prices for its iPhones with resulting very high margins.
An article in Dazeinfo.com captures the issue facing Apple and Samsung quite succinctly.

Source: Dazeinfo.com
There is simply no disputing that Android devices have become the most popular devices worldwide and that the result has been dramatic growth of the Android ecosystem, which I believe is now fully competitive with the iOS ecosystem and beginning to pull away. At the same time, the quality of devices being introduced at lower price points just gets better with competitors like Xiaomi and OnePlus One introducing very high quality devices at prices roughly half of the cost of flagship Samsung and Apple smartphones.
Consumers are not stupid. Brand is important but brand alone will not carry double the price of a comparable product forever, and brand loyalty is easily damaged if consumers believe they are being ripped off.
Apple has a powerful brand but its power is waning as it recently fell to the second ranked brand in the world as Android maker Google surged 40% to number one. In the background, a resurgent Microsoft is showing very strong growth in brand ranking, up 29% in the past year.

Source: toptechnews.com
How sensitive are Apple or Samsung to lower average selling prices?
The answer is that they are very sensitive. A drop of $50 per iPhone cuts $7 to $8 billion from Apple's pre-tax profit and double that for Samsung.
With average selling prices for smartphones expected to fall to under $300 and Apple's average selling price in the $600 range, it is not hard to see a $50 to $100 per unit fall in price for iPhones and Galaxies over time. For Samsung, the average price drop will be less simply because Samsung has such a wide range of price points already.
Conclusion
It is only two months since Business Insider questioned whether Tim Cook was doing a good job leading Apple. All that has happened since is Apple releasing a stronger than expected Q2 earnings report founded primarily on selling about 10 million discounted iPhone 4S models into emerging markets at very low prices. Even with that, sales were only up 6% year over and profits only 3% for the first 6 months of fiscal 2014. That hardly seems like a dramatic improvement.
Apple and Samsung are quite likely to remain the dominant brands in smartphones for quite a while, but their profits will be hard to sustain at current levels.
Apple's approach is based on trying to raise its prices for the expected iPhone 6 and given the apparent high demand for the device I expect Apple will do so. The offset will be volume, not immediately perhaps but ultimately.
The strategy of demanding higher prices for me-too products will eventually have a backlash as I see it. When it does, it could be vicious. I remain convinced that Apple will suffer mightily as the intense competition in its industry forces lower prices with Apple conceding market share to try and hold on to its high margins. At some point, this strategy will simply fail and when it does both volumes and prices will fall and with them Apple profits.
For reference, at a $400 average price for iPhones, Apple would turn in $30 billion less revenue, other things being equal, and that drop in revenue will come right out of margins and profits, cutting Apple's after-tax income in half with a parallel decline in stock price almost sure to result. At that point, the higher dividend, stock buybacks and stock split will have the opposite effect as they weaken the balance sheet of a company in decline and the foolhardy repurchase of stock at $500 to $600 a share will look ugly as the stock falls below $300, a level I can easily see happening.
The tide is turning for Apple. As I see it, the current bullish enthusiasm is not only unwarranted but dangerous and many investors are going to experience what one might elegantly phrase a reversal of fortune.
Think it can't happen? It is already. The volume increase Apple enjoyed in its March quarter seems to be the product of 10 million iPhone 4S units sold at about $349 and not surging demand for its higher priced models. Average selling prices fell in the quarter. They are likely to fall again in the June period. Apple might get a short-term bump as it records revenue by shipping large quantities of higher priced iPhone 6 units to carriers in September but whether those shipments are followed by sustained high volumes of purchases by end users is something we will have to await the Christmas quarter's results to learn. By then, if I am right, it will be too late for many investors with large long holdings.
I am short the stock.
Disclosure: I am short AAPL. I wrote this article myself, and it expresses my own opinions. I am not receiving compensation for it (other than from Seeking Alpha). I have no business relationship with any company whose stock is mentioned in this article.