Shedding light into a dark pool, the Financial Industry Regulatory Authority (FINRA) released its first weekly report designed to improve transparency in the world of private trading systems, known as dark pools.
The report revealed that UBS AG (NYSE:UBS), Credit Suisse Group (NYSE:CS) and Barclays Plc (NYSE:BCS) maintained the largest dark pools in operation.
FINRA Sheds Light On Trading Volumes
FINRA created the repository to shed light on the volume of U.S. equity that trades hands over alternative trading platforms in addition to dark pools.
These trading platforms have garnered market share from the traditional public exchanges, which currently transact only about 60 percent of total daily trading volume. Moreover, these alternative trading systems have drawn criticism and concern from regulators regarding apparent trading advantages that can be exploited to rip off ordinary investors.
Transparency Could Bode Well For UBS
In the face of these recent negative headlines, the new transparency may bode well for UBS, the largest trader by volume. Most major banks have experienced a decline in trading revenue, and UBS is included. Restoring trust and confidence in the equities markets by reporting data on dark pools should help UBS in the long run.
UBS has also attempted to bring greater transparency to its investment practices, prior to this FINRA report, under CIO Alexander Friedman. In 2012, UBS was the world's biggest wealth manager and attracted a net of 53.5 billion francs in assets. Wealth management continues to be a strong business for many large firms YTD.
"Any time there's a significant portion of the marketplace that's opaque, there are people who are concerned because they don't understand exactly what's happening," stated Steven Joachim, executive vice president for FINRA's transparency services. "This is a portion of shedding light on the activity levels by ATS's and the amount of activity these dark pools are doing today."
FINRA's Weekly Publication
Because of the new initiative, FINRA will publish weekly on its website the total shares traded via an alternative trading system or a dark pool. The first set of data released encompassed the week of May 12-18. Prior to FINRA collecting and publishing the data, investors could access information collected by market research firms use data provided by brokerage houses voluntarily.
Moreover, this first set of information includes only stocks on the Standard & Poor's 500 Index, the Russell 1000 Index, and some other related products. FINRA will release the trading activity and volumes for all other securities beginning in several weeks.
Findings of First Report
This first report shows that the largest dark pool in the selected equities for the week of May 12 was Crossfinder, managed by Credit Suisse. Crossfinder transacted 374 million shares. Following that performance was Barclay's LX, which handled 305 million shares. UBS traded 278 million shares on its dark pool, and Bank of America (NYSE:BAC) traded 214 million shares on Instinct X.
The FINRA includes information on where individual equities are traded. For instance, the information shows that nearly 20 million shares in Regions Financial were traded via alternative trading systems that week. 3.5 million changed hands on Bank of America's dark pool, and 2.2 million traded across UBS's private trading platform. Approximately 1.8 million shares traded on Crossfinder.
"This allows investors to make good, solid decisions," Joachim said. "Investors usually like to move to markets where there's the most liquidity, and this provides them with information on the liquidity in different stock issues. It gives them better information to go to market and make higher-quality decisions."
In addition, Joachim indicated that FINRA has opened discussions with the U.S. Securities and Exchange Commission about expanding the disclosures to include non-registered alternative trading systems and other off-exchange platforms.
Conclusion for UBS Investors
Current and potential UBS investors should see the FINRA report as the next in a series of steps for UBS's opening up of some of its practices, which is positive for those wishing to learn more.
On Friday, June 6, UBS crossed above its 200-day moving average of $20.08, and reaching as high as $22.22, following very strong growth since 2012.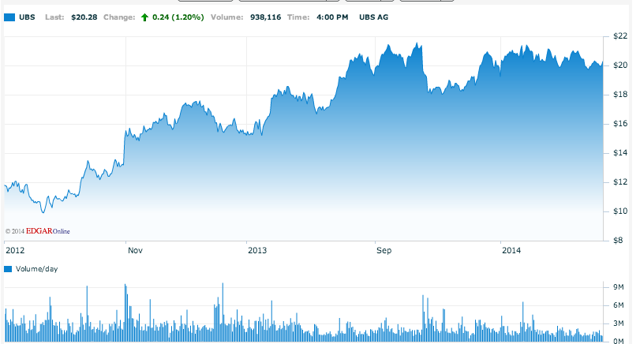 Click to enlarge
(Nasdaq.com)
On May 6 UBS beat analyst estimates for revenues and earnings for the second quarter in a row (albeit slightly).
UBS' dividends are starting to increase more steadily since the financial crisis.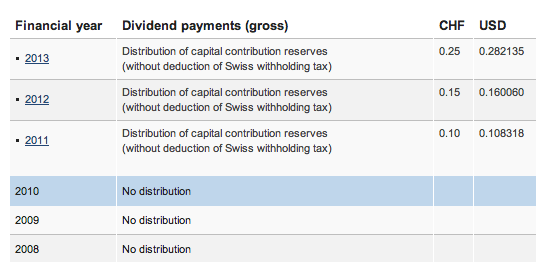 (Source)
While it's apparent that UBS is still recovering in certain regards, it is keeping pace on the market with counterparts JPMorgan (NYSE:JPM), Goldman Sachs (NYSE:GS) and Morgan Stanley (NYSE:MS).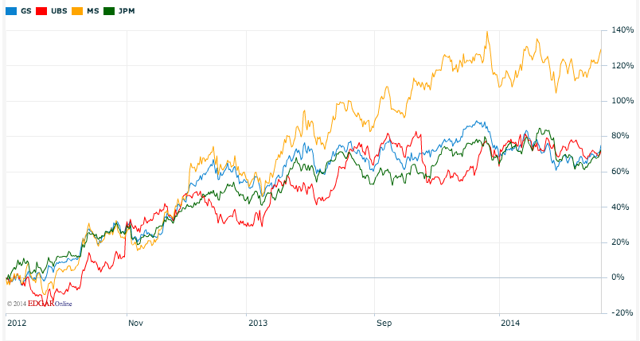 Click to enlarge
(Nasdaq.com)
Given UBS' positive steps toward transparency, boosted by the FINRA report, which reveals impressive trading volume, we are positive on UBS' prospects going forward in 2014-although we still reiterate our stance that Morgan Stanley is even a stronger bet at present.
Disclosure: I have no positions in any stocks mentioned, and no plans to initiate any positions within the next 72 hours. I wrote this article myself, and it expresses my own opinions. I am not receiving compensation for it (other than from Seeking Alpha). I have no business relationship with any company whose stock is mentioned in this article.