I cover a lot of dividend names on this site. Throughout the year, I discuss names that have upcoming potential dividend raises, and what those raises might be. Today, I'm shifting my focus into the technology space. Microsoft (NASDAQ:MSFT) could raise its dividend in about three months, so it is a good time to start looking at what the company might do with its dividend. Today, I'll provide an initial preview on Microsoft's potential 2014 dividend raise.
The balance sheet:
For companies to pay dividends, and buyback stock in Microsoft's case, they have to have financial flexibility. That starts with a strong balance sheet, as well as having a decent amount of cash on hand. In the table below, I've detailed some key balance sheet numbers and ratios at the end of calendar Q1 for Microsoft over the past couple of years. Microsoft has a June ending fiscal year, so this is the balance sheet at the end of fiscal Q3. You can see all of Microsoft's financial information in the 10-Q filing. Dollar values and the share count below are in millions.

*Liabilities to assets ratio.
Microsoft's balance sheet is in good shape. It isn't the best one out there, but I don't think anyone would label it a problem. The company has added a bit of debt in recent years, but so have many other companies out there in this low interest rate environment. Without that debt, the company probably would not have bought back as much stock, and the share count probably would not have come down at all.
There is one issue with Microsoft's balance sheet, and it is one fairly common to most US tech names, including Apple (NASDAQ:AAPL), Intel (NASDAQ:INTC), Cisco Systems (NASDAQ:CSCO), and Google (NASDAQ:GOOG) (NASDAQ:GOOGL). A large portion of Microsoft's cash is held outside the US, as you saw in the table above. In fact, as you will see in the table below, Microsoft has the highest percentage of foreign funds. Again, dollar values are in millions.

*For Apple, this includes long-term investments. All other names only include cash and short-term investments in their cash piles. Google's cash pile includes $160 million of cash and equivalents classified as assets held for sale.
**Intel has $11.0 billion held by foreign subsidiaries. However, about $1.9 billion of that was available for use in the U.S. without incurring additional U.S. income taxes in excess of the amounts already accrued in its financial statements. Please see Intel's 10-Q filing for more details.
These foreign funds can't be used for dividends or buybacks in the US. Either the company has to borrow against them, or repatriate and face a significant tax bill. Just in the past 6 months or so, Microsoft, Apple, and Cisco have all issued billions in debt. Without this debt, these names probably wouldn't be paying these large dividends or buying back the amount of stock they are. With such a large percentage of cash outside the US, Microsoft might need to take on more debt to increase its dividend and buy back a lot more stock. The company is producing a fair amount of cash in the US, but it may not be enough for the company's capital return program.
Dividend and buyback payments:
Last year, the company raised the dividend by 5 cents to 28 cents per quarter. That was a raise of 21.74%, and a rather large raise. In fiscal Q3 of this year, the company paid out $2.322 billion in dividends, up from $1.925 billion a year earlier. In the first 9 months of the fiscal year, Microsoft paid out a little over a billion dollars more than the prior fiscal year period for the dividend. Thanks to the raised dividend, Microsoft will pay out about $8.9 billion in dividends during this fiscal year, up from a little less than $7.5 billion in the year-ago period. The year before that, Microsoft paid out under $6.4 billion, and the year before that was a little under $5.2 billion. You can view all prior year data in the most recent 10-K filing.
Also this year, the company has really stepped up its buyback efforts. After buying back $5.03 billion and $5.36 billion worth of stock in the past two years, Microsoft spent nearly $6.15 billion in the first nine months of this year. With Microsoft shifting more funds to the buyback this year, most likely in an effort to get the share count down and boost EPS, I don't see as large a dividend raise this year. Microsoft probably has the third best buyback right now of the names I've discussed, with Apple's being the best obviously, and Cisco being number two.
What a potential raise could look like:
In a minute, I'll show a table for my initial prediction for Microsoft's dividend raise this year. Because the domestic cash position is down a bit this year, partially thanks to the buyback, I think the raise will be a little lighter than last year. So the table below will show what a raise could look like in terms of the following:
New quarterly dividend.
Raise per quarter, in terms of cents and percentage.
New annual dividend total.
Yield based on Friday's close.
One slight caution here. Microsoft is expected to pay out one more $0.28 quarterly dividend before the potential raise. So the yield below is not for the next 12 months. Once Microsoft pays out that dividend, then the yield number below would accurately reflect the next 12 months based on Friday's close. I highlighted the range for which I believe the new dividend will fall.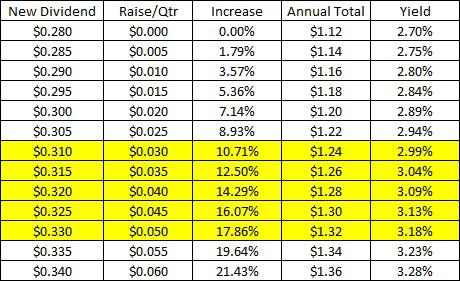 Right now, my best guess would be $0.32, so for the range I've gone a penny in each direction. At this point, based on the increases we've seen in the last couple of years, I would say that $0.33 per share would be more likely than $0.31 if the $0.32 level is not hit.
Where Microsoft's dividend stands currently:
Of the four names discussed in this article, Microsoft has the third highest yield currently. You can see how these names compare in the chart below.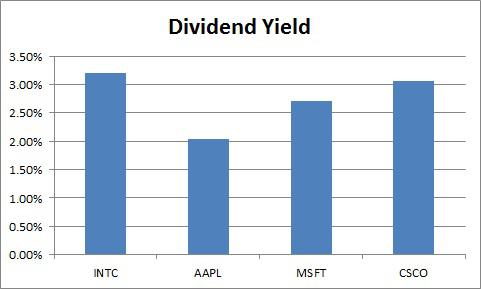 Cisco has jumped a bit ahead of Microsoft for now, as Cisco usually raises its dividend early in the year. Later this year, obviously depending on market movements, Microsoft should catch up a bit with a dividend raise. Based on my table above, Microsoft would be 3 basis points ahead of Cisco with a raise to $0.32 per quarter, based on Friday's close. Should Microsoft go to $0.33 per quarter, that would currently put it one basis point behind Intel's yield.
Final thoughts:
In a couple of months, Microsoft should be raising its dividend. The company's cash constraints in the US combined with a stronger buyback this year lead me to believe in a smaller raise, as compared to last year. I still expect Microsoft to raise its dividend by double digits percentage wise, which should put the yield back above 3.00%. A dividend raise from Microsoft will help the tech giant to challenge both Cisco and perhaps Intel in terms of yield. As we get closer to a potential raise, I'll come back with a final prediction if the situation changes.
Disclosure: I have no positions in any stocks mentioned, and no plans to initiate any positions within the next 72 hours. I wrote this article myself, and it expresses my own opinions. I am not receiving compensation for it (other than from Seeking Alpha). I have no business relationship with any company whose stock is mentioned in this article.
Additional disclosure: Investors are always reminded that before making any investment, you should do your own proper due diligence on any name directly or indirectly mentioned in this article. Investors should also consider seeking advice from a broker or financial adviser before making any investment decisions. Any material in this article should be considered general information, and not relied on as a formal investment recommendation.