In spite of the political dispute over spying allegations, several Chinese companies are sticking with International Business Machines Corp. (NYSE:IBM) for their server needs. China's government issued a call for Chinese banks to replace IBM servers with products from local Chinese companies.
This new round of anti-American edict stems from the U.S. Department of Justice which filed charges of hacking activities against five Chinese military officers. The People's Liberation Army officers allegedly engaged in cyber espionage against American companies.
China's government retaliated by releasing a report condemning America's global cyberwarfare activities. China's rhetoric made it clear it wants U.S. companies' involvement in China's huge I.T. market dissolved as soon as possible.
China earlier banned the installation of Microsoft's (NASDAQ:MSFT) Windows 8 operating system on government computers. IBM, Cisco (NASDAQ:CSCO), Hewlett-Packard (NYSE:HPQ), and other American companies have reported declining sales in China since Edward Snowden exposed the NSA's spying activities last year.
IBM Is Now Underpriced
There is no denying that the Chinese government's directive against U.S. IT companies is one of the main reasons for IBM's declining revenue. This political harassment should be one reason why IBM is also trading below its stock market peers. Big Blue's future is perceived to be less than rosy due to the double threat of cloud computing and Chinese trouble. China is very important to IBM's revenue stream. The 20% drop in China sales greatly hurt IBM's top line.
According to Alpha Omega Mathematica, IBM's forward P/E of 9.39 is way below its industry peers' average of 16.02. Big Blue's P/S ratio of 1.90 is also below its technology sector (4.12) and industry (2.67) peers. This underpricing is in spite of IBM giving a higher dividend yield.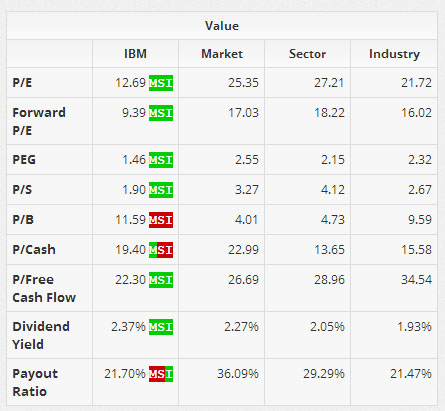 Source: getaom.com
The company has SoftLayer to address the threat of cloud computing. However, IBM has yet to find a real equalizer to the Chinese government's discriminatory edicts. China's politicians will continue making xenophobic noises for many years to come.
The Chinese propaganda drum keeps IBM's price below $200. It is a good opportunity to bet on Big Blue while it is still cheap.
Decline Will Continue But IBM China Sales Will Not Die
The Chinese politicians do not necessarily dictate all Chinese capitalists. Chinese industries are heavily dependent on IBM for large-scale server and information systems. While Huawei had an easy time displacing Cisco in China sales of Internet routers and switches, IBM's mainframes and software solutions are currently deeply embedded in China's banking system.
In my opinion, the Chinese bankers are loath to spend billions of dollars to replace their current IBM set-up. Unless the Chinese government offers to pay for the cost of replacement, IBM's maintenance and renewal deals with Chinese banks and other firms will continue.
Furthermore, the Chinese bankers would rather have the Americans spy on them rather than the People's Liberation Army. The Chinese Communist leadership is very eager to punish erring public and private officials with the death penalty.
Huawei is rapidly branching out to servers. The Chinese server market, which is still dominated by IBM, HP, and Dell, increased by 29% to 427,000 units in Q1 2014. The global server market only grew by 1.4% to 2.3 million units.
While Huawei grew its shipment of servers for Chinese clients to 85,919 (+61% YoY), its products are still confined to x86 PC servers. Huawei, like Inspur (another Chinese company), are still unable to compete with IBM in large-scale servers. This critical business reality should keep IBM's revenue stream from China alive for many years to come.
Cloud Computing & Analytics
IBM is on path to a great comeback once its cloud computing and data analytics business generates enough revenue to offset the decline in China. In spite of the political brouhaha, IBM still managed to win a cloud-computing contract from China's government-owned Shanghai Airport Authority.
IBM's DB2 data server, Security Manager, and Tivoli Directory Server products are used by Shanghai Airport Authority to manage the Pudong International Airport and Hongqiao International Airport. IBM's solutions help manage the airports' air and passenger traffic. This deal improved the punctual arrival and departure of planes.
The above example again illustrates IBM's important contribution to China's economy. Yes, there will come a time when Huawei and Inspur will have gained enough technology to match IBM- but it is not going to happen soon. For the meantime, Chinese firms including those owned by government will continue to rely on IBM's expertise.
According to Bloomberg's data, IBM's Asia-Pacific (excluding Japan) sales account for 13% of the company's total revenue. It is therefore important that IBM continues to improve its cloud computing and analytics solutions to keep the Chinese reliant on its products. Watson's industry-leading computational intelligence will keep IBM relevant in China.
Conclusion
The cyber espionage tension between the U.S. and China is a long-term headwind for IBM. Due to government pressure, Chinese companies may refrain from buying new mainframes and power servers - but they will still need software maintenance and periodical updates.
Chinese firms who require secure and reliable large-scale information systems may ignore government directives and still purchase new equipment from IBM. The current China banking system is deeply embedded with IBM solutions, replacing them will be very expensive and time-consuming.
Huawei and Inspur may still lack the necessary technology and experience to replace IBM in China's banking system. IBM is therefore a Buy for long-term investors. Trefis' current sum-of-parts valuation for IBM is $227, which is higher than the stock's current trading price.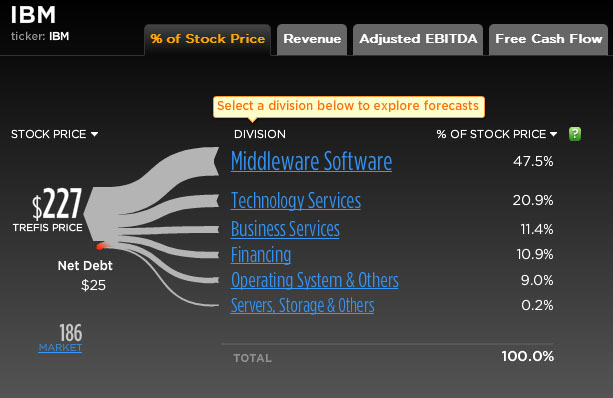 Source: Trefis.com
Four other analysts from BarChart are also calling for a Buy for IBM.
Disclosure: I have no positions in any stocks mentioned, and no plans to initiate any positions within the next 72 hours. I wrote this article myself, and it expresses my own opinions. I am not receiving compensation for it (other than from Seeking Alpha). I have no business relationship with any company whose stock is mentioned in this article.