I'm sure that some of you remember the Aesop Fable about a man that had a hen that laid golden eggs every day. The man was never satisfied with his daily profit so he decided to foolishly slaughter the hen in hopes that there would be a treasury inside the hen. The moral of the fable is summed up by the greedy man:
While chasing after hopes of a treasure, I lost the profit I held in my hands.
When I think about REIT listings these days I can't help to compare Nicholas Schorsh, Executive Chairman of RCS Capital (NYSE:RCAP), to the "goose that lays golden eggs". It's not that I consider Schorsh to be greedy as so much as I admire him for creating a dividend machine that spits out golden REIT eggs.
As a pioneer in the non-traded REIT space, Schorsh has perfected his broker-dealer platform, RCS Capital, and his success has become apparent in the frequency in the number of new REITs in the public sector.
By aggregating retail investors in the non-traded REIT space, Schorsh has built an incredible machine that incubates REITs until they are ready to go public. Some of the public REITs that exist today thanks in large part to the RCS platform include Healthcare Trust of America (NYSE:HTA), American Realty Capital Properties (ARCP), New York Recovery Trust (NYSE:NYRT), American Realty Capital Healthcare Trust (NASDAQ:HCT), and United Development Funding (NASDAQ:UDF) - see may recent article on UDF HERE.
In April I wrote an article on American Realty Capital Healthcare Trust when the company listed 183 million shares on NASDAQ. As I explained:
With a strong retail sales platform, Schorsh was able to raise significant equity and build out a growth platform that topped $2.9 billion. Raising capital for health care assets is not an unfamiliar area for Schorsh as he was also instrumental in raising capital for Healthcare Trust of America. Over the course of two years, HCT has grown its portfolio from $17.007 million of NOI to over $153 million.
My conclusion with the new REIT listing was summed up as follows:
Personally, I'm comfortable with my current health care REIT exposure and I was fortunate to buy Ventas at $56.00. Pound for pound, I believe that Ventas is the BEST Health Care REIT today and I don't believe the risk premium of HCT warrants an investment (in HCT) unless the price of the shares moves below $10.00. If that happens, I'm a buyer. There's a reason that Ventas is a blue chip brand and to learn more on that company, check out my website this month.
I had a strange feeling that HCT was not going to be able to compete with the larger health care REITs, especially the big whales like Ventas (NYSE:VTR), HCP. Inc. (NYSE:HCP), and Health Care REIT (NYSE:HCN). I saw the day coming when HCT was going to be swallowed up. I wrote this back in April:
It would seem logical that HCT would be a strong candidate for Ventas's feeding frenzy. If you may recall, there was once a REIT named American Realty Capital Trust that was swallowed up by the big whale known as Realty Income (NYSE:O). As an investor (or potential investor) in HCT, one must examine all of the potential strategies for monetization and I consider HCT a takeover target from day one.
Well, I called it. It wasn't day one but day 54. On June 2nd, Ventas announced that it was buying HCT in a transaction valued at $2.6 billion (cash and stock). Under the terms of the deal shareholders in HCT have the option to receive 0.1688 Ventas shares, based on a negotiated price of $67.13, or $11.33 for each of their shares in HCT.
What Is a Golden Goose?
In REIT-dom, you don't have to kill a goose in order to find the secret behind the golden eggs. It's true, Schorsh has been on the cutting edge of the non-traded REIT business and his strength in aggregating illiquid capital is unmatched. However, in the public REIT space, the real gold can be revealed by measuring risk control; that is, identifying investment models that intelligently bearing risk for profit.
Many of you know that one of Schorsh's REITs, American Realty Capital Properties, has been trading at a low valuation multiple. Several of my recent articles (here and here) examined the risks related to the Net Lease REIT and it's clear that Mr. Market is not attracted to the instability in the more recent transactions (i.e. Red Lobster sale/leaseback, secondary offering, and management integration). Most importantly, we see that ARCP doesn't have a track record for managing risk so it's difficult to assess the most important aspect of investing: dealing with the future.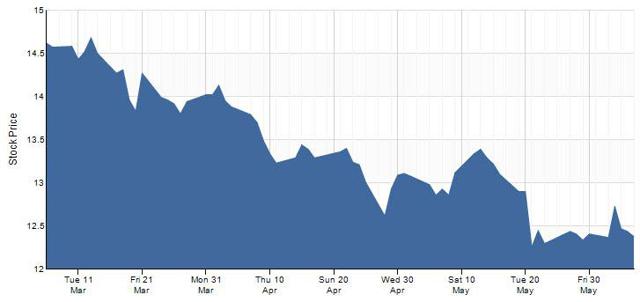 One way that investors can determine whether or not a company produces golden eggs is to examine the competitive advantages behind the security. In other words, a company's strongest sources of differentiation are the secret ingredients that determine whether or not profit margins are consistent and durable. The legendary investor Ben Graham could have described the definition of the "golden goose" in his book, The Intelligent Investor:
It is the consistency in the products that creates consistency in a company's profits. Consistency and durability are attributes for competitive advantage.
Can the Real Golden Goose Come Forward?
As I mentioned above, Ventas, Inc. recently announced it was acquiring HCT in a $2.6 billion transaction. The HCT deal consists of 143 properties, comprised of 78 medical office buildings, 29 senior housing communities, 13 senior housing triple-net properties, 14 skilled nursing facilities, 7 hospitals, and 2 land parcels. Here's a snapshot of the Top Tenants/Operators of HCT: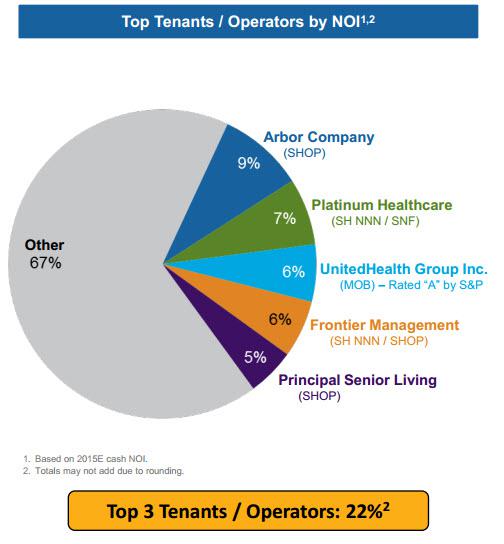 HCT's MOB portfolio is over 97% occupied and 71% of the tenants are investment grade rated. The senior housing assets are 94% occupied and are located in markets with above average household incomes.
The HTC portfolio is being acquired by Ventas at a 6% cap rate and although the deal is accretive, I'm not terribly excited because (in my opinion) Ventas is sacrificing some quality overall. At the recent REIT Week conference I asked Ventas President Raymond Lewis whether or not Ventas had bid on the HCT properties a few years ago and he said:
We think it's an excellent portfolio, and I would say it's on par with the Ventas portfolio. The MOB portfolio is by and large off-campus, single-tenant, investment-grade rated hospital systems that are planting the flag in a community where they are going to provide their outpatient services and their physicians are going to practice in the local communities.
In addition to the HCT portfolio, Ventas also announced last week that it was acquiring 29 Canadian independent living senior housing assets to be managed by Atria Senior Living. This $900 million deal should bolster Ventas' footprint and Canadian market exposure and further diversify the dominating Health Care platform. Here is a snapshot of the combined HTC and Canadian portfolios: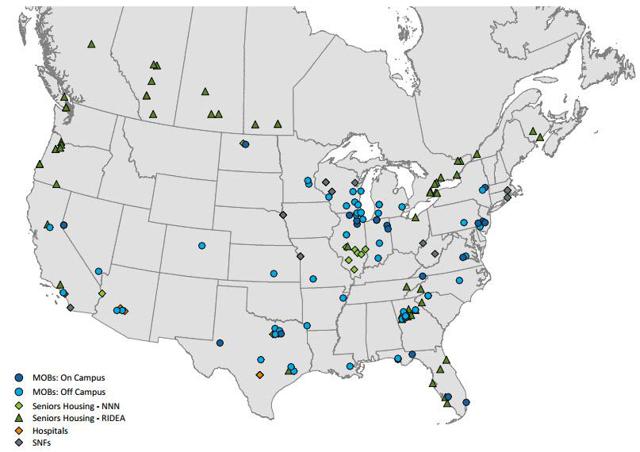 Here's a snapshot illustrating the current and Pro Forma diversification for Ventas: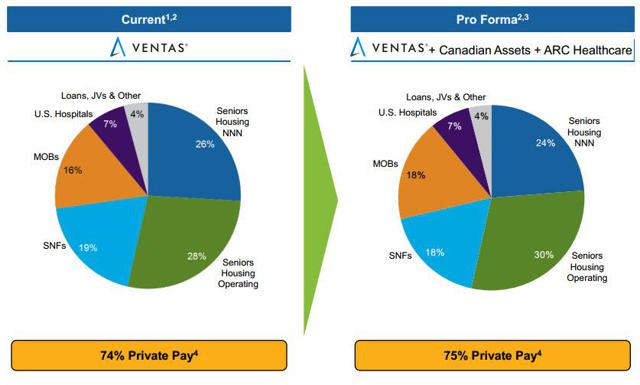 Here's a snapshot of the current and Pro Forma Top Tenants for Ventas: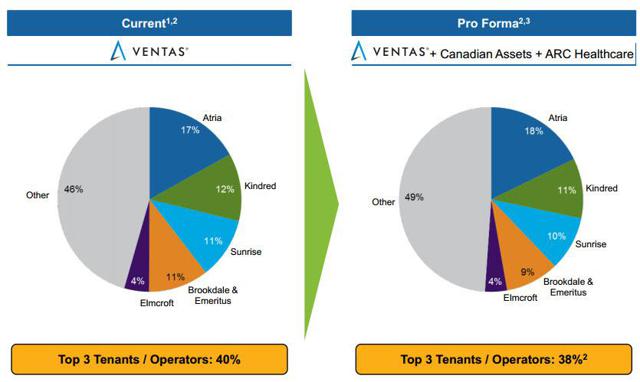 Considering the size of Ventas (market cap of $19.2 billion), the recently announced acquisitions of $3.8 billion should move the needle to the tune of $.10 (to 2015 normalized FFO). Ventas intends to issue direct equity at $67.13 per share and arrange debt of around $1.7 billion ($.3 billion of debt is also being assumed).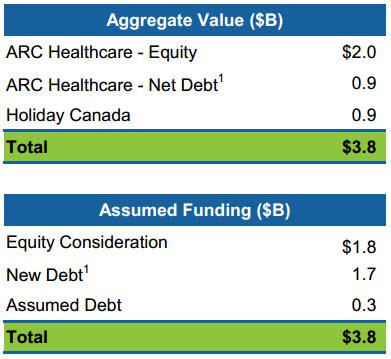 When you are the goose that lays the golden eggs you are essentially the "low-cost provider". That concept is centered on the notion that a company produces and delivers cost reduction initiatives that improve the bottom line of the company by improving overall efficiency.
Some companies use their efficient strategies to protect their markets from the competitors by responding to competitors' move of making in-roads in the market space by reducing prices. Although I'm not thrilled about all of the "non-core" assets (of HCT) and the fact they were aggregated with higher cost non-traded REIT equity, I believe that the Ventas is soundly turning its low-cost advantage into a price advantage, and of course that improves the company's market share.
A few years ago I wrote an article on Realty Income and I described the company's "low-cost producer" value proposition:
In the triple-net investment sector, a higher multiple is what you strive for since the lower cost of capital is the mantra for success - the high multiple equates to being the "low-cost" provider. So the highest valuation has the cheapest cost of capital, the best margins and the best strategically flexible operating platform.
Today we are seeing the same concept unfolding in the Health Care space. When a company like Ventas is able to transform the efforts of cost reduction into cost advantage for customers, the company can be said to be successfully pursuing low-cost leadership strategy. In other words, Ventas is now the "goose that lays golden eggs".
Are The Golden Eggs Durable?
One way that investors can measure the profitability of a company is to examine the consistency in operating profits. First, let's compare the overall size of Ventas with the broader Health Care REIT peer group.

As of Q1-14 Ventas owned 1,473 properties with around $1.8 billion in Net Operating Income.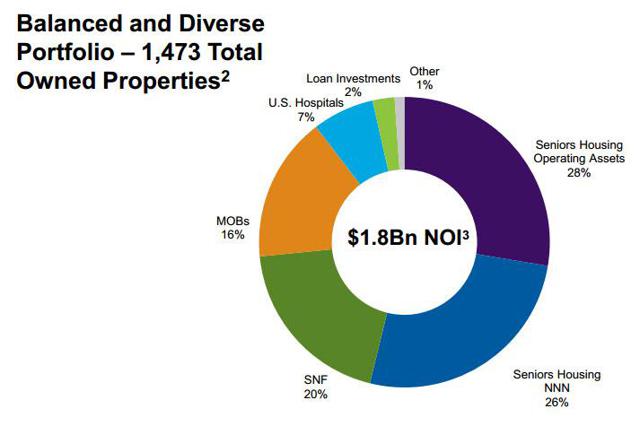 In the first quarter (of 2014) Ventas grew same store cash flow by 3.7% and cash flow from operations increased by 23.5%.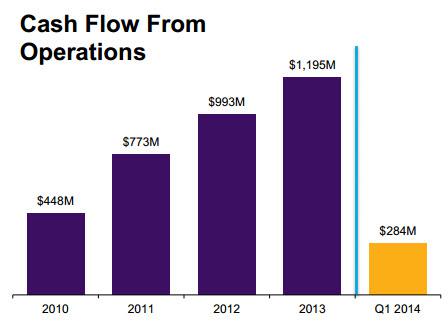 Cash Funds from Operations (or FFO) increased by 7% in Q1-14. In addition, Ventas has maintained a healthy dividend payout ratio (currently 67%) and during the first quarter the company paid shareholders a dividend of $0.72.5 per share, up over 8% from the dividend paid from the first quarter of 2013.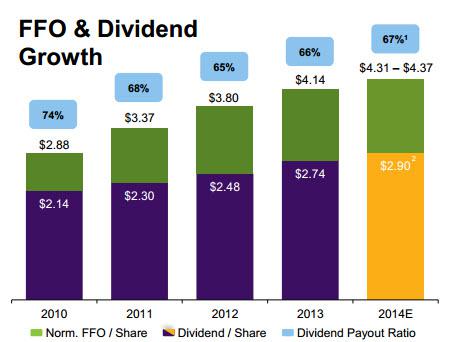 Ventas has an impressive dividend payout ratio (of 67%) that provides room for continued upward movement in dividend payment. However, one key differentiator for Ventas has been its ability to consistently manage risk through economic cycles. As illustrated below, Ventas has prudently grown its annual dividend by 9% (on average) over a 14-year period.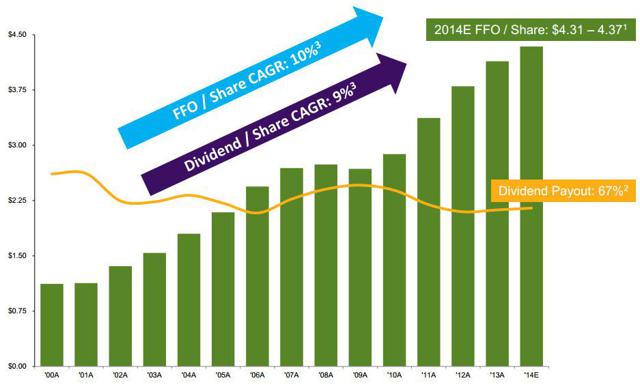 Here is a snapshot of Ventas' dividend growth record over the last 10 years. The company has averaged 12% growth (over 10 years) and 10.75% CAGR over the last 3 years.

HCN's dividend has grown by 3% over the last 10 years and 5% over the last 3 years.
HCP's dividend has grown by 3% over the last 10 years and 5.46% over the last 3 years.

The only Health Care REIT with unmatched dividend credentials is Omega Healthcare Investors (NYSE:OHI) that has grown its dividend by an average of 13.5% over the last 3 years.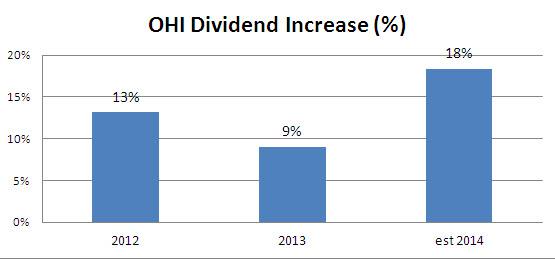 Why Do I Own This Golden SWAN?
Last year, after methodically researching Ventas, I decided it was time for me to start collecting some golden dividend eggs. I started my initial purchase on August 21st (2013) at $60.01 and then I followed up by dollar cost averaging purchases on December 3rd (2013) at $56.05 and January 3rd (2014) at $56.93. Ventas shares are up over 16% since my purchase in December.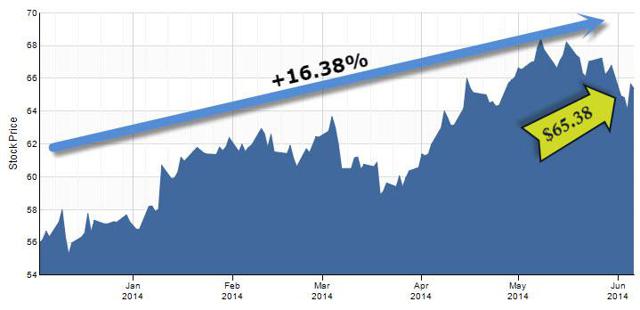 As mentioned above, one of the secret ingredients behind Ventas' golden egg success has been its balance sheet, one of the strongest in the REIT sector. At quarter end the company's credit stats remained outstanding with net debt through pro forma EBITDA at 5.5x, fixed charge coverage ratio in excess of 4x, and secured debt to enterprise value of 9%.

The company's revolver balance at quarter end, prior to the issuance of its bonds was $559 million, debt to enterprise value is an outstanding 34% and Ventas has over $2.2 billion in liquidity including $260 million of cash on hand.

With a fortress balance sheet (BBB+ S&P rating) and highly diversified portfolio of 1,473 properties (as of Q1-14), I consider Ventas to be a "sleep well at night" REIT that I plan to own for the long-haul.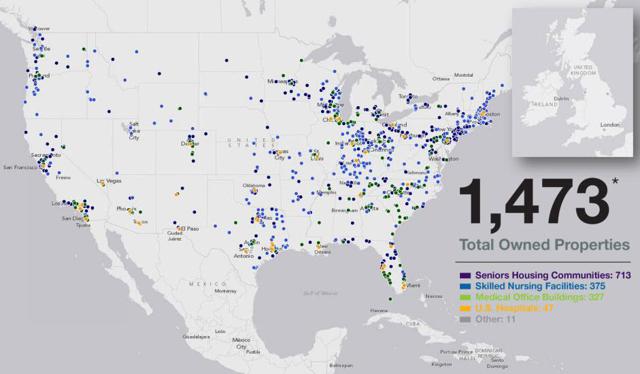 Should I Wait For a Better Margin of Safety?
The FAST Graph below is a perfect example of a "sleep well at night" investment - a company with a reliable and predictable earnings history. Notice, the rising dividend history (aqua blue area) and the rising growth in share price (shaded green area). Over the last 10 years Ventas has produced exceptional long-term performance including 13.5% total shareholder return CAGR over 10 years.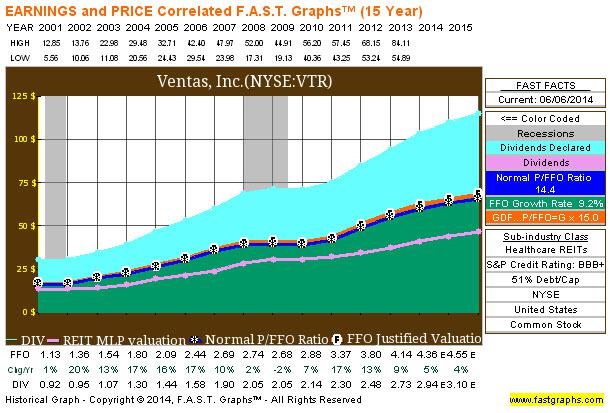 Ventas is trading at $65.38 with a Price to Funds from Operations (P/FFO) multiple of 14.9x. That's not expensive when you consider that the peer group average P/FFO multiple is 15.2x. I was fortunate that I was able to accumulate shares a few months ago but there is still safety in the shares today. Considering the historic discount average of Ventas (compared to the peer group), the stock appears to be trading at a modest discount.

As mentioned above, Ventas has room to grow in dividend and as one of the most active health care investors, the spread remains attractive. Given the company's low cost of capital, any new investment (by Ventas) with a cash yield of 5.5% or higher should be accretive.
The latest announcement with HCT is a good example of using financial muscle to expand market share and improve the safety of the earnings record. Compared with other REITs, Ventas is one of the lowest yielding; however, the company's dividend record is one of the safest and the recent increases represent a commitment by management that shareholders are valued.

One of the best definitions of a "sleep well at night" investment is a company that doesn't cut dividends. After all, dividends represent the "golden eggs" whereby investors can look for valuable clues that provide insight into future performance. When I examine Ventas I view this REIT as a highly reliable stock that generates both steady dividend income as well as consistent share price appreciation. Of course, the later of the two is harder to come by today and as any value investor would argue, buying stocks when they are cheap is the best way to grow money.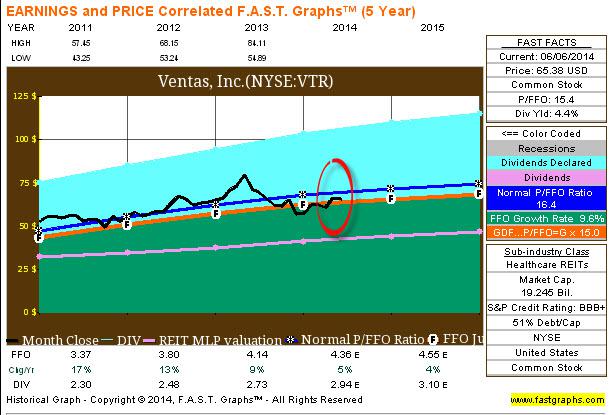 Accordingly, if you are looking to accumulate Ventas' golden dividend eggs now, I would wait until shares fall closer to $60.00. Value investing, buying earnings cheap, is the most reliable way to grow your golden egg and of course, that means "sleeping well at night".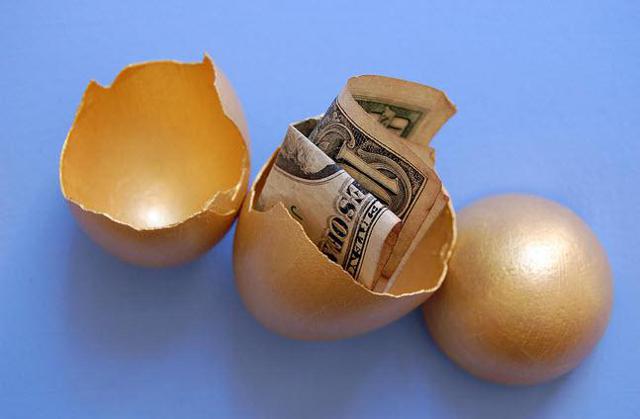 For more information on my REIT portfolio, check out my monthly REIT newsletter HERE.
Sources: SNL Financial, FAST Graphs, and Ventas Investor Presentations.
Peer Group: (NYSE:NHI), (NASDAQ:SBRA), (NYSE:HR), (NYSE:LTC), (NYSE:UHT), (NYSE:AVIV), (NYSE:MPW), (NYSE:DOC), and (NYSE:SNH).
Disclaimer: This article is intended to provide information to interested parties. As I have no knowledge of individual investor circumstances, goals, and/or portfolio concentration or diversification, readers are expected to complete their own due diligence before purchasing any stocks mentioned or recommended.
Disclosure: I am long O, DLR, VTR, HTA, STAG, UMH, CSG, GPT, ARCP, ROIC, HCN, OHI, LXP, KIM, WPC, DOC. I wrote this article myself, and it expresses my own opinions. I am not receiving compensation for it (other than from Seeking Alpha). I have no business relationship with any company whose stock is mentioned in this article.