My ongoing series of stocks held in my retirement portfolios continues with Exxon Mobil (NYSE:XOM). Like General Electric (NYSE:GE), this company has a CEO that has been blasted by both current and former shareholders as well as former employees. As far as I am concerned, Rex Tillerson has done a great job of steering this enormous ship through all of the ups and downs in the energy sector, while continuing to offer shareholder value in both capital appreciation and dividend growth.
Exxon Mobil: The Chart Says It All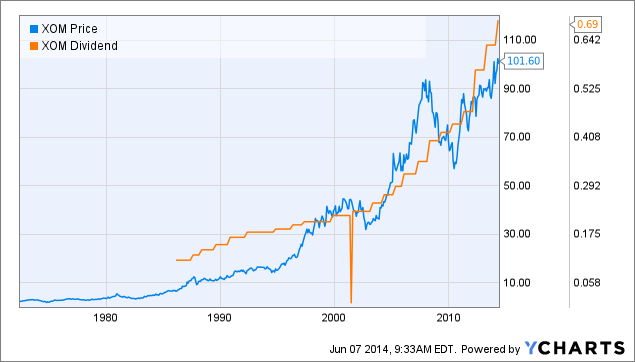 Since 1882, the company has paid dividends to shareholders and for more than 30 consecutive years through today, has increased dividends for shareholders. As you can see in the chart, the share price has returned enormous capital appreciation to shareholders as well.
Given the sheer size and global reach of this company, I believe that XOM will continue this trend for another 30 years (probably 100s of years), as long as the world needs energy. Obviously, the whole story is not just about fossil fuels, even though they are still the fuel of choice for most of the world right now.
The Size Of This Company Simply Cannot Be Ignored
While I also own Chevron (NYSE:CVX), which will be discussed in a future series segment, XOM has outperformed CVX for much longer, and has grown much bigger and has its tentacles in every facet of the energy business. Yes I agree that CVX seems to have been outperforming XOM in recent years, but for my portfolio I want to own the "big dog" for as long as I live.
While the company had a less than stellar first quarter of 2014, Tillerson had this to say, which speaks more to the future than just one quarter:
ExxonMobil's first quarter earnings and cash flow reflect the company's continuing focus on delivering profitable growth and creating long-term shareholder value. Strong performance in the Upstream benefitted from improved production mix and increased unit profitability.

First quarter 2014 earnings were $9.1 billion, down 4 percent from the first quarter of 2013. Upstream earnings were $7.8 billion, up 11 percent from the previous year.

Capital and exploration expenditures for the first quarter were $8.4 billion, down 28 percent from the first quarter of 2013.

The Corporation distributed $5.7 billion to shareholders in the first quarter through dividends and share purchases to reduce shares outstanding.
While it is Tillerson's job to spin the best out of the results, one thing is very clear: The reduction in spending (while costs are extremely high) should not be underestimated when taking the entire quarter into account:
A $3.3 billion reduction in expenditures, while exploration and recovery costs have skyrocketed, more than offsets the dip in earnings and the per share decline of $0.02. Bears would point out that the company is slacking off, and not doing all it can to perpetuate growth. I would argue that XOM is using its resources wisely and not overpaying, while expanding into other energy segments of the overall business.
As a result of this savings, total cash increased by nearly $1 billion for the quarter, while return of capital to shareholders increased to over $5.7 billion.
An investor should also look at the increase in natural gas earnings which might very well be the new "oil" so to speak. Not just for the US, but globally as XOM will easily be able to supply all nations around the world with this energy source.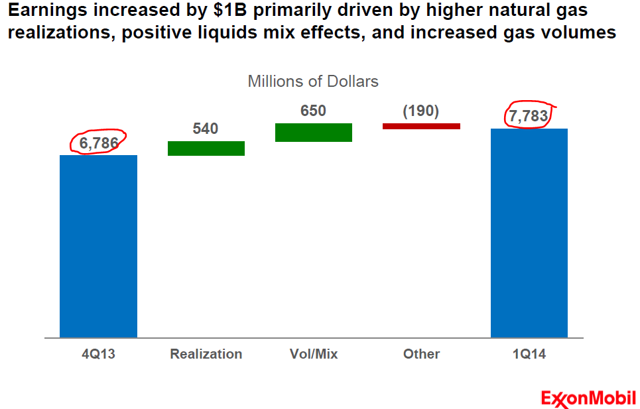 Upstream progress towards the future is also progressing well, which should give long-term investors comfort for continued shareholder value.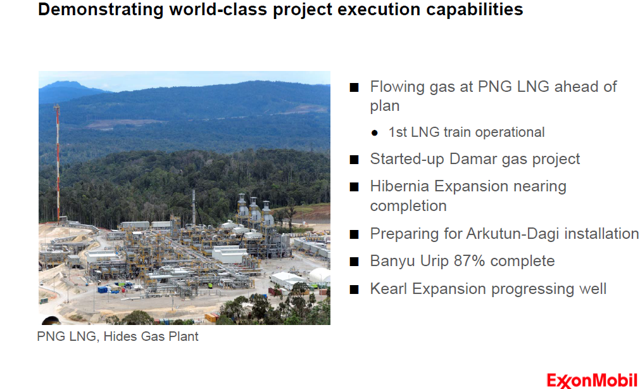 Globally speaking, upstream exploration is not concentrated in one area either. XOM has either completed, begun, or will soon begin work in every part of the world.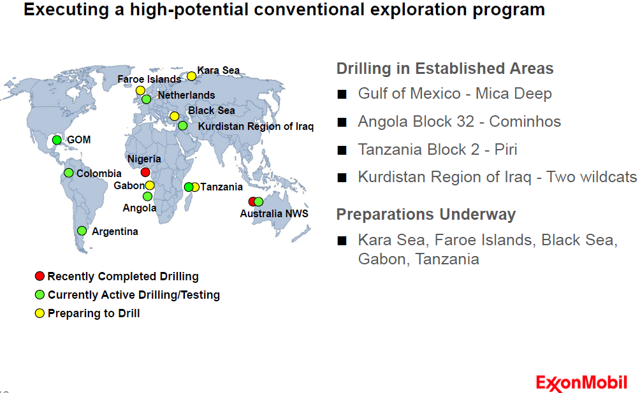 To summarize from XOM directly: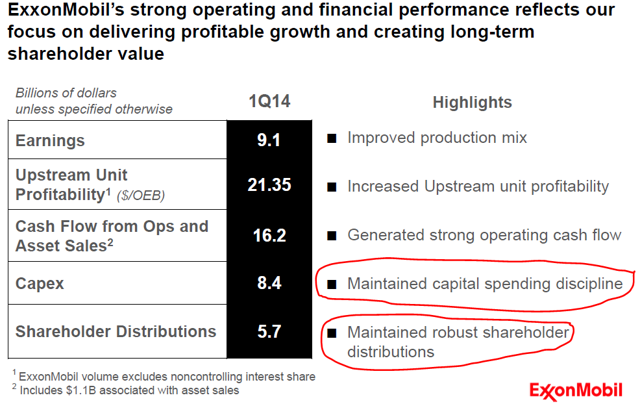 I can go on and on, but just add what I have shown to the basic fundamentals:
An enterprise value of nearly $450 billion, making XOM the second largest company on Earth, only behind Apple (NASDAQ:AAPL).
Operating cash flow of about $47 billion - unbeatable in this business.
Beta of just 0.89.
Half of all outstanding shares are held by institutions.
The dividend payout ratio is a puny 34%, telegraphing future hikes well into the future.
A forward PE ratio of a drop over 13, which is very low compared to the S&P 500 average right now.
Since its recent dividend hike of over 9% announced in April, the current dividend yield is a very safe (not risk free folks) 2.80%.
Finally, the future of energy consumption broken down by each segment that XOM has enormous stakes in sees amazing growth in total consumption, even as the gradual shift from fossil fuels moves towards renewables of all kinds: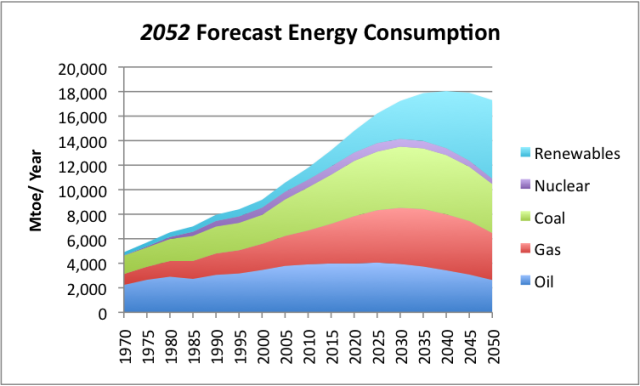 Oil and gas continue to rise, while eventually peaking according to studies done by XOM and other energy players. Nuclear is a small segment but that continues to rise as restrictions ease due to climate concerns.
Coal has enormous growth before tapering off as the emerging markets continue to use the cheapest energy form, and renewables will see huge growth right on the heels of the leveling off of coal consumption.
OK, The Future Looks Rewarding For XOM, What About Shareholder Value
XOM is committed to returning value to shareholders by continuing its Dividend Aristocrat status of raising dividends for over 30 years. I happen to believe that the increases will be even greater than this year's 9.5% increase, due only to my belief that revenues and earnings will bounce back in the near, intermediate, and longer term.
Warren Buffett believes my thesis to be true. He purchased 40 million shares last year.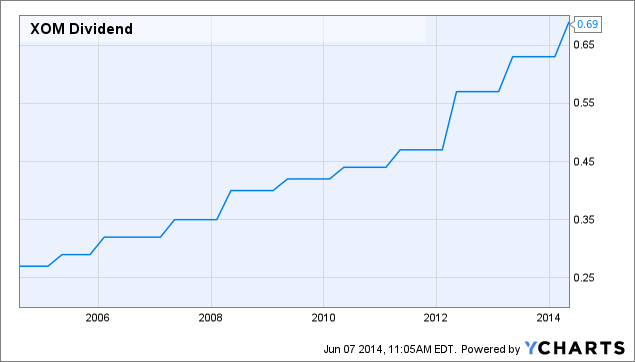 In less than 10 years, XOM has nearly tripled its dividend. Care to speculate on the next 10 years as the need for energy continues to skyrocket?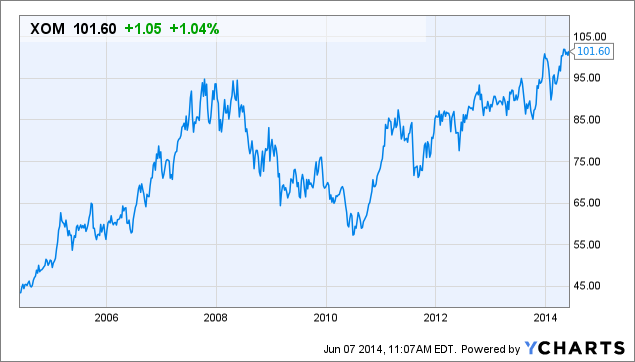 In less than 10 years even the share price has more than doubled. Who said XOM was not a growth company? I will take this total return with a company the size and stature of XOM any day of the week and twice on Sunday if another one shows up...and in my next article, one HAS shown up!
The Bottom Line
Energy in all forms will be with us forever, and XOM is the biggest of the biggest. If you do not own shares of Exxon Mobil now, you should seriously consider starting a position and adding on every pullback.
Where does energy live? Exxon Mobil.
Disclaimer: The opinions of this author is not a recommendation to either buy or sell any security. Please remember to do your own research prior to making any investment decisions.
Disclosure: I am long XOM, GE, AAPL, CVX. I wrote this article myself, and it expresses my own opinions. I am not receiving compensation for it (other than from Seeking Alpha). I have no business relationship with any company whose stock is mentioned in this article.