King Digital Entertainment (BATS:KING) is a gaming company with 4 global franchise games: Candy Crush Saga [CC], Farm Heroes Saga [FH], Pet Rescue Saga [PR], and Bubble Witch Saga [BW].
On June 3, 2014 King launched simultaneously on iOS, Android and Facebook a "made for mobile" version of its BW franchise -- called Bubble Witch Saga 2. It is being touted as having "70 levels at launch", new gameplay features, and last, but not least we presume, a "new witch, new tricks…Meet Stella!"
Based on an analysis of only 5 days - June 3 to June 7 -- of download and revenue ranking data from App Annie, we believe that BW will be enough of a hit for King to provide about $100M gross revenue run rate. BW's net contribution due to cannibalization will be less, possibly a net of only $50M.
But, this is enough net new revenue over the next 7 months to allow King to beat its current FY14 revenue guidance of $2,500 M. We have a target price for King of $23.30, assuming a conservative price-sales (P/S) ratio of 2.70.
King needs BW to be a mid-year incremental boost, just as it needs the FH boost to offset CC's continuing revenue loss from its high mark set in 3Q13.
There are two pieces of data used in our analysis: (1) app store download and revenue ranking charts provided by data analytics company App Annie; (2) a mapping of 2014 revenue run rates against App Annie revenue rankings.
Below is our latest effort at this mapping. It is a work in progress. It represents a combination of a few data points disclosed by publicly held companies of specific game revenue contributions set in a more general "power function" relation developed by Think Gaming, Inc.
The basic question we are asking here is, "Will BW will be #20 or higher? If not, then King is not likely to meet its FY14 revenue guidance and its stock will decline.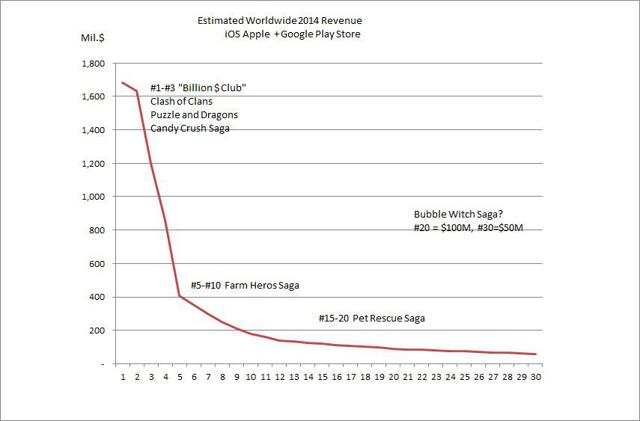 Click to enlarge
The one well known example of a power function is the half-life relation. Another less well known example is the Zipf function named after a 1930s linguist who mapped out word count in literature as a function of rank.
We like to characterize the top three global ranking games - Clash of Clans, Puzzle and Dragons, and Candy Crush Saga --as the "the-of-and" of mobile game revenue ranking. By the way, the last phrase is meta-Zipfian.
The second piece of data used in this analysis is app store download and revenue ranking charts. The availability to investors of daily (even hourly) app store data harkens back to Mad Men days when weekend box office data published by Variety and other Hollywood trade papers could propel the stocks of pure play movie studios at the opening bell of the NYSE on Monday morning.
Of course, just like movies and box office figures, there should be some caution in jumping to conclusions about the ultimate success of a mobile game based on a few days of data. A company can jack up downloads initially with a lot of Facebook ads, but if a game is a poor play and there is bad word of mouth, download and revenue ranking will tank within a month.
And initial downloads as a false signal are probably worse for games than weekend box office numbers for movies as the business model for games is free-to-play with in-app purchases.
Imagine if box office figures were based on entries, not exits, and movies had a mobile game business model where you could get in for free, but were given the option to leave at half-time or pay full price to see the rest of the movie.
I present below app store data in support of my conclusion that BW will be a hit for King equal to or better than PR whose revenue run rate is at $100M.
But first, I present a spreadsheet of the implications of the app store data analysis -- a target for King's stock price of $23.30 up from Friday's close of $17.81, already up 3.85% from Thursday based on superficial articles mentioning the BW launch.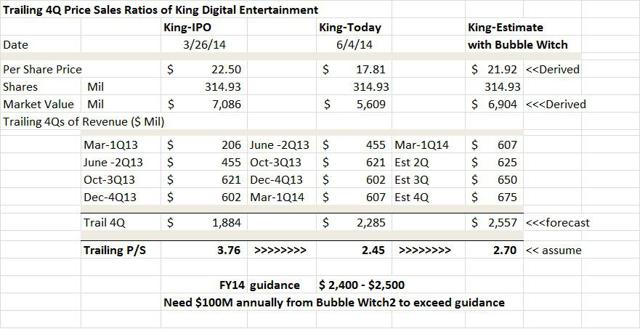 Click to enlarge
Just before King's IPO in March 2014, the F-1 graph showing the 4Q13 decline shocked investors. It was a clear sign that King's flagship game CC had peaked in 3Q13. The IPO was overpriced and the stock tanked 16% by the close.
Before we dive into our estimation of CC's decline, we first want to establish definitively CC's decline based on the following app store charts.
CC ranked in the Top 10 in downloads on iOS Apple Store U.S. for much of 2013, but began to slip since October 2013 and now ranks #47.
CC reached #1 on the revenue ranking charts in April 2013 and stayed there through January 2014. Since then, it has slipped to #2 behind Clash of Clans.
One has to be cautious here in translating the revenue loss from #1 in 2013 to #2 in 2014 because the mobile game market overall is growing 30% or more.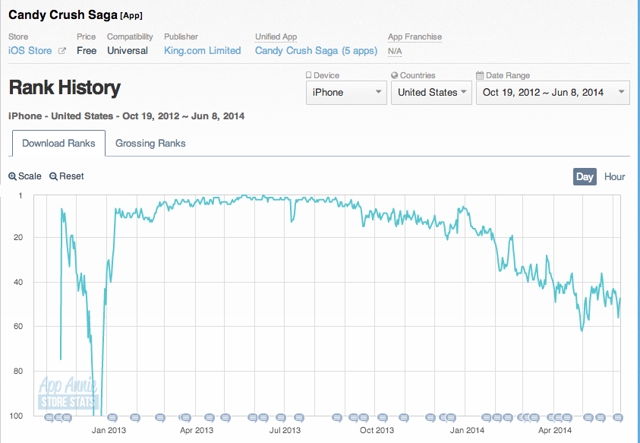 Click to enlarge
(Source: App Annie)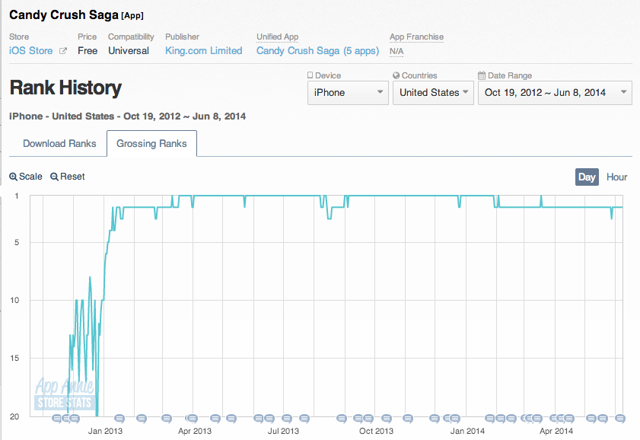 Click to enlarge
(Source: App Annie)
We start with 4Q13 in estimating CC's Q/Q loss because there were no new game launches as offsets. The overall Q/Q loss in 4Q13 was $602M - $621M = $19M and we set this as the starting place for a CC loss from high mark.
For 1Q13, there was an overall Q/Q revenue gain of $5M, which surprised Wall Street. But, they underestimated the contribution of FH which launched on January 2, 2014. At a minimum, there was Q/Q loss of $19M (same as 3Q13) from CC offset by a $24M gain from FH for a net gain of $5M.
We think it was little more on both sides. It was more like a $25M CC loss from high mark offset by a fresh $30M gain from FH with the same Q/Q net gain of $5M.
We project that CC in 2014 will add $25M each quarter to its loss from high mark. This works out to a 2014 quarterly losses from high mark of $25M, $50M, $75M and $100M.
The next question is what is the dollar contribution by new releases in 2014 -- FH in January and BW now in June?
Farm Heroes has worked its way up to #5 on the U.S. app store revenue charts. It has been a megahit for King, which we peg at a $400M yearly / $100M quarterly run rate. For the last two quarters of 2014, King will get the full $100M quarterly run rate benefit from Farm Heroes.
But, for 1Q14, Farm Heroes was still working its way up the charts. So we estimate a first quarter ramp-up run rate of $30M.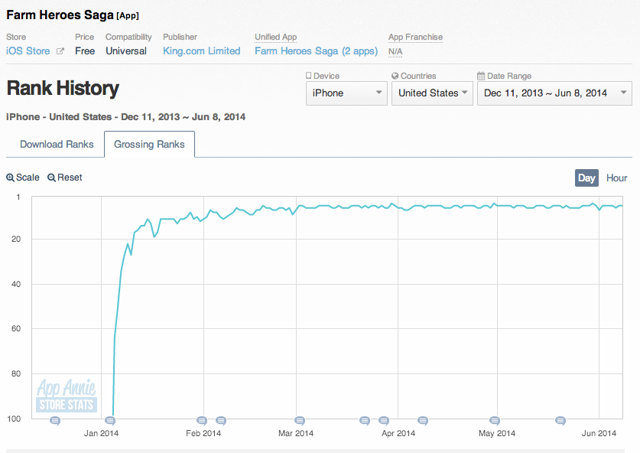 Click to enlarge
(Source: App Annie)
What follows is a comparison of download and revenue ranking charts for King's 4 franchise games: (1) for launch day + 5 for each game to compare potential; (2) the June 3-7 2014 period for each game except BW to check for cannibalization.
In sum, we think that these charts support the case that
BW's 2014 revenue run rate will be at least as good as PR, but below FH. This translates into a revenue rate of at least $100M.
BW has cannibalized downloads from other Saga games, as much as $50M.
First, we present the download ranking charts of BW, FH, and PR from launch date plus 5 days. At the end of 5 days from launch, the results were: BW #14, FH #9, and PR #35.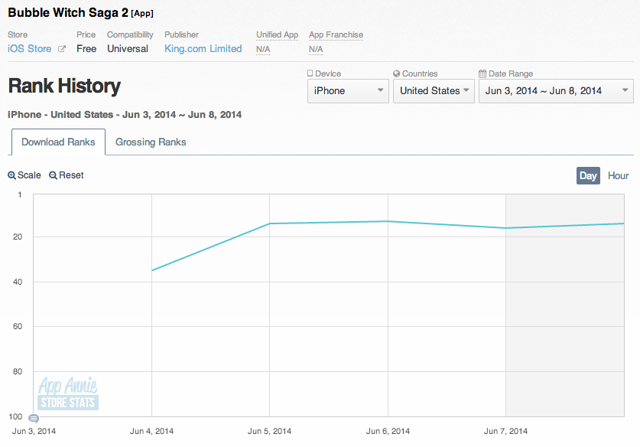 Click to enlarge
(Source: App Annie )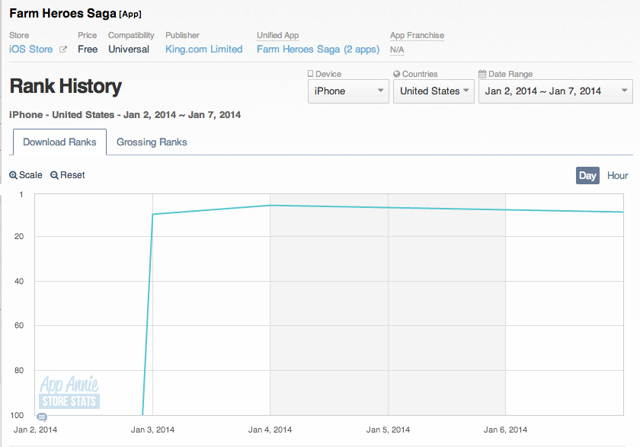 Click to enlarge
(Source: App Annie)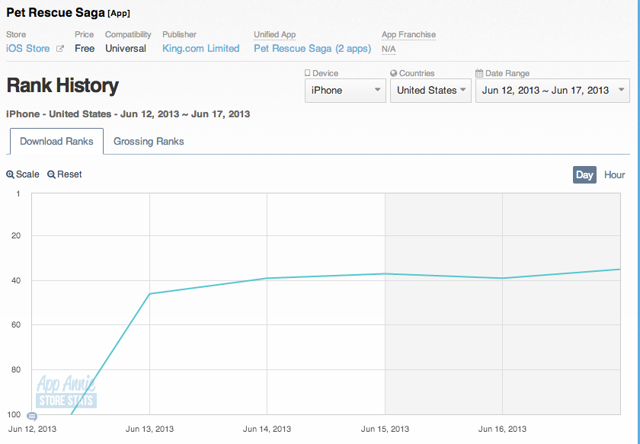 Click to enlarge
(Source: App Annie)
Next we present the revenue ranking charts. At the end of 5 days from launch, the results were: BW #120, FH #34, and PR #119.
We believe that these results indicate that BW's eventual revenue run rate will be equal to or better than PR but far below that of FH.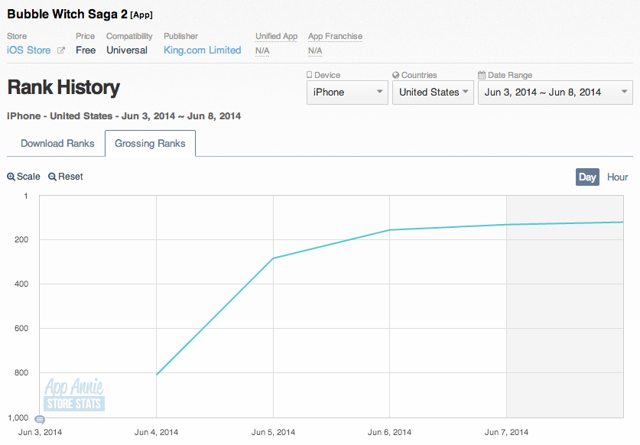 Click to enlarge
(Source: App Annie)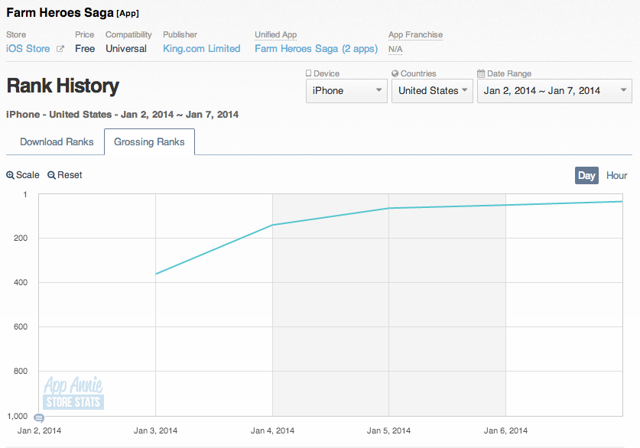 Click to enlarge
(Source: App Annie)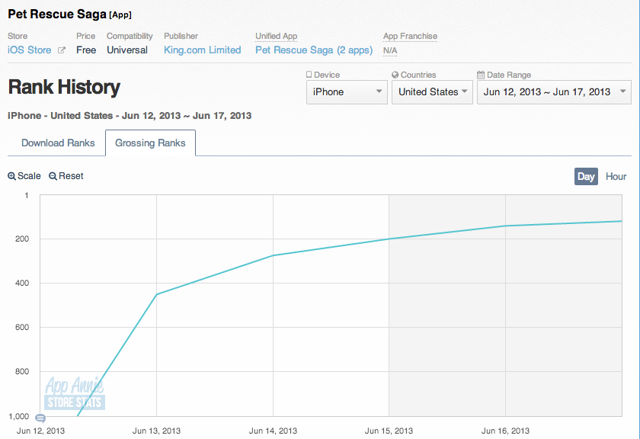 Click to enlarge
(Source: App Annie)
Next, we present download rank charts of BW's Saga mates -- CC, FH and PR --during the last 5 days to see if BW's launch cannibalized downloads.
There is no question that BW is a cannibal: PR declining from #136 to #186, CC declining from #44 to #47, and FH declining from #49 to #85.
Even if BW cannibalized $50M from its mates, and yields only a net contribution in 2014 of $50M rather than $100M, King will still beat FY14 guidance.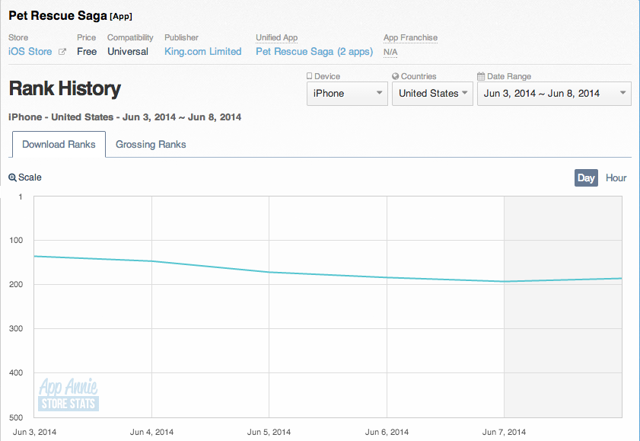 Click to enlarge
(Source: App Annie)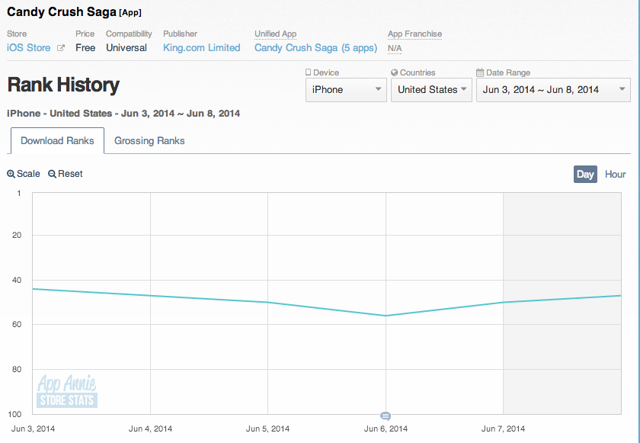 Click to enlarge
(Source App Annie)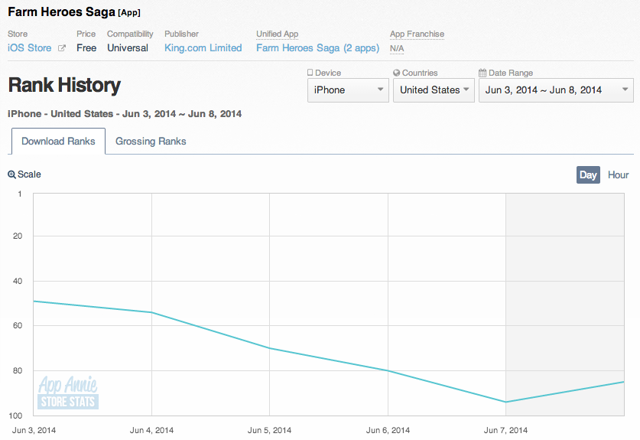 Click to enlarge
Disclosure: I have no positions in any stocks mentioned, and no plans to initiate any positions within the next 72 hours. I wrote this article myself, and it expresses my own opinions. I am not receiving compensation for it. I have no business relationship with any company whose stock is mentioned in this article.