Today AFP Provida (NYSE:PVD) has hit another 52 week high. Since April 16th, when I wrote "Chile's AFPs: License to Print Money", PVD has moved up from $46.20 a share to $61.08 as of this writing, for a gain of over 32%.
Provida runs 30% of the assets in the privatized social security system in Chile and has some enormous advantages as an asset management business. Why is Provida so special?:
I. Customers must contribute to the system though their AFP of choice with every paycheck.
II. As wage rates and the overall population increase in Chile over time, contributions to the AFPs increase. This is a powerful secular macro trend in an emerging country.
III. Contributors cannot withdraw their money from the system (the way investors can pull their money from mutual funds en masse), they can merely move their account from one "AFP" to another. Most customers, however, choose to change the type of fund they use on a spectrum from cash/bonds to equities within the AFP they already have. (Each AFP runs multiple funds with different weighting of cash/bonds vs. equities.)
IV. The vast majority of investors stay with the same AFP their entire lives.
V. Chile, according to the U.N, has lower corruption than the U.S. They are the Switzerland of Latin America. The only thing Chile has in common with most Latin American countries (with the exception of Brazil) is that they all speak Spanish. With a privatized social security system and free market innovations championed by Milton Friedman and other University of Chicago Economists, the country is a wildly successful story about how free market economics can lift countries from poverty to prosperity. Rather than being a drain on the country, the AFPs have funneled much needed investment to the country's businesses.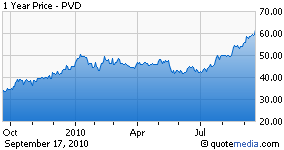 As an added bonus, because Provida is an asset management business, it can pay a large and growing dividend without sacrificing future growth potential, because the business is not capital intensive. Indeed, it already enjoys dominance in a stable market share environment.
Yet another advantage is Chile's currency, which has appreciated strongly in recent years vs. the dollar. Chile is constitutionally required to run government budget surpluses every year, and in addition, the Chilean Peso gets a lift from strong copper prices, since Chile is a copper mining powerhouse.
Amazingly, Provida's valuation is quite cheap. In my view, the stock could double. In the U.S., when a company with large competitive advantages has a low P/E ratio, it is due to doubts about its future. However, Provida is pretty esoteric for most investors, even though it is very well known in Chile. Its valuation suffers from benign neglect, not negative sentiment.
The future of value investing will not be in reviewing the same tired stories that most American investors have been familiar with for decades. The real money in the future will be made from finding situations which are unique, unusual, and undiscovered. Provida is such a company.

Disclosure: Long PVD