Not everybody agrees with American Realty Capital Properties' (ARCP) acquisition-centric growth strategy. As pointed out in my article "American Realty Capital Properties: Bigger And Bigger, Cheaper And Cheaper", ARCP has pushed acquisitions and property growth like nothing else over the last two years. Its landmark Cole acquisition definitely has catapulted American Realty Capital Properties to the Olympus of net lease REITs.
Other transactions such as the recent $1.5 billion Red Lobster deal, CapLease, ARCT IV and the $2.0 billion sale of its multi-tenant shopping center portfolio to Blackstone caused quite a bit of work for ARCP's transaction department. However, some investors seem to take issue with ARCP's acquisitions as of late.
Criticism regarding ARCP's acquisition strategy
Just last week, Marcato Capital Management sent an angry letter to American Realty Capital Properties urging corrective action with respect to ARCP's announced business transactions. According to Marcato's own information, the asset management business holds about 22 million shares or 2.4% of ARCP making it one of the largest shareholders of the REIT.
Marcato Capital Management criticized the speed of American Realty Capital Properties' acquisitions as well as the equity offering conducted at the end of May 2014 itself. Specifically, Marcato Capital Management wrote to ARCP (Source: Yahoo Finance):
We were extremely frustrated by the Company's recent equity issuance at $12 per share. We found it disturbing that the Company would issue equity after repeatedly stating publicly that it had no intention to do so, and at a price that it has repeatedly acknowledged undervalues the shares. Management could not have been clearer about this point on recent conference calls:

"As we've said before, we're certainly not comfortable selling equity at $14 and we haven't. We said we weren't going to sell equity at $13 and we didn't. We said we weren't going to sell equity no matter what anybody said at $12, and people were saying we're coming to the market for equity, we didn't." (Nicholas Schorsch, ARCP CEO, Q4 2013 Earnings Call, 2/27/14)

"But to be clear, we're not anxious to issue stock at $12 and whatever it is at the moment, or $13 or $13.5 a share. We think we're way undervalued, and we think our currency is not being fairly viewed." (Nicholas Schorsch, ARCP CEO, Q1 2014 Earnings Call, 5/8/2014)

After agreeing to sell its multi-tenant retail portfolio to Blackstone for approximately $2 billion, the Company definitively did not need to do an equity offering of any kind, let alone an offering 2.5x the size of what it had previously articulated. Such willingness to destroy shareholder value, by issuing shares at an acknowledged discount to fair value, illustrates a disregard for existing shareholders that we find very problematic. Furthermore, the decision to then upsize the offering by more than 20% - even after being loudly criticized by shareholders on the morning call of the offering - was an additional slap in the face.
First of all, it is true that American Realty Capital Properties stated, that it wasn't fond of raising equity. However, the criticism neglects that American Realty Capital Properties is an opportunistic buyer of quality real estate that, if circumstances are right, needs to act quickly in order to get the deal done. This is the very nature of being 'opportunistic'.
In addition, Marcato Capital Management particularly criticized that ARCP was "issuing shares at an acknowledged discount to fair value". Well, of course it did. First, management is likely to see its own company as being undervalued and trading below intrinsic value -- otherwise, the executive making such statements shouldn't be in management and working for shareholders in the first place. Secondly, I think there is a misconception about equity offerings in general. New shares are issued below market price in order to entice investors to participate in the equity offering. The post-issue market price will very likely be between the pre-announcement price and the issue price of the new shares.
The second criticism Marcato Capital Management brought forward relates to the speed of ARCP's acquisitions. To be honest, I do share the concerns coming with an accelerated transaction speed, but I do not necessarily come to the conclusions that Marcato Capital Management arrives at. Specifically, the funds manager argued:
ARCP's rapid acquisitions of CapLease, ARCT IV, and Cole, followed by the recent purchase of the Red Lobster portfolio, sale of the multi-tenant retail portfolio, and equity issuance, have made the Company's financials complicated and difficult to understand. So many moving pieces make the Company challenging for investors and analysts to model. Indeed, we believe the best evidence of this is that the Company itself seemingly cannot keep its own financials straight.
The main concern I have with rapid acquisition growth relates less to the complexity of financials, but rather with the company's ability to integrate newly acquired properties into the existing corporate structure. While real estate is a very scalable business, a real estate company must be on top of the situation and know exactly what's going on in each and every property. In addition, ARCP gives pretty straightforward guidance as to how pro-forma financials are going to look like.
Why Marcato Capital Management's criticism is wrong
I have already argued above, that I think American Realty Capital Properties' recent equity offering is not destroying shareholder value at all. Though it is true that American Realty Capital Properties has grown aggressively over the last two years, it is also true that the REIT has outstanding portfolio characteristics and, most importantly, is still cheap relative to peers.
For instance, ARCP trades at just around 11.6x adjusted funds from operations which compares against approximately 17.0x for Realty Income (NYSE:O), reflecting a meaningful valuation differential that I also highlighted in past articles.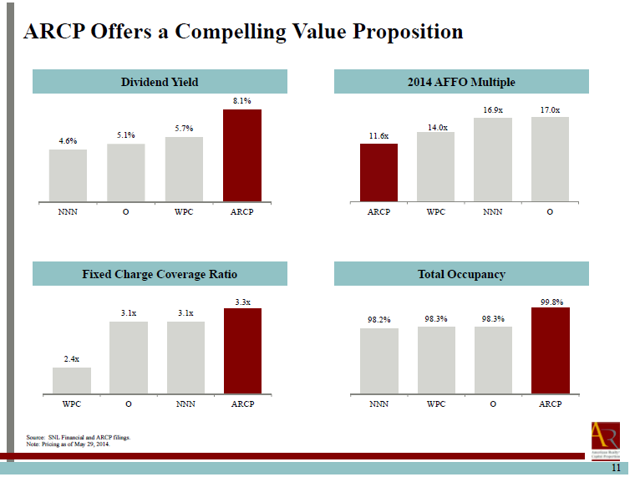 (Source: American Realty Capital Properties REITWEEK 2014 Presentation)
Despite American Realty Capital Properties' aggressive growth, the REIT remains determined to control its leverage and actually reduce its risk profile going forward. In fact, ARCP's pro-forma financials indicate a lower overall level of leverage compared to the status quo.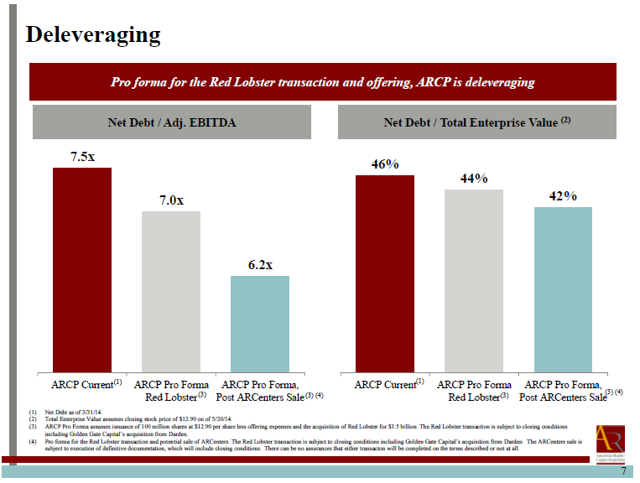 (Source: American Realty Capital Properties Portfolio Information May 21, 2014)
Chart situation
American Realty Capital Properties' equity offering -- 138 million new shares being sold for $12 a piece at the end of May for a total consideration of $1.6 billion -- certainly contributed to the downward pressure on American Realty Capital Properties' stock last month.
On May 21, 2014, when American Realty Capital Properties announced its intention to conduct an equity offering, ARCP's stock lost about 5% of value adding to ongoing selling pressure and slightly increasing negative investor sentiment towards the net lease REIT.
Since the beginning of March 2014, American Realty Capital Properties' stock price has lost approximately 17% of its value.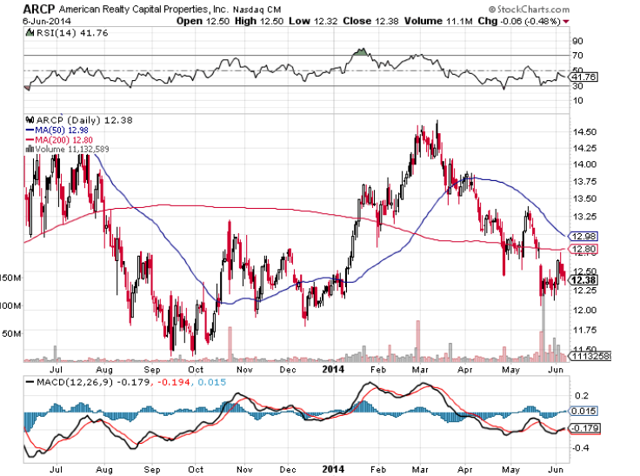 Conclusion
I don't share Marcato Capital Management's criticism of American Realty Capital Properties' growth strategy at all. ARCP's past acquisitions have proven to be accretive, while the REIT continues to exhibit industry-leading occupancy rates, has a comparatively low valuation to other REITs and a vastly improving leverage profile.
Opportunistic real estate companies must have the flexibility to raise equity if attractive acquisition targets emerge. That the recent equity offering was conducted at a price below market price is standard practice and does not represent 'value destruction'.
In fact, I think some investors are upset because ARCP's share price didn't rise as fast as ARCP's property count. The letter referenced above is another example of how utterly impatient Wall Street. While I think pullbacks are fantastic to add to a quality business, other investors follow another mindset. Long-term investors, however, couldn't care less about short-term setbacks while they sit back and enjoy an 8.1% dividend yield. Strong Buy.
Disclosure: I am long ARCP, O. I wrote this article myself, and it expresses my own opinions. I am not receiving compensation for it (other than from Seeking Alpha). I have no business relationship with any company whose stock is mentioned in this article.