If you have viewed any of my previous writings, you will know that I am a fan of Silver mining stocks. Firstly, I specialize in mining stocks, and secondly, in searching for the best gains, I believe we have an edge for the Silver metal in the upcoming fall as detailed here in the Silver break of the Gold Silver Ratio.
So, let us take a look at some shining Silver possibilities for your portfolio.
Silver Wheaton – SLW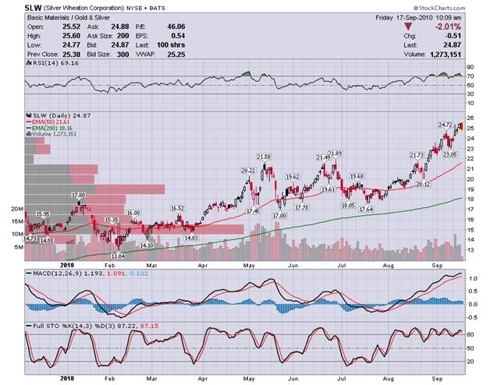 Click to enlarge


Silver Wheaton (NYSE:SLW), the large-cap $8.5 billion royalty silver equity, is, in the author's opinion,"la crème de la crème" of Silver stocks. Their unique business model of purchasing Silver production streams allows them to shed the production risks and still participate in the exposure to the rise of the underlying Silver metal price. Looking at the above chart, you can see that Silver Wheaton has done well this year with an 80% move, and has roughly tripled in price since the lows of March 2009. Silver Wheaton is the large safe vehicle to participate in the Silver price rise. The author has owned SLW in the past, and uses the status of SLW as an indicator in monitoring the Silver sector.
Hecla Mining – HL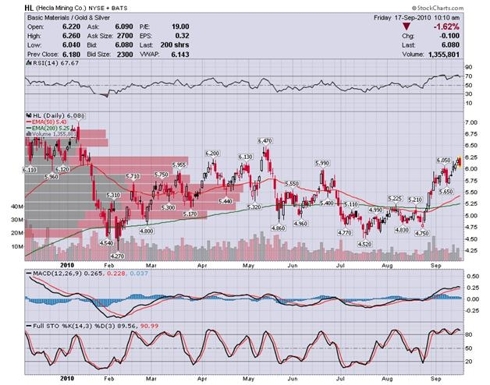 Click to enlarge


Hecla Mining (NYSE:HL) is a mid-cap $1.5 billion Silver producer based in the Silver Valley area of Idaho. Hecla is stabilizing their Greens Creek mine production in Alaska, which features negative cash costs due to the Zinc Lead byproducts credit. Since tripling in price from the lows of March 2009, Hecla has struggled for the most of this year. However along with the other silver miners, Hecla has made a strong move forward with the rise of the Silver metal's price. Hecla is a volatile equity that may have significant upside, should they iron out the kinks. The author has owned HL in the past.
Silver Standard Resources – SSRI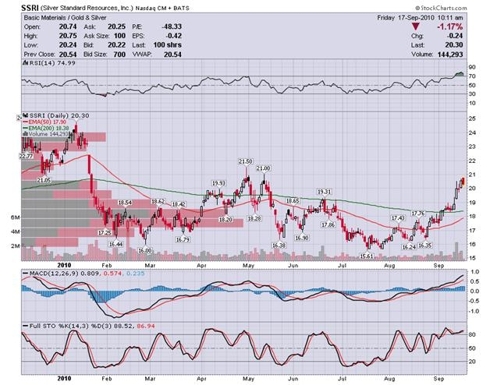 Click to enlarge
Silver Standard Resources (NASDAQ:SSRI)[TSX:SSO] is an emerging $1.6 billion mid-cap Silver producer based in the Americas. SSRI has just started production at their Pirquitas mine in Argentina as of the beginning of this year. What is notable about SSRI is that they own twin gold silver projects Snowfield and Brucejack, which are huge projects in northern British Columbia at the preliminary assessment stage. The author is considering an investment in SSRI for the possible large upsides in development.
US Silver Corp – USSIF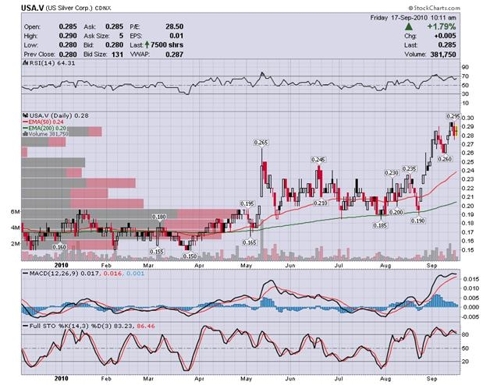 Click to enlarge


US Silver Corporation (CYLPF.PK))[TSX:USA] is a small-cap $76 million Silver Valley, Idaho-based miner. Their Silver property was acquired from Coeur D'Alene (NYSE:CDE), and their reopening of the mines success is detailed in a previous article here. USA has roughly doubled in price this year. US Silver has just completed a small $6 million private placement to re-open the Coeur mine shaft which is linked to their mining complex and increase production. As the author is keen on small Silver mining stocks, the author owns shares of USA .
Genco Resources – GGCRF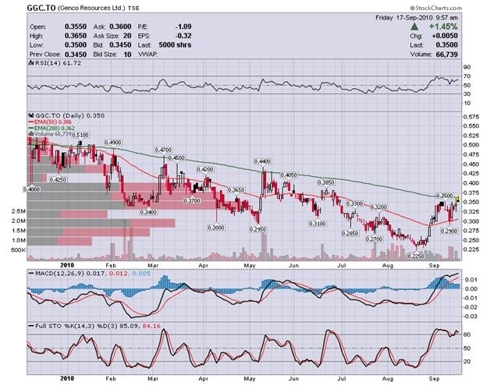 Click to enlarge


Genco Resources (GGCRF.PK)[
TSX:GGC
]
is a small-cap, $37 million turnaround story of a Silver producer based in Mexico. Their La Guitarra mine has been restarted under changed management. Genco owns the whole Temascaltepec mining district, which has a long history of Silver production in Mexico. Genco has a Ni 43-101 compliant report indicating 50 million ounces of reserves and 150 million ounces of resources in Silver equivalents. As Genco was a $4 stock when producing in previous years, this makes this almost a no-brainer investment for this author.
Canadian Zinc – TSX:CZN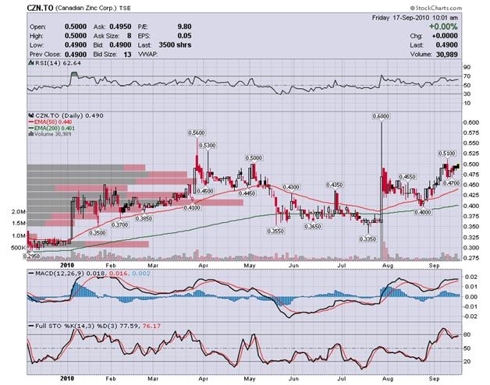 Click to enlarge


Canadian Zinc [CZICF.PK, TSX:CZN] is a small-cap, $61 million story of the old Texas Hunt brothers' Prairie Creek mine built in the 1980s when Silver was last at $50 per ounce. The mine is in northern Canada and is unique for the extreme high values of its ore, $800USD per ton, and the complete mining infrastructure that was built in place, not used and then abandoned. See this September 15, 2010, interview with Alan Taylor, their Chief Operating Officer and VP of Exploration.
Canadian Zinc is misnamed and misunderstood and much undervalued. The Prairie Creek mine was fully permitted and three months from production when Silver prices collapsed and they shut down. Defined resources have increased from 2 million tons in the Hunt brothers' day to over 11 million tons presently, and there is potential of multiples of that in their present exploration. There is a deep drill program going presently that should report on mineralization 4 kilometers north of their mine site. Canadian Zinc is in the process of permitting for mining production. The potential for Canadian Zinc is large and the author owns shares in this company.
Six Silver Stocks' Performance in 2010
The following chart compares the relative performance this year of the six above-mentioned stocks.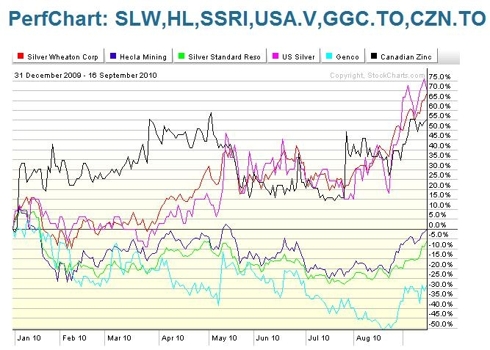 Click to enlarge


To paraphrase the old adage, "Past performance does not indicate possible future returns". Silver Wheaton, US Silver and Canadian Zinc are leading with their gains. Hecla, Silver Standard and Genco are still dealing with their issues. However, they all have moved off their lows of the summer and are moving up with the Silver price increase.
Summary
The Silver metal price appears to be moving to new highs this fall. The author is a firm believer in junior mining equities for leveraging the gains of the underlying precious metals. The author also believes that the safer investments would include miners that are either mining or close to production. Readers are advised to assess their own appetite for risk and reward in their own investments.
Disclosure:
The author is long Silver mining equities.
Disclaimer:
The information and opinions contained within this document reflect the personal views of the author and should be viewed as food for thought and amusement only. The author may from time to time have a position in any of the securities mentioned. There are no guarantees of the accuracy, reliability or completeness of the information contained herein. Independent due diligence and discussions with one's own investment and business advisor is strongly recommended. These writings are not to be construed as an offer or solicitation with respect to the purchase or sale of any security or as an endorsement of any product or service. We do not request or receive compensation in any form in order to feature companies in this publication. It is prohibited to copy or redistribute this document to any type of third party without the express permission of the author. This document may be quoted, in context, provided proper credit is given