By Dean Popplewell
Today is starting off rather anticlimactic, especially after last week's fundamental events, where market participants spent weeks building up and buying into various scenarios depending on what the ECB was to bring forth and on the strength of US jobs market. Draghi and company ended up deciding to throw their whole tool bag at the eurozone's potential deflation concerns and growth problems – a tad more "dovish" than had been expected. While in the US, they happened to cap off one of the best four-month stretches for job creations in 18-years (May NFP +217k as expected), certainly supporting stocks, but not necessarily the "big" dollar, thereby confounding some positions taken. Typically, upbeat spells in most economies are usually associated with a weaker domestic currency.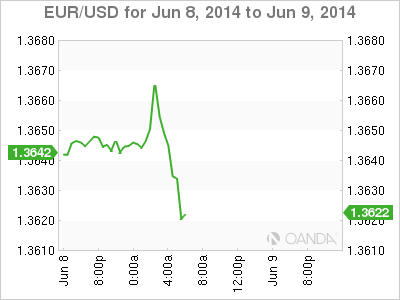 Where to from here? The G10 currency war argument remains intact. In Europe, the aftermath of the ECB meeting continues to support sentiment – equities higher, while some periphery bond spreads tighten to bunds. The ECB cut its main interest rates, put deposit rates into negative territory and outlined a number of further measures, including a fresh series of cheaper loans to banks. These decisions and initiatives should help stabilize the region's inflation and reduce the risk of deflation. However, economic recovery will continue to be gradual. The supposed proposals are not a "magic bullet" to weaken the EUR immediately. This would be done far quicker and more aggressively if the ECB decided on "direct" intervention. So far, the EUR aftermath response has confounded many.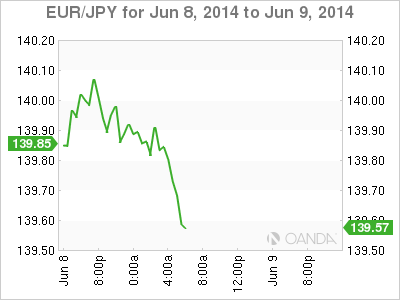 So why is the EUR not suffering? The ECB measures taken last Thursday are very supportive for European financial assets like equities and peripheral bonds (Spanish 10-year government yield at +2.60% and below its US equivalent for first time in four-years). Draghi and company's actions are stimulating further portfolio investments into the euro-region, and it's this that would obviously bid up the EUR itself. Friday morning's non-farm payroll number was always going to be a coin toss outcome. Any negative surprises (sub +200k print) and the EUR would have garnered immediate support. A strong headline print (along the line of last month's +288k – actual +217k) would keep the Fed on track and aid the ECB's best intentions. However, anything in the middle, and that's what ended up happening, and the market would find it difficult justifying full engagement.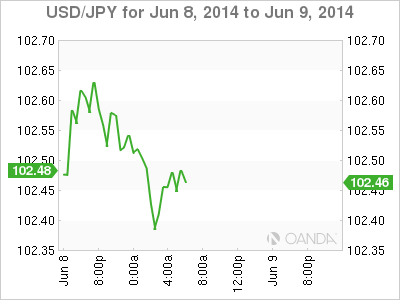 Euro periphery spreads tighten
For now, euro peripheral spreads tightening and euro equities in the black continue to underpin the EUR. However, US payrolls running at a healthy clip and the end of QE probably just months away should create risks to US short-term yields to the upside. This will eventually underpin the USD and support the EUR to become a more popular "funding" currency. Nevertheless, positional timing is key with a large percentage of the market more comfortable selling EURs on rallies up to €1.3750. But, will they get their chance? There are yards of EUR/USD expiries in the vicinity this week (€1.3550 $3.8b, €1.3600 $8.8b, €1.3650 $3b and €1.3700 $3.7b) that should keep this market underfoot and frustrated. Mind you, the month long World Cup will again be weighing on capital markets' volume and volatility.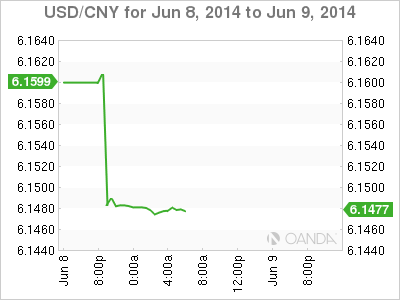 Europe and the US cannot hog all the limelight. China trade data released over the weekend painted a mixed picture despite the impressive 5-year "surplus" beat on the headline. Exports were particularly impressive with a +7% y/y rise - shipments to EU were up +13% and those to US up +6%. However, the imports component surprisingly contracted, shrinking by -1.6% against a +6% expected rise. The commodities component fell, mostly due in part to the recent crackdown by Chinese regulators on the use of commodities as collateral to finance deals.
In Japan, Q1 final GDP was revised higher despite expectations of lower than initially reported growth. Their Q/Q final GDP stood at +1.6% vs. +1.5% preliminary, and annualized was up +6.7% vs. +5.9% preliminary. Japan's corporate CAPEX (capital expenditure for future benefit) component revision stood out with a whopping +7.6% rise vs. +4.6% estimate. USD/JPY hit a high of ¥102.64 on the release before retreating to current levels. The BoJ's Governor Kuroda also indicated that while stimulus policies have achieved the goal of boosting the real economy and ending deflation, the official +2% inflation target may take more than the initially projected 2-year time frame to be reached sustainably.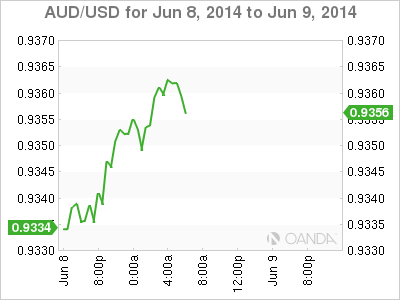 Investors improve carry appetite
Both forex volume and volatility have taken a massive hit since the onslaught of low interest rate policies by G7 central banks. What the FX market needs, and has been looking for, is a divergence in monetary policy. Are capital markets finally on the route to getting their wishes granted? In translation the ECB's policy action last week means that over the next 12-18 months there will be some divergent monetary policy between the eurozone, the US and the UK. Nevertheless, this knock-on effect from the ECB's perspective will take time. With the hunt for "carry" now in full swing, KRW and TRY are the emerging markets outperformers, while AUD looks to be the contender for the G10 title.
For the remainder of this week, investors will be watching China's May economic data, including consumer and producer prices, industrial production and retail sales to see if the economy is picking up. Stronger data usually aids the Australasian currencies (NZD and AUD in particular). The BoJ and the RBNZ get to announce their respective monetary policies. The latest jobs reports from down-under will be monitored closely as well. AUD is now being touted to reach parity by year's end, supported mainly on the yield carry front.