"There's no such thing as a free lunch, but there is an inexhaustible supply of investors who will trip all over themselves in pursuit of it." (Jason Zweig, author and writer of The Intelligent Investor column at The Wall Street Journal)
The cost of "lunch" has gone bonkers as Tyson Foods (TSN) and Pilgrim's Pride (PPC) bid up the value of processed meat producer Hillshire Brands (HSH). The bidding war for HSH has pushed its stock close to $60.
Since when does a company that makes lunch meats and hot dogs deserve a forward (1-year) PE ratio of nearly 30? That translates to a share price representing 30 times next year's earnings.
While Tyson and Pilgrim's Pride duke it out for Hillshire, now is a good time to consider other meat and food titans whose share prices haven't gone ballistic yet.
Reaping Dividends While Finding the Next Hillshire Brands
As hungry value and income investors know, finding companies with significant upside potential and rewarding payouts becomes more challenging as major market indices rise to record levels. Food companies are currently in the spotlight with news about a number of attempted acquisitions, and the sector offers some timely choices.
As Pinnacle Foods' (PF) shareholders learned when Hillshire Brands made an offer to buy it, an acquisition attempt can launch the share price of even a stodgy frozen food purveyor. When Pinnacle's predator, Hillshire, became a takeover target, its shares soared 74% between May 12 and June 6 as a bidding war ensued.
This kind of takeover excitement is spreading to other potential acquisition targets in the food sector worth considering before a predator strikes. Which ones might be the next Hillshire Brands?
The Wall Street Journal in a June 5 article mentioned Kraft Foods Group (KRFT), which owns the Oscar Mayer brand of meats. It also dominates the sliced lunch meat market in the U.S. with almost 40% of retail sales.
The company is #2 in the hot dog and bacon market and has a wide assortment of beverages, processed cheese products, nuts, trail mixes, peanut butter, dry packaged desserts, and refrigerated gelatin and pudding snacks. Its shares reached a 52-week high on June 6 at $59.88 after receiving much publicity during the Hillshire drama.
Trading with a trailing PE of 13 and a forward PE of 17 suggests that Kraft is not yet overvalued. If the stock became a buyout candidate, or if it was willing to sell its Oscar Mayer brand at the latest lofty valuations, the stock could spike overnight.
Investment Theme: KRFT currently pays a $2.10-per-share annual dividend. If the news on food sector companies begins to wane, Kraft shares may dip towards the May 28 low of $58.
At that level the dividend yield-to-price rises to 3.62%, which is outstanding compared to another food titan Kellogg (K) with a yield of 2.67%.
Speaking of Kellogg, it's helpful to note that both Bloomberg and The Journal reported last week that the company may be on Warren Buffett's potential shopping list.
Buffett's holding company Berkshire Hathaway (BRK.A) (NYSE:BRK.B) has a history of buying companies with lower price-to-earnings (PE) valuations, expanding free cash flows, an outstanding return-on-equity (ROE), and strong brand names.
Kellogg and KRFT both have the highest trailing twelve month (TTM) ROE numbers in their peer group according to key statistics provided by Yahoo!Finance. Kraft's ROE at 61.27% and Kellogg at 59.34% are tops. Both companies also have a long list of iconic brand name products.
With a trailing and forward PE similar to Kraft Foods, shares of Kellogg offer value-oriented investors a compelling premise.
Patient investors may catch a break and buy shares of K near the May 29 low of $67.54. The following 1 year chart shows how the share prices of these two powerful food companies have performed.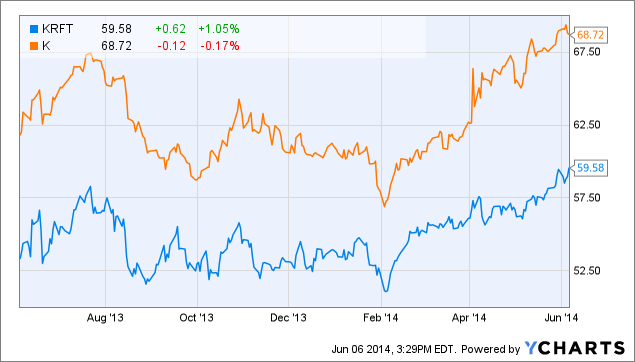 KRFT data by YCharts
The two appear to move in lock step. Based on their key financial metrics both still have upside potential from current levels.
If an acquirer or activist investor gets involved with Kraft or Kellogg I anticipate a strong move higher in share prices. Recall what happened when Buffett decided to invest in The Hershey Company (HSY) and consider the current situation with Hillshire Brands.
A smaller, more speculative food company also mentioned in The Journal with a delectable meat division is Bob Evans Farms (BOBE). It owns the Owens brand of sausages that according to the company is #3 in the U.S. breakfast market.
Besides a chain of 561 company owned-and-operated family restaurants in 19 states, Bob Evans Farms also offers ham and hickory-smoked bacon products plus frozen foods like mashed potatoes, macaroni and cheese, and microwaveable sandwiches.
If that isn't enough, it owns and operates a prep kitchen that prepares muffin mixes, dressings, sausage gravy, sauces and soups for third-party restaurants.
Investment Idea: The company is small enough to be acquired with a relatively tiny $1.2 billion market cap. There's also an activist investor who's been urging the company to break itself up.
The activist hedge fund Sandell Asset Management controls almost 6% of BOBE shares. With Sandell's stated intentions, Bob Evan's management may eventually be compelled to separate its grocery business from its restaurants.
If the loser of the Hillshire Brands battle (Tyson Foods or Pilgrim's Pride) were to set its sights on BOBE, Sandell, which has been urging Bob Evans to break itself up and plans to replace a majority of the board of directors this summer (according to a June 5 Wall Street Journal report), may assert itself.
Bob Evans Farm currently pays a $1.24 annual dividend. If the stock cools down from the recent publicity which helped drive shares up on June 6, it's reasonable to anticipate a dip to $47. At that price the yield would rise to a competitive 2.64%.
The company's 52-week high price of $60.22 may turn out to be the lower end of the buyout range if an acquirer comes calling. This is based on current buy-out premiums in the industry.
With at least one activist investor (plus "Absolute Value" investment firm River Road Asset Management which owns over 9.3% of the outstanding shares) involved and the possibility of an eventual break-up/spin-off, BOBE shares offer healthy upside in my estimation. While waiting investors receive a worthwhile dividend.
Below is a 1 year illustration of how the stock has performed. I've included two key financial metrics that speak to my optimism.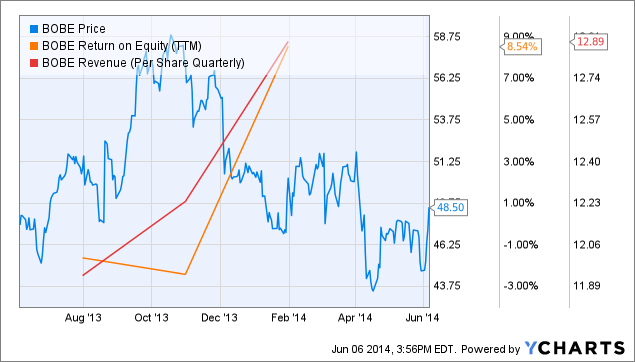 BOBE data by YCharts
Since August 2013 both the company's ROE and its quarterly per share revenue are growing in a very positive direction.
In the final analysis Bob Evans Farms looks promising with adequate dividend compensation. As the chart suggests the stock has a volatile recent history and is more of a speculative play.
If you're a more conservative investor I'll end with the following thoughts.
Stick with the best names in the food sector, which also include General Mills (GIS) with its 3% dividend yield. GIS would be my third choice of the best food companies to consider along with KRFT and Kellogg.
Don't chase any of these stocks. Pick a buy-limit level that you believe is fair and let the market-makers bring the stocks to you.
There will be other "feeding frenzies" in the weeks and months ahead, so don't fret if you miss this one in the food industry. Yet you still have enough time and choices to selectively participate.
Just remember, there are no "free lunches," just chances to be a smart shopper who collects dividends while awaiting your carefully selected stocks to move higher. Wishing you outstanding results!
Disclosure: I am long BOBE. I wrote this article myself, and it expresses my own opinions. I am not receiving compensation for it (other than from Seeking Alpha). I have no business relationship with any company whose stock is mentioned in this article.