One of the perks about holding mature dividend stocks is that they raise their dividends. Just like clockwork, International Business Machines (NYSE:IBM) raised its dividend in Q2 2014, marking its 19th consecutive annual dividend increase. To add to the excitement, you can buy IBM at a discount today!
Table of Contents
About IBM
IBM's Strategic Imperatives from its 2013 Annual Report
IBM's Dividend and Long History of Raising it
Stagnant Revenue to Revenue Growth Spurred by Big Data and Cloud
Valuation and Upside
Technical Analysis
My Tax Consideration as a Canadian
In Conclusion
Resources
About IBM
IBM is an information technology company operating in 5 segments:
Global Technology Services
Global Business Services
Systems and Technology
Software
Global Financing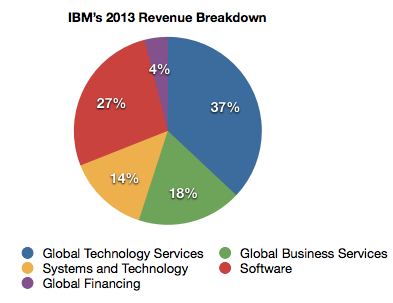 Foreign business makes up 65% of 2013 revenues.
(Percentages from Value Line's IBM report of April 4, 2014)
IBM's Strategic Imperatives from its 2013 Annual Report
To make markets by transforming industries and professions with data
To remake enterprise IT infrastructure for the era of cloud
To enable "systems" of engagement" for enterprises
1) To make markets by transforming industries and professions with data
IBM is taking advantage of this Big Data Era. The world generates 2.5 billion gigabytes of data everyday, of which 80% is unstructured.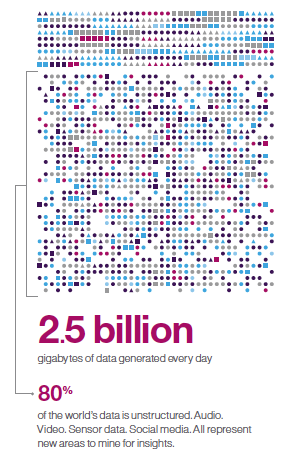 IBM believes data is the new basis of competitive advantage, whether to drive business outcomes or capture the time value of data by developing "speed of insight" and "speed of action" as core differentiators.
IBM has invested into the infrastructure needed to capture the growth of Big Data, along with acquisitions to improve its capabilities.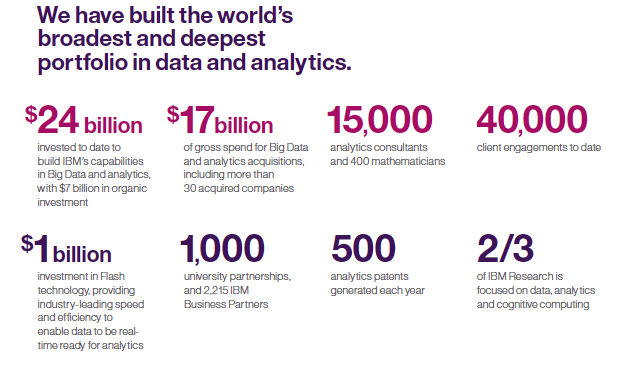 Taken together, our investments in data and analytics are driving significant growth, with 40,000 service engagements to date, growing by double digits. In 2013 our business analytics revenue rose 9 percent-led by Global Business Services and Software. This is already a nearly $16 billion business for us, and we have raised our expectations for it.
IBM is building complex systems which are able to learn from the vast array of data fed to it, from their own experiences, and from interactions with people. This means that these systems must have cognitive minds of their own. These systems will together drive tremendous growth. Some success is already shown through the 40,000 service engagements to date. In 2013, IBM's business analytics revenue rose 9% - led by the Global Business Services and Software segment. Additionally, IBM is raising its expectations for it.
2) To remake enterprise IT infrastructure for the era of cloud
Cloud computing is the delivery of IT and business processes as digital services. It is estimated that by 2016, more than one-fourth of the world's applications will be available in the cloud, and 85 percent of new software is now being built for cloud.

As important as cloud is, its economic significance is often misunderstood. That lies less in the technology, which is relatively straightforward, than in the new business models cloud will enable for enterprises and institutions. This is creating a market that is expected to reach $250 billion by 2015.

IBM today is the leader in enterprise cloud, a position we have enhanced through investments of $7 billion on 15 acquisitions, most notably SoftLayer in 2013. We provide the full spectrum of cloud delivery models-infrastructure as a service, platform as a service, software as a service and business process as a service. IBM's cloud capabilities are built on 1,500 cloud patents and supported by thousands of cloud experts. Eighty percent of Fortune 500 companies use IBM's cloud capabilities.

...

In terms of technology, security, flexibility and pricing, IBM surpasses all our major competitors. And our rapidly growing roster of 30,000 client engagements-including companies like Honda, Sun Life Stadium, US Open Tennis and hundreds of top online games with a user base exceeding 100 million-is a testament to that.

...

To meet growing demand for greater speed, and legal requirements for compliance and data residency, IBM is aggressively expanding its global cloud footprint. We currently have 25 data centers globally, and the new $1.2 billion investment announced in January will see the opening of 15 more, in the US, the UK, Australia, Brazil, Canada, China, France, Germany, India, Japan and Mexico.


(simplified image from 2013 Annual Report)

The impact of our cloud investments shows up clearly in our results. IBM's cloud business grew 69 percent in 2013, delivering $4.4 billion of revenue. As we actively embrace cloud in order to deliver "IBM as a Service" to our clients, we expect to see significant benefits in client experience, revenue growth and enterprise productivity.
3) To enable "systems" of engagement" for enterprises
84% of Millenials say social and user-generated content has an influence on what they buy. 70% of boomers agree.
IBM believes a systematic approach to engagement is required, and that leaders will:
Use mobile and social to increase speed and responsiveness of engagement from customers, partners and employees where they are
Want to personalize every meaningful interaction
Need to learn continuously the right to serve customers - which demands privacy, security, and trust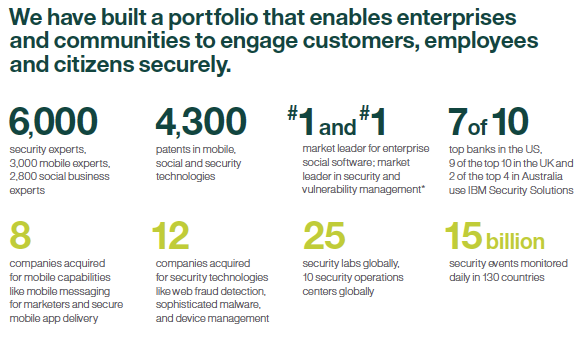 IBM's Dividend and Long History of Raising it
IBM raised its dividend by 15.8% in Q2 2014. That yields 2.36%, which is on the higher-end as shown in this 10-year graph.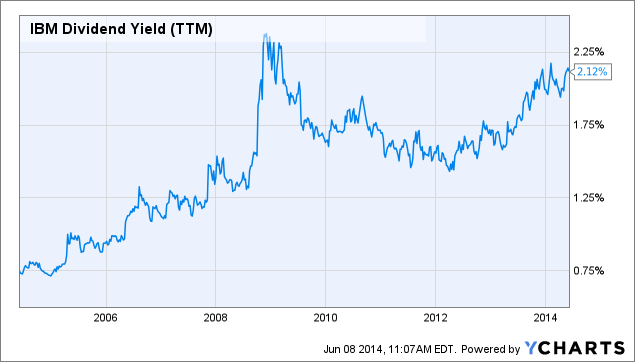 IBM Dividend Yield (TTM) data by YCharts
Having a history of paying increasing dividends for 19 years, IBM's management has shown its commitment to continue increasing it. Having a payout ratio of 26%, IBM still has cushion and have the cash to continue paying and raising the dividend.
For the patient investor, IBM offers a nice yield and growth of that yield north of 10%, and perhaps some capital appreciation down the road if you believe it to be undervalued. It also maybe reassuring that Warren Buffett is holding 6.3% of IBM shares in Berkshire Hathaway.
Stagnant Revenue to Revenue Growth Spurred by Big Data and Cloud
One might wonder why IBM is offering its highest yield in a decade. This phenomenon may be partly explained by its stagnant revenue numbers. It went from $96,293M in 2004 to $99,751M in 2013. That's almost a 3.6% growth in a decade. Not anything to cheer about. To be fair, for this period, a high of $106,916M was hit in 2011. The Big Data and Cloud related strategic imperatives described earlier looks promising as Big Data-related analytics revenue rose 9%, and IBM's cloud business grew 69 percent in 2013, delivering $4.4 billion of revenue. As stated earlier, $24B has been invested to date into Big Data and analytics, while another 15 cloud data centers are planned to be added across the globe in addition to the 25 in existence, preparing for IBM's cloud business expansion.
Target of Earnings Per Share of $20 By 2015
How is IBM able to grow its earnings per share [EPS] at an impressive compounded annual growth rate [CAGR] of 13% for the past decade? Tracing its share count, IBM reduced its shares from 1,709M in 2004 to 1,103M in 2013. 35% less shares in 10 years. What this means for shareholders is that by holding your shares, you're gaining a larger pie of IBM. In fact, management's 2015 operating EPS target is $20. (At the end of 2013, that number is $16.28.) IBM's act of share buybacks is also increasing the free cash flow per share, which is used to pay the dividend.
Key Drivers of the 2015 EPS target include:
growing revenue by shifting to faster-growing businesses and strategic acquisitions. In fact, last month, IBM acquired Silverpop," a privately held software company based in Atlanta, Ga, and Cognea, a Redwood-based artificial intelligence company" - Google Finance
shifting to higher-margin businesses
buying back shares
Valuation and Upside
Morningstar is currently giving IBM 4 stars, meaning it's undervalued. A fair value estimation of $212 indicates an upside of 13.7% with Friday's closing price of $186.37.
I use FAST graphs as another source of analysis. When the price (black line) is in the green area under the earnings line (orange line), it indicates the company is undervalued. During the financial crisis, indicated by the grey area, IBM was at a discount of ~38% at the end of November 2008. Currently, IBM is at a discount of 27%, according to actual earnings achieved by the end of 2013.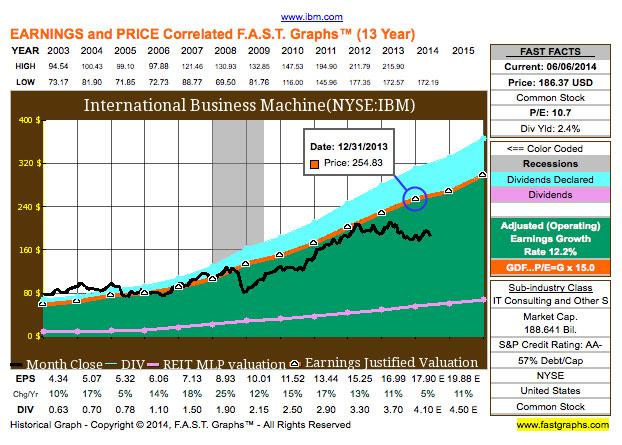 Technical Analysis
Referring to Finviz's chart, we see that after hitting the $170 area 3 times since October 2013, IBM's price action is finally showing an uptrend.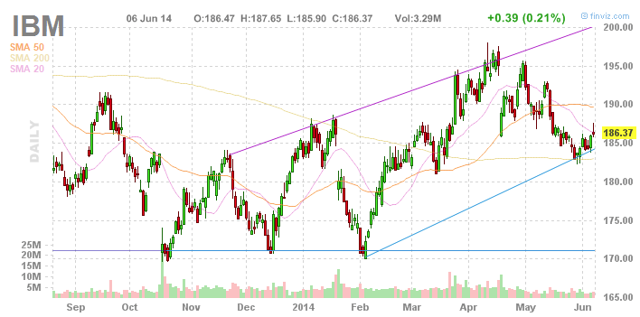 My Tax Consideration as a Canadian
There is a 15% non-residence withholding tax on IBM's dividend if you are holding it in the TFSA (Tax Free Savings Account) or non-registered (or taxable) account. There's no withholding tax on the dividend if held in the RRSP (Registered Retirement Savings Plan).
I'm holding IBM shares in the taxable account. Although I can claim foreign tax credit on the 15% withheld tax, I still need to pay the marginal tax rate to the Canadian government. Since I'm in a low tax bracket, I only buy high yield (3% or more) companies in the RRSP, and only contribute a small amount to the account.
In Conclusion
IBM is designated as a wide moat firm by Morningstar, meaning that IBM has lasting competitive advantages over its peers. Additionally, both the valuation tools I use are indicating it is priced at a discount today. So, it doesn't come as a surprise that IBM's yield is sitting at a 10-year high. Most importantly, IBM's revenue may start to grow again in a couple years as its investments in Big Data and Cloud business are paying off.
Resources
If you like what you've just read, consider clicking the bolded "Follow" link at the top of the page above the article title to receive an email notification when I publish a new article.
Note: Please use this article as initial research material. Do your own due diligence before buying or selling a stock.
Disclosure: I am long IBM. I wrote this article myself, and it expresses my own opinions. I am not receiving compensation for it (other than from Seeking Alpha). I have no business relationship with any company whose stock is mentioned in this article.