Ford (NYSE:F) finished last week screaming.
Up 2.4% again on Friday, it marks the end of a week where the stock moved up nearly 5%. For those that have been following Ford, they know that a 5% move in a week, let alone a month, for this stock never seemed like a likely scenario.
This was the chart that I pointed out in my last article about Ford. My concern was whether or not Ford was going to break out and finish over its resistance line near $16.55.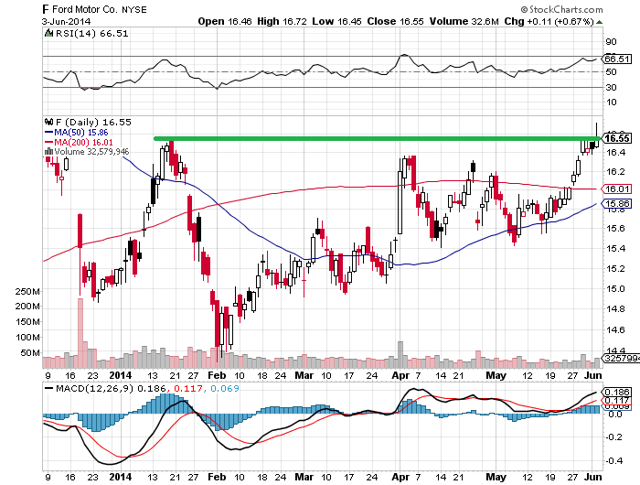 Click to enlarge
As you can see, Friday, the stock handily took down the $16.55 mark on the news of steady sales in China. As you can also see, the 50-DMA is about to curl upwards and cross through the 200-DMA, which will set off bullish alerts for traders in the coming week if Ford can even continue to simply inch upward.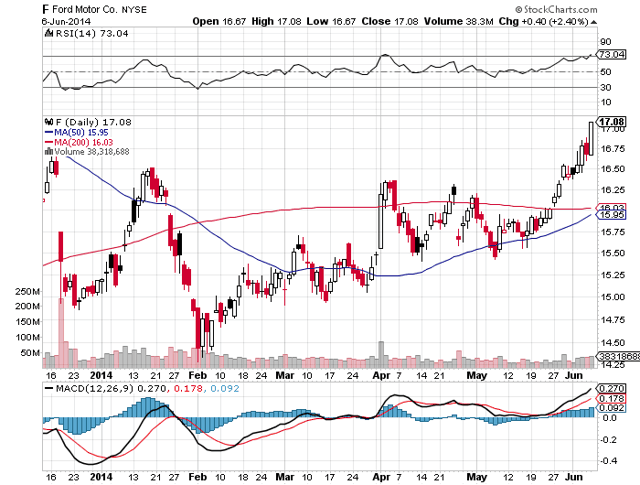 Click to enlarge
For months, I had been waiting for Ford to make a significant move to the upside, and it's failed to occur. What we're looking at here is a bona fide beginning of a technical break-out.
So much of my thesis for being in Ford to begin with, has to do with the automaker's performance overseas in Asia, Europe, and other certain emerging markets.
To end an already decent week for the automaker, its Chinese sales were reported on Friday by Seeking Alpha:
Ford China (+1.8%) sales rose 32% Y/Y in May to 93,323.
Sales for the Mondeo model were up 90% to 10,395 - while sales of Ford Focus cars improved by 22% to 33,341.
What to watch: The automaker is rolling out the Lincoln brand in China later this year.
This comes on the heels of Ford's May sales data, which impressed enough to help give the stock its foundation to move upward:
Ford unit sales +3.0% to 254,084 after analysts had forecast a small dip of 0.2% for the month.
Retail sales rose 6% in May to 174,889 vehicles sold.
Shares of Ford are up 1.4% off the monthly sales beat.
This seems to be the news that's finally looking to propel Ford upward.
For months, I've been claiming that Ford has simply been fundamentally undervalued. Possibly mired in the GM saga, possibly just not taken seriously by the market, when the company's valuation snaps back to moderate, I don't think $20 is going to be far off for the automaker.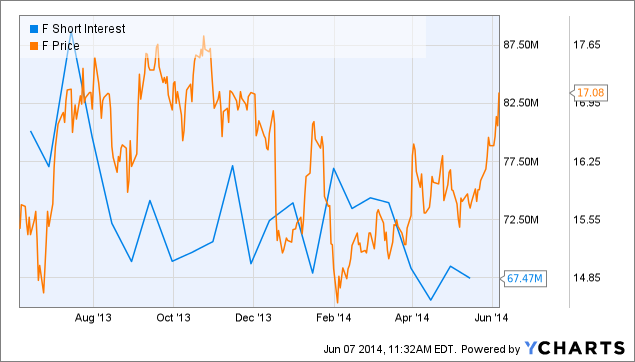 F Short Interest data by YCharts
As you can see, as Ford stock has made its way upwards yet again this year, the short interest in the company continues to decline.
While there is still risk associated with going long, especially if the macro market indices fail to hold up at some point, Ford looks like it's at the beginning of a break-out. Going long here and taking Ford up to and through $20 looks to be the attractive trade, based on the company fundamentals and the stock's technical rally.
Best of luck to all investors.
Disclosure: I have no positions in any stocks mentioned, and no plans to initiate any positions within the next 72 hours. I wrote this article myself, and it expresses my own opinions. I am not receiving compensation for it (other than from Seeking Alpha). I have no business relationship with any company whose stock is mentioned in this article.