Last week I cautioned Arena (NASDAQ:ARNA) investors of two possibilities that could place downward pressure on the equity in the near term. One was that prescriptions this week would be down because the data included the Memorial Day holiday and the other was that I was anticipating an updated report from Jefferies analyst Thomas Wei that lowered sales estimates. Script sales were indeed lower and off by almost 11% according to industry tracker Symphony Health. As of this writing I do not yet have the IMS Health data and will likely be on the road, so will incorporate an assumption of a 10% dip from IMS in order to update my charts.
On the Jefferies report my theory is actually quite simple. If you look at his last report and extrapolate his revenue estimates from Belviq sales you can arrive at a gross sales number that would need to be met. For 2014 the gross sales number would need to be about $160 million, and for 2015 the gross sales number would need to be about $600 million. The current sales pace in 2014 is about $100 million. It is my personal belief that $125 million could be in the cards, but as each week passes, the likelihood of $150 million to $160 million begins to evaporate. One big reason that I see Thomas Wei lowering his outlook ties to about $90 million in milestone payments that would be triggered if $250 million in net sales is reached (which would require $450 million in gross sales). While $450 is very possible in 2015, it would still be $150 million in gross sales short of his target. That $150 million would represent about $25 million in revenue to Arena. All told, the risk is $90 million in milestones/adjustments and about $25 million in revenue share. The potential could be very real that the current Wei estimate will be quite high on expected revenue if $450 million in gross sales is not met. As yet, Wei has not updated his report. The Jefferies conference was held on June 3rd.
One thing that I did not anticipate was a lengthy bearish article from Seeking Alpha contributor The Pump Stopper. The article was highly critical of Arena and outlined many bearish items. Right, wrong, or indifferent, the article did seem to allow Arena stock to break into the $5's. While The Pump Stopper is very bearish, I saw strength in the fact that the equity stayed above what I have pointed out to my readers as key support at $5.81.
Getting to sales, as stated, the numbers this week were down. My adjusted and estimated IMS Health number shows sales at just under 8,500 bottles. While it is tempting to consider a simple extrapolation to account for the holiday, history tells us that this would be a mistake. Historically, the impact of the holiday takes about 1 to 2 weeks to get back to normal. The best situation is to work with the numbers we have. In looking at the $100 million guidance, we can see that the current script sales remain tightly against that line (though very slightly below). I have long maintained that the $100 million sales pace is essentially built into the current price. Therefore, any script numbers that keep close to my chart line will be neutral to slightly positive to the equity. I have also long maintained that to get a substantial shift in the equity we need to see a substantial shift in the current pace. Should script sales demonstrate that the pace is shifting toward $150 million, the equity can, in my opinion, challenge a $10 price point. If sales are more toward $125 million, an $8 price point is likely appropriate. Please bear in mind that these price points are for 2014 and based on 2014 sales.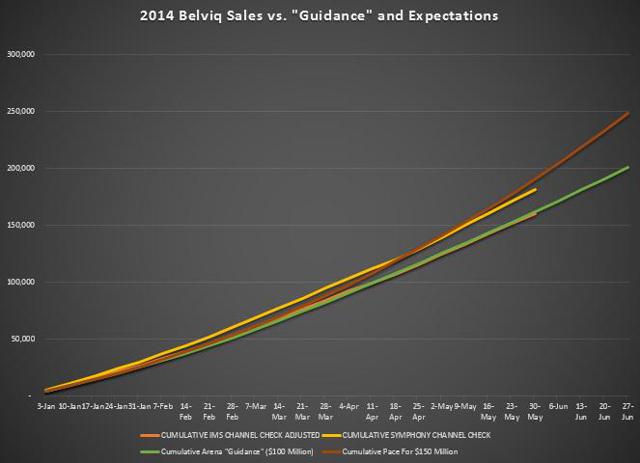 Chart Source - Spencer Osborne
On a quarter over quarter basis, progress is still well ahead. The delta between last quarter and this quarter is 46% to the better. This percentage has been above 50% for a while, but weeks like this past week bring averages down. That being said, quarter over quarter climbs this high are very positive.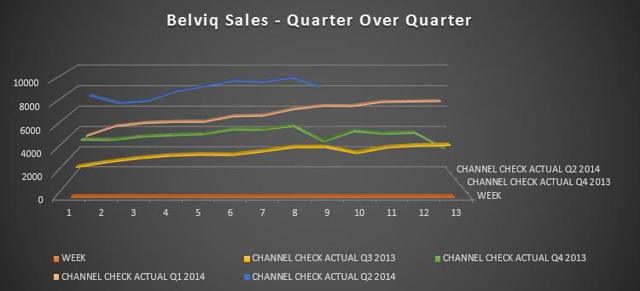 Chart Source - Spencer Osborne
Looking at the revenue side of the equation, we start with prescriptions and convert the numbers to gross revenue, net revenue, and Arena's share of net revenue. The first chart below outlines the pace required to get to the Arena "guidance" of $100 million, a bullish outlook of $150 million, the adjusted IMS Health pace (which is used for all of my revenue calculations), and the Symphony Health pace (which I provide as a courtesy). The second chart outlines the all-important revenue side of the equation. As you can see, I have 2014 gross sales at just under $32 million, net sales at about $17.6 million, and Arena's share at about $5.5 million. Last quarter Belviq revenue was $2.9 million. The current pace for this quarter is for Arena's Belviq revenue to be at about $4 million. The third chart is new. I have taken the data and developed an annualized run rate, and average annualized run rate, and a tracking of how the averaged run rate is progressing on a percentage basis. The annualized run rate is a straight extrapolation of the current week's sales projected out over 52 weeks. The averaged annualized run rate averages out the data for all completed weeks in the current year.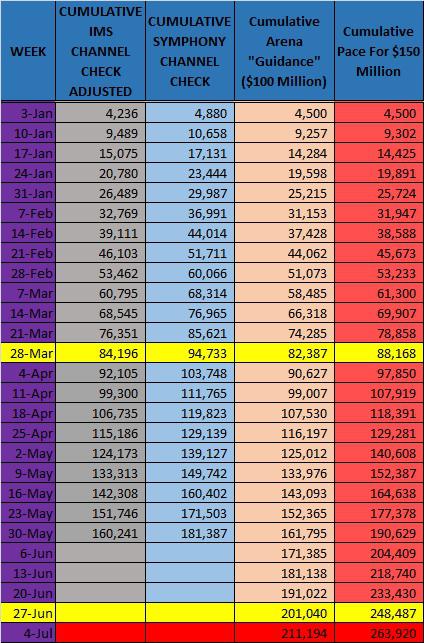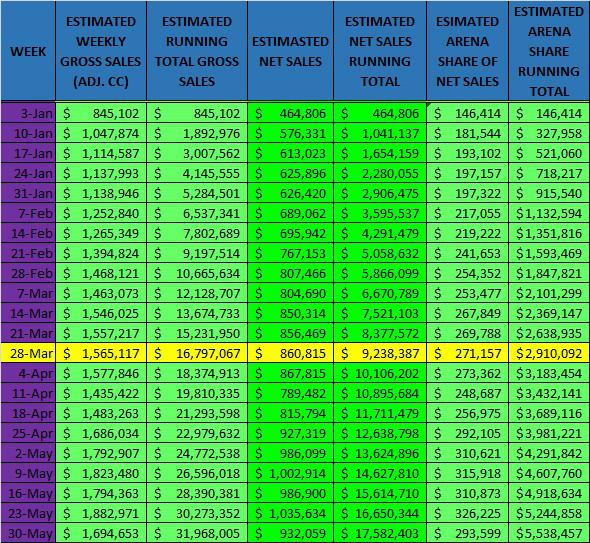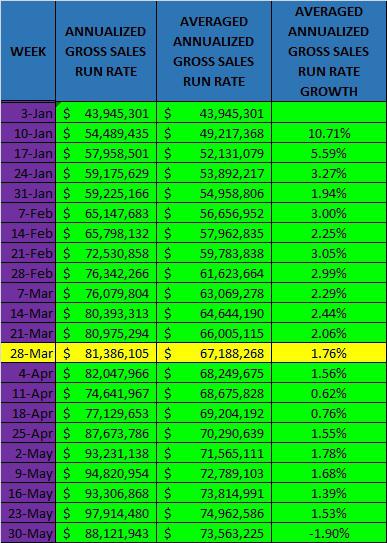 The simple story right now is this. With scripts down and a bearish article published Friday, the fact that Arena stayed above critical support levels is a strong indication that a bottom has indeed formed. Unless the wheels fall off of something critical, it would appear that Arena can now build its way upward on its slow path, or make bolder moves if stronger trends present themselves or there is positive news from approvals in other countries. The ultra-bear argument seems to carry about as much impact to the downside as the ultra-bull argument does to the upside. Investors should understand these more fringe sentiments but work in reality. That is what I try to do.
Arena should be able to show some decent trends in the coming weeks. If advertising is really going to make an impact, then we will need to see a shift toward the $150 million in sales trend-line. I still hold out caution in anticipation of some downward adjustments by some of the analysts that were more bullish a year ago, but have more confidence that Arena can maintain a base at current levels as long as the longer term trend remains intact as a minimum. Other items to watch in the near term that could impact Arena:
Competitor Orexigen (NASDAQ:OREX) should receive an FDA decision on Contrave on June 11th. I anticipate that Orexigen will be approved.
The June 13th date on a Vivus (NASDAQ:VVUS) buyout at $640 million is fast approaching.
Stay Tuned!
Disclosure: I am long ARNA. I wrote this article myself, and it expresses my own opinions. I am not receiving compensation for it (other than from Seeking Alpha). I have no business relationship with any company whose stock is mentioned in this article.
Additional disclosure: I have no position in Vivus or Orexigen.