When I think about dry shipping, I think about the five Russian River Pliney the Elder IPAs I had last night before I went to bed. IPA beers are so hoppy and delicious because the English used a overcharged amount of hops to preserve the beer during its journey through traditional shipping routes to places like India.
So, thank god for traditional shipping routes.
Having said that, I wanted to take a short moment about DryShips (NASDAQ:DRYS), and why I think the company that uses traditional dry shipping routes could be poised for a 33% upside by the end of this year. In my last article about DryShips, I claimed that the company could be getting ready to see a short-term boost in its share price.
In the last three months, we've seen DryShips give back 20% of its value and investors are wondering when, if ever, we're going to see a curl back upwards towards the $4 area - or perhaps, beyond.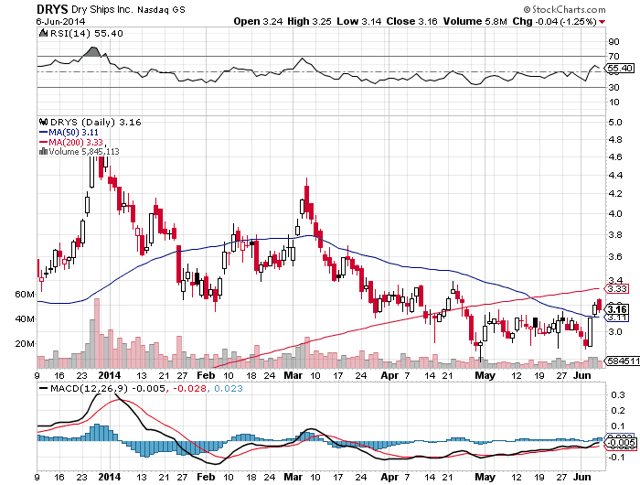 DryShips, Inc. is a company which provides mostly water-based transportation for all kinds of cargo. From DryShips' website:
DryShips Inc. is an owner of drybulk carriers and tankers that operate worldwide.

Through its majority owned subsidiary, Ocean Rig UDW Inc., DryShips owns and operates 10 offshore ultra deepwater drilling units, comprising of 2 ultra deepwater semisubmersible drilling rigs and 8 ultra deepwater drillships, 3 of which remain to be delivered to Ocean Rig during 2013 and 1 during 2015.
DryShips owns a fleet of 42 drybulk carriers (including newbuildings), comprising 10 Capesize, 28 Panamax, 2 Supramax and 2 newbuilding Very Large Ore Carriers (VLOC), with a combined deadweight tonnage of approximately 4.4 million tons, and 10 tankers, comprising 4 Suezmax and 6 Aframax, with a combined deadweight tonnage of over 1.3 million tons.
One of the nice things about DryShips has always been its exposure to not only shipping, but drilling - through its majority owned subsidiary in Ocean Rig. It's looking like Ocean Rig could potentially begin to start paying some dividends (literally and figuratively) for DryShips heading into the new year.
Seeking Alpha reported:
Ocean Rig UDW (ORIG +0.8%) says it firmed up a deal with Total (NYSE:TOT) involving the 12K-ft. drilling depth Ocean Rig Skyros that will keep one of its newest deepwater drillships employed off Angola for six years; the contract is expected to commence in Q3 2015 and has an estimated backlog of $1.3B.
ORIG made news earlier this week after lining up a contract for the Eirik Raude; Evercore analysts view the deal favorably even though the ~$560K/day rate was a bit below estimates, given expectations for a softening rate environment and the rig's challenging competitive position as a 12-year old, fifth generation semi-submersible.
In addition to Ocean Rig sealing this deal, DryShips is going to be looking for shipping rates to eventually cooperate, which they haven't for quite sometime now.
So much of DryShips' performance runs parallel to current shipping rates at the time. Throughout 2013 and into 2014, we only brief moments where shipping rates were on the rise. For a good portion of 2014, so far, shipping rates have been low.
- source Bloomberg.com)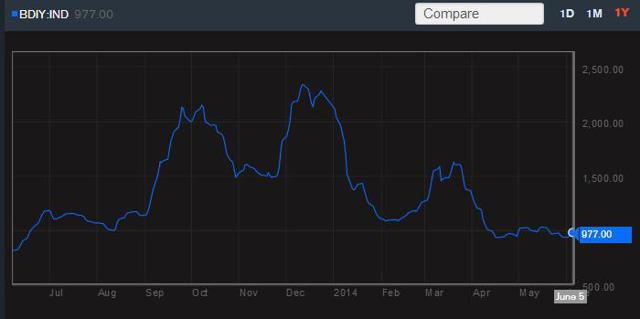 In addition to shipping rates - well - sucking, a lot of the dry shippers continue to be plagued by 'have too much to do too little.' DryShips was no different, expanding their fleet before the economic collapse in 2007. Shippers are hoping for business to pick up, and this Ocean Rig contracts looks to be a good step in the right direction.
Achilles Research, in their last piece, also touched on a couple benefits for DryShips. Namely, free trade zones and the continued need for traditional shipping routes - for things like delicious beer.
With rising trade volumes, the establishment of free trade zones and the free movement of capital across borders, the shipping industry is the prime beneficiary of an increasingly globalized world that depends on traditional shipping routes connecting import and export markets. From a contrarian point of view, I cannot help but like shipping companies in general because market sentiment towards these companies is overwhelmingly pessimistic and CEO remarks about improving fundamentals are oftentimes marginalized.
If you were to combine the monetization of the latest drilling agreement with a rise in shipping rates (assuming that ever decides to occur), there's a chance we could once again see DRYS at the levels we saw it to end 2013. Those two items should be enough of a catalyst to get some bullish momentum once again behind the name.
The risk, of course, lies in shipping rates continuing to stay low and Ocean Rig's contract variables, as the contract has months before it takes place.
Ocean Rig's exposure to drilling for DryShips and the hopeful upswing coming in shipping rates could lead DryShips back towards the coveted $4 before the end of this year, representing 33% upside from $3.
Disclosure: I have no positions in any stocks mentioned, and no plans to initiate any positions within the next 72 hours. I wrote this article myself, and it expresses my own opinions. I am not receiving compensation for it (other than from Seeking Alpha). I have no business relationship with any company whose stock is mentioned in this article.