Tesla Motors (NASDAQ:TSLA) shares have recently lost a little bit of momentum having lost ground by up to 5% in the last month. Despite the recent trading, there was good news for its shareholders as was divulged at the company's AGM held June 3rd at the Computer History Museum in Mountain View, California. CEO Elon Musk confirmed future plans for the company and his longevity with Tesla while dealing with his other ventures - Space X and sitting as Chairman of the Board for SolarCity (NASDAQ:SCTY);
"It is quite difficult to be CEO at two companies," Musk said, "I will stay four or five years, and then it's TBD after that."
Tesla is in the process of choosing among three locations, to break ground for its in-house battery plant, coined the Gigafactory, which will help reduce overall battery costs by at least 30%. The project, which could take around two years to complete, will cost $5 billion but is expected to produce 500,000 lithium ion battery packs. Musk said the project should break ground in the next two months, which is vital in order to end supply constraints and keep margins high. Tesla is coming out with two new vehicles by 2017. The Model X crossover has been taking pre-orders for almost a year, but will still be too expensive for mass-market volume. The lower cost Model E, expected to go into production in 2016, will be that mass-market vehicle investors are awaiting. The Model S and Model X are both at price points far too expensive and are retailed towards the high-end electric vehicle, EV, consumer. Shareholders are looking to the Gen III to help the company grow into its current valuation of $23 billion, almost half of General Motors' (NYSE:GM) $54 billion valuation. In 2013 Tesla saw about 22,500 Model S units sell, but in order to mature into its valuation, the company needs to cater to the masses, which is the plan with the more affordable Model E.
Other than product expansion and development, Tesla has had to deal with ongoing issues in both the United States and International markets. In the U.S. Tesla's direct to consumer program has been outlawed in more than 13 states, which makes it difficult to compete with industry giants that have a large stake in comparable hybrid vehicles and EVs, which are only growing. Industry leaders Nissan (OTCPK:NSANY), Toyota (NYSE:TM), Chevy, and Ford (NYSE:F) all are out selling Tesla with their more affordable EVs.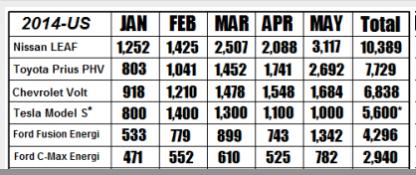 Source: InsideEVs Monthly Sale Chart For The Major Plug-In Automakers
On a positive note, Tesla has looked to international markets with success. Tesla in the last couple of months broke into the Chinese market, which is the largest car market in the world and has made very strong sales according to Musk. The company's Beijing store is the largest and also the most active of all its retail stores. What bodes well for the company's investors is that the demand for its cars currently surpasses supply. The future certainly looks bright for all stakeholders.
The biggest concern to investors is the execution of these plans. With the company's efforts of handling so many projects of tremendous scale in a rather short period, shareholders face the risk of slip-ups. Most of these plans have been priced into the company's stock and as a result, increased the pressure on investors. Top Analysts such as Goldman Sachs and Morgan Stanley rated Tesla at "neutral" and "overweight" with price targets of $200 and $320, respectively. JPMorgan Chase & Co cut their price forecast by a dollar from $164 to $163. These ratings show the diverging views on the company.
Tesla's mid-year update has served as an optimistic check on Musk's big ambitions. With knowledge that the great serial entrepreneur Elon Musk is going to stay CEO for the immediate future as Tesla takes on the biggest projects and obstacles, the plans for the Gigafactory and Model X are on schedule.
Disclosure: I have no positions in any stocks mentioned, and no plans to initiate any positions within the next 72 hours. I wrote this article myself, and it expresses my own opinions. I am not receiving compensation for it (other than from Seeking Alpha). I have no business relationship with any company whose stock is mentioned in this article.