Western nations have often trusted economic realities to temper the impulsive rashness of authoritarian leaders around the world. This year, however, Vladimir Putin has bucked accepted trends by risking financial stability through territorial aggression.
In March, Putin's annexation of Crimea created an international furor that has cost Russia dearly. As Putin continues to pursue his strident agenda in the Ukraine, Russian stocks are now more volatile than at any time since 2009. In relation to the euro, the ruble is also swinging with extreme unpredictability.
Ruble Risks
It is true that the ruble has risen from its record low in March. However, analysts and traders alike have little confidence in the ruble's long-term prospects. A Bloomberg survey of financial professionals shows deep pessimism about the ruble's outlook. Tellingly, option contracts show that traders believe the ruble will likely collapse again before the end of the year.
Key Economic Indicators Dim
For Russia, key economic indicators remain dim even as the Ukraine crisis slowly de-escalates. There's no telling how grim the situation would become if Putin pushed his agenda even more aggressively. Although Russia's resource wealth provides some independence from international debt markets, modern Russia is far more dependent on the world than the Soviet Union.
Micex Index Repels Investors
Ironically, Putin was able to force compliance in Crimea, but he seems hard-pressed to exercise control over leading Kremlin-backed companies. Last November, the Russian government mandated state-backed companies to offer dividends equaling 25 percent of net income. As of today, this rule has been ignored by a full two-thirds of the companies in the Micex Index (INDEXCF). In lieu of larger dividends, these Russian firms have done little to attract investors. To date, the Micex is down nine percent for the year to date.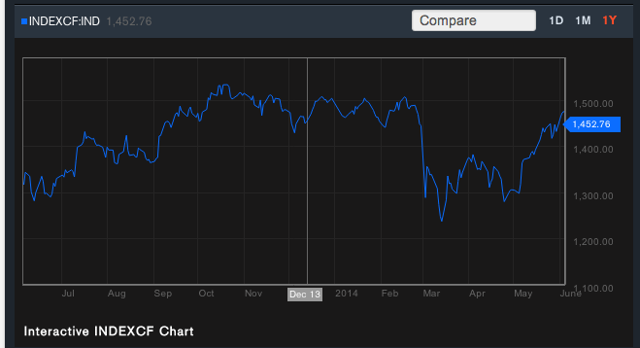 Click to enlarge
(Source)
RSX - Poor Performance
The largest Russian ETF by assets, the Market Vectors Russia ETF (NYSEARCA:RSX), has also seen decline YTD on strong volume.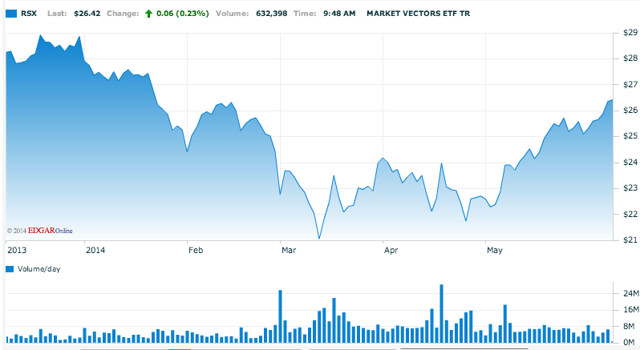 Click to enlarge
(Nasdaq.com)
Russia's economy has performed even worse than China and India this year, a fact that can only cause embarrassment for the Moscow elite.
Putin's Push For Dividends Won't Compensate For Market Decline
While Putin's push for larger dividends may have some merit, it doesn't address a number of fundamental obstacles to Russian investment.
Even before the Ukraine crisis, investors had many unanswered questions about the long-term health of the Russian economy. Close to a recession, the Russian economy exhibits symptoms familiar to other resource-dependent economies. While income from natural resources injects cash into the nation's economy, this easy cash can fuel corruption and cronyism in a society with weak legal institutions.
Shady Accounting Poses Further Risk
Russia's quirky accounting practices further discourage foreign investment.
Instead of adopting international account practices, most Russian firms continue to use traditional local accounting rules. Though standardized accounting is expected to roll out next year, this may come too late to reassure skittish investors.
For Investors: Stay Away
Investors eager for the high risk/reward exposure to emerging market equities should steer clear of Russia.
The political risk seems too high to bear at this point for shady, if any, rewards as the economy continues to tumble.
At this point, most other nations, particularly India, appear more promising for those looking for exposure to emerging markets.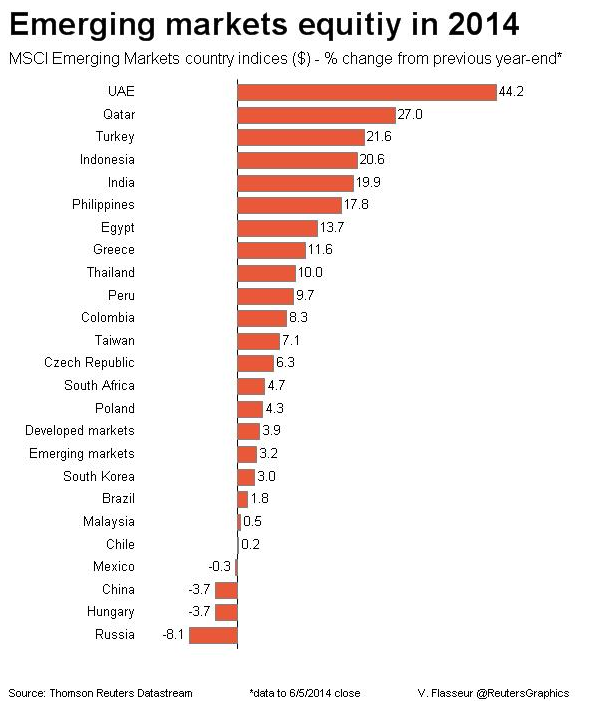 (Source)
Disclosure: I have no positions in any stocks mentioned, and no plans to initiate any positions within the next 72 hours. I wrote this article myself, and it expresses my own opinions. I am not receiving compensation for it (other than from Seeking Alpha). I have no business relationship with any company whose stock is mentioned in this article.