Today is another "Merger Monday", with new M&A activity taking place, along with long-running dramas finally appearing to have resolved themselves, with winners and losers emerging from those stories. The action is not centered upon just one sector in the market, but across quite a few important sectors, such as pharmaceuticals, biotech, tech and food.
Looking at the general markets, we had another strong day on Friday and are either at all-time highs or within striking distance for a number of the indices. The indices are moving slightly higher, and although the moves are not much, it is bullish that we are green after last week's big gains.
Chart of the Day:
The Nasdaq has been a strong performer recently, but still is about 1% away from its highs. With a number of large tech companies set to release new, updated products and product lines before the end of the year, taking out this high should not be an issue. We see more value in some of the small cap indices, but because of the tech news flow, think that the Nasdaq could see momentum traders return in coming months, driving the index higher into the year-end.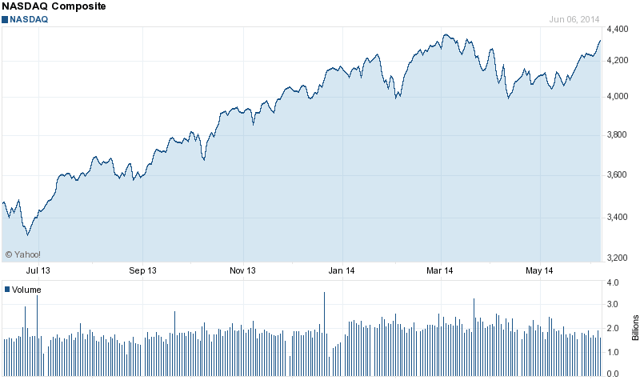 Click to enlarge
Source: Yahoo Finance
We do not have economic news today, but will have the wholesale inventories and JOLTS data tomorrow.
The Asian markets are mostly higher today:
All Ordinaries -- CLOSED
Shanghai Composite -- up 0.03%
Nikkei 225 -- up 0.31%
NZSE 50 -- up 0.09%
Seoul Composite -- down 0.27%
In Europe, the markets are mostly higher this morning:
CAC 40 -- down 0.01%
DAX -- up 0.10%
FTSE 100 -- up 0.22%
OSE -- up 0.96%
Apple's Split
Splits mean little to us. The simplest way to view splits is by looking at money. There is little difference between having one $20 bill or two $10 bills. Both spend the same way, and the total value is the same. No matter how much this is covered, small investors fail to look at it in this manner, and instead look at it from a cost view. It is "cheaper" for them to buy Apple (NASDAQ:AAPL) shares starting today, because the stock will trade around $92/share instead of its pre-split price of roughly $645/share. What many miss is that they get a smaller percentage of the company, but at least in Apple's case, they will not get a new class of shares that also carry less voting rights (like Google (NASDAQ:GOOG) shareholders got during that company's stock split).
Although we would not be buyers of Apple shares to trade the split, for those who already own the shares, they should see a decent bump in share price as new capital finds its way into the stock. Those mom-and-pop investors that see the "cheaper" shares as a bargain and finally within their buying range should flock to the stock in the next week or two. Long-term we like the split, not because of the possibility of bringing in smaller investors, but because the company's stock is gaining liquidity and should be the next addition to the Dow Jones Industrial Average.
Time To Revisit Biotechs?
The biotech trade has cooled off considerably since the latest market correction, and outside of a few names, has not rebounded significantly. Today saw an announcement that Merck (NYSE:MRK) is paying $3.85 billion in cash, or $24.50/share, for Idenix (NASDAQ:IDIX), which is a premium of more than 200%. The move is geared towards beefing up Merck's own hepatitis C drug portfolio and combining both companies' offerings to create a multi-billion blockbuster offering.
One area holding back the Nasdaq has been the biotech sector, but if Big Pharma is returning to the market seeking to be acquirers, then this is an area that investors would want to add more exposure to.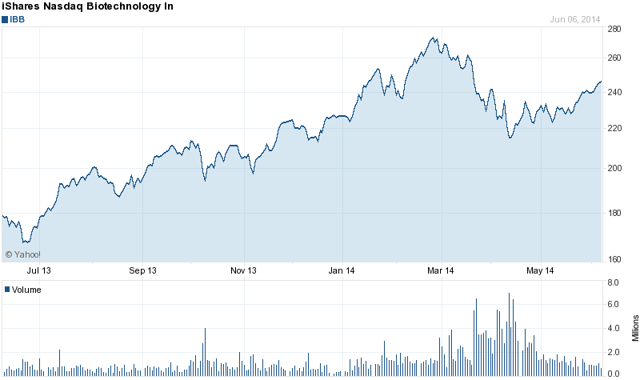 Click to enlarge
Source: Yahoo Finance
This is a deal which makes plenty of sense and has a few "kickers" involved, which could create even more value for Merck shareholders after the deal closes. Acquisitions such as these are what builds the market for the smaller drug companies and why we think investors might want to take another look at a diversified biotech ETF, such as the iShares Nasdaq Biotechnology ETF (NASDAQ:IBB), even if it does have a large portion devoted to the large caps. Traditionally, the entire sector does well during times of consolidation, but we feel trying to pick out the names that will be purchased is a fool's game, and prefer to diversify and ride a rise in the entire biotech sector.
Disclosure: I have no positions in any stocks mentioned, and no plans to initiate any positions within the next 72 hours. I wrote this article myself, and it expresses my own opinions. I am not receiving compensation for it (other than from Seeking Alpha). I have no business relationship with any company whose stock is mentioned in this article.
Additional disclosure: AAPL has previously been recommended.