I have owned Las Vegas Sands (NYSE:LVS) as part of my core growth portfolio for quite some. I started acquiring the shares in the low $40s about two years ago in the early summer of 2012. The stock has delivered considerable performance since then, and it remains a core part of my growth portfolio, as I consider it the best way to play the huge demand for gambling coming out of Asia.
Las Vegas Sands is also one of my favorite trading stocks. Every year, the equity seems to have one or two swoons triggered about concerns about Chinese gaming demand in Macau, where the company gets the majority of its revenues and earnings. Note: Las Vegas Sands is the market share leader in Macau, with just under a quarter of overall revenues.
Part of this volatility stems from the monthly views on Macau gambling demand that come out from several different analyst firms. Every time one of these monthly reports comes out, stocks in the sector tend to rally or sell-off based on one data point.
The stock is under pressure today, as Wells Fargo lowered its forecast for Macau revenue growth overall from 13% to 11% for 2014 - all companies should be so lucky to "only" have 11% growth in their core market. Wells Fargo is concerned about growth in the VIP sector, which bodes well for Las Vegas Sands, as it is becoming more of a mass-market play.
What is triggering this downward revision is May's revenues, which were only up on the enclave by 9.3%, much lower than the 13% to 15% consensus forecast. As a result, the shares have dropped about 15% over the past three months, and are near levels the stock has already bounced off of a couple times over that time span (See Chart).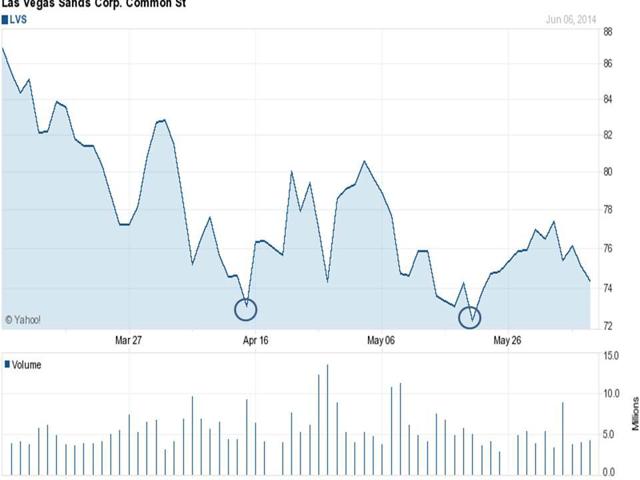 I believe this is a good entry point to add additional shares or by initiate just out of the money bull put spreads to pick up premium income or gain an even lower entry point. Las Vegas Sands' growth story remains intact. Earnings are tracking to a 35% year-over-year gain in 2014 on the back of an almost 20% sales increase.
To put the company's valuation in perspective, consider the S&P 500 is projected to produce a ~5% year-over-year earnings gain on a 3% to 4% increase in revenues in 2014. The overall market goes for 16 to 17 times forward earnings. Las Vegas Sands goes for approximately 18.5 forward earnings, a cheap premium given the company's much superior earnings and revenue growth prospects.
In addition, the shares pay a 2.7% dividend, the company is buying back stock and is well-positioned to benefit if and when Japan legalizes gambling, which seems likely at some point given government revenue needs. Add in a luxury retail property portfolio that could unlock $8B to $10B in value if sold or spun off in a real estate investment trust (REIT) structure, and the shares look enticing after their recent pullback.
I agree with Thomas Allen, a five-star ranked analyst according to TipRanks, with Morgan Stanley, who reiterated his "Buy" rating last week. Mr. Allen cited the company's strong free cash flow and capital returns for his rating, along with his belief that the long-term structural growth story remains intact. I think the recent sell-off presents a nice entry point for long-term growth investors. ACCUMULATE
Disclosure: I am long LVS. I wrote this article myself, and it expresses my own opinions. I am not receiving compensation for it (other than from Seeking Alpha). I have no business relationship with any company whose stock is mentioned in this article.