JPMorgan Chase (NYSE:JPM), the biggest US bank, has been sued by the City of Los Angeles for discriminatory mortgage lending.
The city said the bank's lending practices were directly responsible for increasing foreclosure rates for minority borrowers, citing in the lawsuit the type of lending practices that had caused people to default, based on testimonies from whistleblowers.
The lawsuit is an attempt by the city to make the largest mortgage lenders face responsibility for the consequences of their lending practices on the larger urban population. According to the city of L.A., this includes creating lost tax revenue from property, creating blighted neighborhoods, and increased the cost of the city's services.
"Red-lined" and "Reverse Red-lined" Mortgage Loans
Michael Feuer, the Attorney for the city of Los Angeles, accused JPMorgan of having practiced discriminatory lending practices against minorities as far back as 2004.
He identified two particular examples of discriminatory lending practices:
· The first is called "red-lining." This is the practice of denying minority borrowers credit because they are evaluated in a different way than other borrowers. Chase's red-lining lending practices were first exposed by whistleblowers, and their statements were used by the city's attorney.
· The second is just the opposite, called "reverse red-lining." Here minority borrowers are approved for loans that they cannot afford based on their income levels. The minority borrowers were pushed through sales pressure into taking on unnecessary risk and not encouraged to take on more affordable mortgages. These subprime loans were not offered to white applicants. In subprime lending, a loan is given to someone who may find it difficult to maintain the repayment schedule because of medical bills, divorce, or unemployment. A subprime borrower is generally defined as someone who has a FICO score below 640.
Another type of discriminatory practice used by Chase was more subtle: loan officers did not fully inform financially naive minority applicants how an adjustable-rate loan was not fixed but would change a few years into the loan.
The lawsuit by Los Angeles City seeks an end to all types of discriminatory lending practices and asks for compensatory as well as punitive damages.
JPMorgan Does Not Respond
Jason Lobo, the spokesman for JPMorgan, did not directly respond to these accusations on how the bank had imposed unusual conditions on minority loan applicants that were both discriminatory and prohibited by law. Instead, he made some general statements. He called the city adversarial; denied that the bank had anything to do with the financial crisis; affirmed that the bank would continue to help in the economic recovery; and promised that the bank would defend itself vigorously against the lawsuit.
Millions Lost By City In Tax Revenues
Los Angeles City is taking on JPM, in part because they believe discriminatory mortgage lending practices have directly resulted in an estimated 200,000 foreclosures from the time of the financial crisis in 2008, all the way to 2012. As a result of these foreclosures, the city lost $481 million in property taxes.
Additionally, the lawsuit against JPMorgan Chase alleged that the bank had done little to help in the economic recovery of the city, but had actually made things worse.
For instance, foreclosures continued into 2009 because the bank did not offer minority neighborhoods branch support; and, worse still, pulled out any existing branch support in minority neighborhoods. The bank also refused to offer minorities the type of support given to borrowers like loan modifications and refinancing.
Risks to JPM
JPM stock saw a small decline surrounding the breaking of this story. (See the May 29 - June 4 dip.)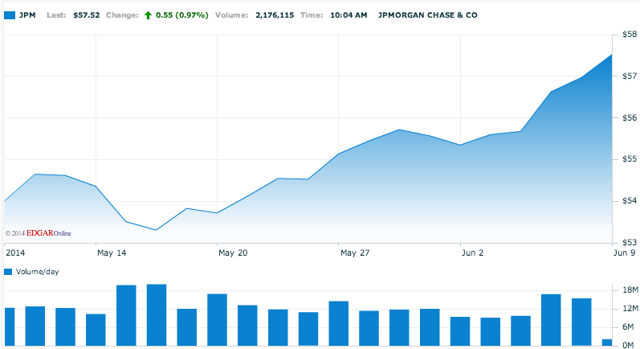 (Nasdaq.com)
More importantly, risks to JPM include loss of customers--at a time when its lending business is already on the decline.
In the recent quarter, net income from mortgage banking dropped $114 million, while production revenue (a measure of lending revenue) fell an astonishing 84% to just $116 million. Home loans brought in just $17 billion, representing a tough decline of 68% from the same time the previous year.
Continued negative press on this front could further exacerbate the issue.
Implications for JPM Investors
First off, JPM investors should be concerned about the company's declining performance in 2014-particularly for a firm used to very strong results.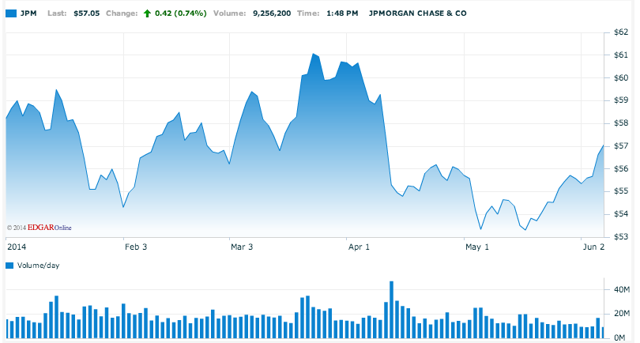 JPM has missed revenue expectations the past three quarters-and by a very concerning 1.046 billion in Q1 2014. The institution also missed earnings expectations last quarter.
Although dividends are rising-they are choppy and way below 2008 levels.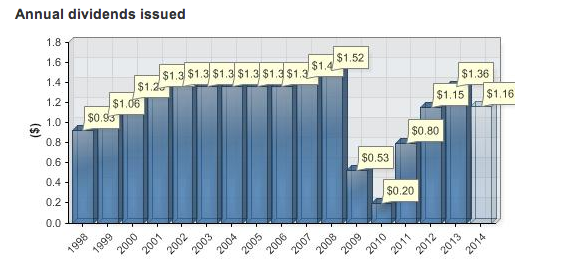 (Source)
Outside of increasingly poor fundamentals, JPM shareholders should be disgusted by the firm's recent long litany of scandals, including probes into violations of the Foreign Corrupt Practices Act in China and collusion to fix interest rates.
The recent bad news for and from L.A. is just the next in what appears to be a never-ending series of harmful episodes for an institution that should be helping protect and grow economies--particularly that of the United States.
Unfortunately, JPM's lending practices (discriminatory or not) did not help the bank in Q1 either. Net revenue for consumer and community banking fell 10%. In addition, mortgage loan originations fell 68% from 2013's first quarter.
While the environment for megabanks has been tough, particularly with regards to trading businesses, it is clearly not the only reason JPM has struggled.
We recommend JPM investors take profits now and reduce risk by considering Morgan Stanley (NYSE:MS) or PNC Bank (NYSE:PNC) instead.
Disclosure: I have no positions in any stocks mentioned, and no plans to initiate any positions within the next 72 hours. I wrote this article myself, and it expresses my own opinions. I am not receiving compensation for it (other than from Seeking Alpha). I have no business relationship with any company whose stock is mentioned in this article.