Facebook (NASDAQ:FB) has undeniably been performing exceptionally well. User growth remains prodigious, the top-line is expanding beyond analyst expectations, and margins are exceeding forecasts. More granularity on the quarterly results and the current state of Facebook's business can be found here.
Negative sentiment in Facebook has been unfounded. Facebook was at a 52-week high of roughly $72 a share in early March and has traded in a lower bounded range ever since despite blowing out earnings in late April. The reason for this sell-off is due to a broad market sell-off of so called "momentum" stocks. The market's proclivity for value stocks as opposed to these high growth momentum names has resulted in a ripe buying opportunity.
Facebook trades at a forward PE ratio of around 50 which is close to an all-time low. Further, Facebook trades at a more reasonable multiple than other competitors such as Twitter (NYSE:TWTR). Since Twitter is not currently profitable, a metric to compare the two is price to sales. On this basis, despite being much more profitable and achieving better user growth, Facebook trades at a discount. Facebook's forward price to sales is 13.58 while Twitter's is 15.68.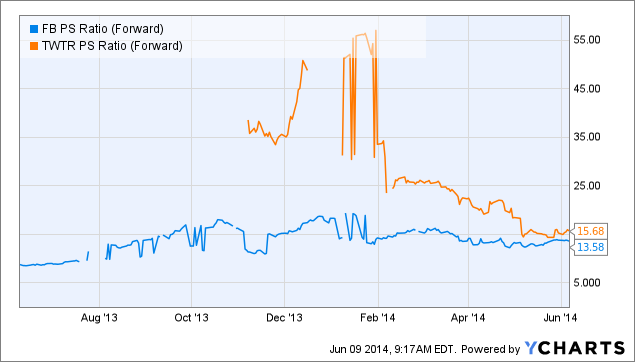 Now that I have discussed the past a bit and given a glimpse at Facebook's value, I will delve into the positive catalysts for the future.
Positive Catalysts
Facebook is diversifying its business and exploring many different avenues for growth in the future. The Whatsapp, Ascenta, and Pryte acquisitions are a testament to this strategy. Facebook is positioning itself to disrupt the antiquated, but lucrative internet service provider industry. More on how Facebook will accomplish this end can be found in this article.
Spurred User Growth
Last week, details emerged of a Facebook patent for a system that will allow parents of kids under the age of 13 to be able to monitor their children's account and allow for Facebook to be in compliance with the U.S. Children's Online Privacy Protection Act. Although this patent alone does not ensure that Facebook will move in this direction, it does give it the ability to. User growth is strong and if this initiative is launched, it could further provide a tailwind. It is notable to mention that many kids lie about their age to enter the social network, but even with this, there will still be a significant influx of new, younger users.
Introduction of Video Play Ads
Rumors about the launch of video play ads have been present for several quarters now. These 15-second videos start auto-playing without sound as they enter a user's screen and sound can be enabled by clicking on them. With costs for these premium ads reported from $1 million to $2.5 million per day, Facebook will receive a boon to revenue growth. This quarter looks to be the first in which this new ad platform looks to be accretive as its prevalence is becoming more widespread.
Of worth mentioning is the level of caution that Facebook has taken with this project. It fully understands the risks of alienating its users by inundating them with ads and has worked to only release higher quality videos. Facebook has been quite selective with these videos and will only release ads that it does not believe will negatively impact the user experience.
Although anecdotal evidence should be taken lightly, I have noticed the fruit of this labor, as the ads that I have seen have been interesting and in many occasions hilarious videos. I also find myself having trouble differentiating these ads from videos that my friends have shared which is a very positive sign in my eyes.
Opportunities In Virtual Reality
On March 25th, Facebook made a splash in the virtual reality industry with its purchase of Oculus VR. Investors originally chastised this acquisition and argued that its price tag was too hefty at $2 billion for a company with limited revenue. However, with the recent announcements of other companies entering the space, this acquisition is looking more prudent by the day.
Teaming Up With Samsung
Last week, the hardware goliath, Samsung (OTC:SSNLF), announced it will be working with Facebook's Oculus VR unit to create a virtual reality device powered by Samsung's Galaxy S5. Facebook teaming up with the single largest phone maker in the world is a very positive development.
Sony Entering the Fray
Furthermore, imitation is the sincerest form of flattery. Sony (NYSE:SNE) recently announced a plan to create its own virtual reality headset, known as Project Morpheus. The fact that others are entering the space should not be viewed as a negative, but as a sign that Facebook is moving in the right direction.
Countless Opportunities
The opportunities for virtual reality are vast and may be quite lucrative. The obvious integration of this technology for Facebook is with its original platform to enhance user experiences. The ability to be halfway around the world and feel like you're in the same room as someone seems inevitable. Gaming is also an industry that is undergoing a fundamental change. Facebook's gaming revenue in 2013 was nearly $1 billion and the integration of virtual reality could further galvanize growth through this avenue.
Another industry that is currently undergoing a crisis is with secondary education. The price of education has far exceeded price increases with other goods and is becoming prohibitively expensive. The level of student debt is reaching unprecedented levels and something will have to give eventually. With the proliferation of this technology, it is a natural extension to integrate it in the classroom to allow costs to decline. Who knows, maybe colleges will be educating through a Facebook platform in the future.
Although all of these opportunities for virtual reality are highly speculative, they do shed light on Facebook's thinking with the Oculus purchase. This nascent industry provides ample opportunity and Facebook was ahead of the trend when it purchased this industry leader.
Conclusion
Facebook's acquisitions and new strategic directions are making more sense by the day. Investors that fervently pronounced the lunacy of Zuckerberg are beginning to eat their words. Facebook's success with other acquisitions such as Instagram, which was originally chastised, should allow management to get the benefit of the doubt before the company is wrote off as squandering shareholder value. Facebook is a rare company in that it is both highly profitable and growing at a breakneck pace. Investors should be delighted to enter this name at this temporarily depressed level.
Disclosure: I am long FB. I wrote this article myself, and it expresses my own opinions. I am not receiving compensation for it (other than from Seeking Alpha). I have no business relationship with any company whose stock is mentioned in this article. I also own leap call options on FB.