Considering the recent surges [1,2] in US consumer spending, with the latest report showing consumers revved up their borrowing in April as credit card debt increased at the fastest pace in more than twelve years, it may be beneficial to look at stocks that specifically prompt discretionary spending.
After a frigid winter, many people look forward to the summer season for the purpose of travel, vacations, recreation or leisure that clearly demands more spending than usual. As a matter of fact, many businesses have operating seasons during the summer months. Among those are theme parks that see a lot of summer activity, a tradition that consumers are unlikely to abandon any time in the foreseeable future.
Astute investors can profit from the surging summer sales of these businesses by buying shares of such companies that get a boost from summer activity. In this article, I discuss a theme park giant, with 11 amusement parks, 4 outdoor/indoor water parks and 5 hotels that you may want to consider for your portfolio.
Cedar Fair (NYSE:FUN), the amusement park operator, has had quite a ride over the last few years. After a six-year decline in its stock price last decade, it appeared the company would be taken over by Apollo Global Management for a proposed $2.4 billion leveraged buyout when consumer spending shrunk significantly at the peak of the Great Recession. But the deal was abandoned in April 2010 after Cedar Fair's shareholders indicated dissatisfaction with it.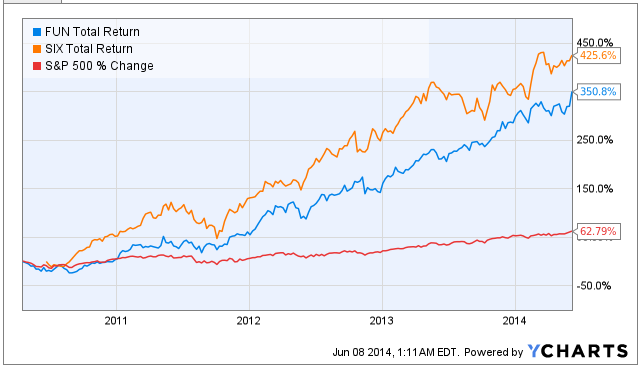 The investors, in retrospect, had made the right decision as the company has not looked back ever since. The stock has returned more than 350.8 percent since then, compared with a 62.8% gain in the S&P 500 index.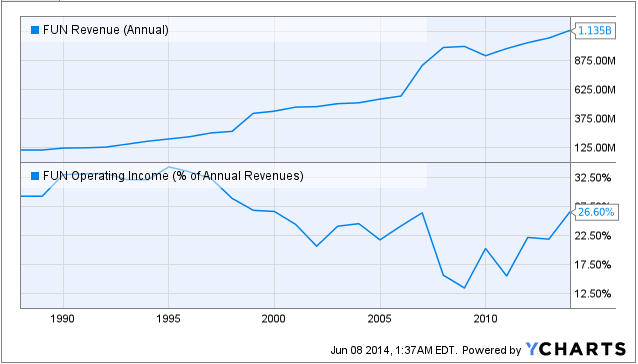 Despite significant price fluctuations over the years, Cedar Fair has managed to grow revenues in 25 of the 26 years it has traded for so far. Its margins have also improved over the last few years, with operating margin reaching a 13-year high to 26.6% in 2013, a 4.88 percentage point increase from the previous year.
According to Cedar Fair CEO Matthew A. Ouiment, the company had a record opening-weekend attendance at its flagship Cedar Point park in Ohio last month.
On May 29, 2014, the company issued $450 million of 5.375% senior unsecured notes due 2024. It plans to use the proceeds from the offering to redeem all of its 9.125% senior unsecured noted due 2018. Replacing old debt with new debt will save Cedar Fair around $67.5 million in debt service through 2018.
Investors usually keep an eye on free cash flows of a company, as it's with this pool that shares are bought back, dividends are distributed, and new investments are made. Over the last three years, Cedar Fair has been growing its free cash flows at an average annual rate of 23.8 percent. In 2013, it generated $204 million in free cash, compared with $190 million and $116 million, respectively, in 2012 and 2009.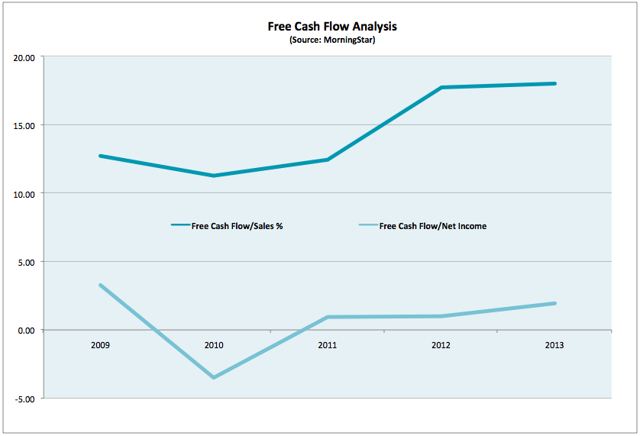 Not only is the company improving its cash flows in absolute terms, but it's also reassuring to see improvement in free cash generated per revenue dollar and the comforting consistency by which it converts a greater portion of its net income into free cash, as illustrated in the chart above.
Cedar Fair pays an annual dividend of $2.58 a share that yields at a generous 5.08 percent. In the last one year, the stock has returned a whopping 45.84 percent, compared to 14.32 and -15.8 percent return, respectively, in Six Flags (NYSE:SIX) and SeaWorld (NYSE:SEAS). And yet it has decent valuations compared to its peers, trading at only 23.13 times its past earnings, as indicated in the chart below.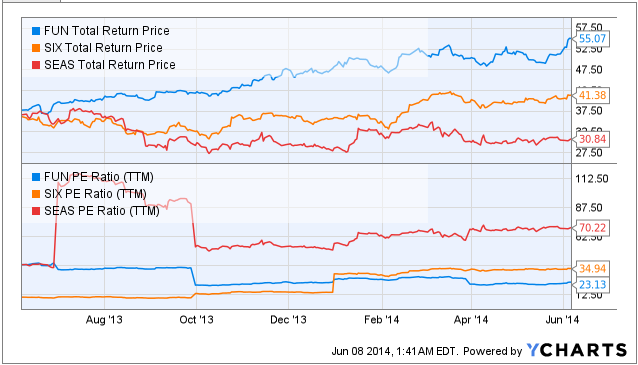 Bottom line: With favorable weather conditions and a few extra bucks to spend, most people are flocking to theme parks to check out the latest rides. In view of which, it wouldn't be a bad idea to consider a theme park stock such as Cedar Fair for your portfolio.
Disclosure: I have no positions in any stocks mentioned, and no plans to initiate any positions within the next 72 hours. I wrote this article myself, and it expresses my own opinions. I am not receiving compensation for it (other than from Seeking Alpha). I have no business relationship with any company whose stock is mentioned in this article.