American Realty Capital Partners Inc. (ARCP) is the world's largest net lease real estate investment trust (REIT) that acquires, owns, and operates single-tenant and multi-tenant commercial real estate properties. Its tenants are primarily investment grade rated. They occupy properties located in town centers and in other well-trafficked, strategic locations. ARCP focuses on acquiring both mid-term and long-term leases. These provide for both monthly income generation and growth potential over the long term.
In a recent deal ARCP bought the land on which 500 Red Lobster restaurants stand in a $1.5B sale-leaseback deal. ARCP bought the property in conjunction with Golden Gate Capital's acquisition of the Red Lobster seafood restaurants from Darden Restaurants Inc. (NYSE:DRI). The new leases will be structured 93.5% with a 25-year initial term and 6.5% with an average 18.7-year initial term. The leases will come with a guaranteed 2% annual rent increase. The purchase price reflects a cash cap rate of 7.9%. This all sounds good on the surface. What could be wrong with it?
One problem is that Red Lobster will no longer be part of Darden . DRI itself has already been placed on review for a credit downgrade; but it has good credit with an unsecured credit rating of Baa3 with Moody's. Selling Red Lobster was a way for DRI to bolster its balance sheet, while getting rid of a company that has been doing poorly for a number of years. DRI got $2.1B in the sale ($1.6B after taxes).
This sale was supposedly against shareholder interests. Many thought that a spin-off would yield cash; and DRI would still own and operate Red Lobster. The fact that DRI sold outright should tell investors that Red Lobster is in more trouble than many wished to believe. DRI apparently believes that trouble is going to get worse over time; and it does not want to be stuck managing a "loser". Red Lobster reported an 8.8% decline in comparable store sales in the most recent quarter. That's terrible; and the US economy isn't even that bad yet.
This means that ARCP may have bought a "pig in a poke". It bought a bunch of real estate that has value; but commercial real estate values are largely based on the income the properties produce. ARCP may be getting a lot of longer term leases from Red Lobster, but what will those be worth in 5-10 years when many of those restaurants are being closed down? That is the likely scenario given the trend in Red Lobster's sales and earnings.
Some may say Golden Gate Capital can turn Red Lobster around. Perhaps they can; but the evidence from Olive Garden, another DRI casual full service restaurant, does not support that scenario. Olive Garden reported a 5.4% decline in comparable restaurant sales in Q1 2014. Other restaurants in the same niche of the restaurant business are experiencing similar problems.
The US population is starting to conserve more. Paychecks have not been rising as much as in the past. For the one year period ending March 2014 the US Bureau of Labor Statistics reported that civilian workers wages increased 1.8%. That's not much, and it seems likely to make workers want to conserve more longer term. That means fewer middle class people will be going to casual dining restaurants.
This scenario leaves ARCP with a bunch of land leased to a very unsteady franchise. Some would assume that Golden Gate Capital might help; and it might. However, a likely scenario is that Golden Gate Capital has stripped some of the value out of Red Lobster by selling the land to ARCP. It may now try to IPO Red Lobster; or it may resell it. It could try to revive its business; but that seems strategically less likely. In any case Red Lobster will be the tenant; and it seems likely to be a very shaky tenant. That means that ARCP has added $1.5B in real estate leased to a tenant that won't be able to pay on many of those leases in coming years.
When Red Lobster starts closing down restaurants, they will necessarily be empty for a while. ARCP will have to eat those costs. It is unclear how high those costs will get; but investors should worry about that. Overall this deal presents more questions than it does answers. The market does not like uncertainty. This deal, along with the slightly disappointing Q1 earnings results, has made the stock tumble. I am sure the stock will right itself again. ARCP is too strong a company not to. However, I do not buy the propaganda the company has been issuing out about this acquisition. I might stay clear of the stock for a while to see what happens as all of this (and the integration of Cole) shakes out.
Yes, I remember touting the stock; but I did not know about the Red Lobster acquisition at the time. To my mind this acquisition makes ARCP a hold or even a sell. The acquisition is simply too risky. Plus ARCP's rapid recent expansion may be causing some other growing pains. With one deal I definitely do not like, I am inclined to sit on the sidelines with ARCP for a time. Even the roughly 8% dividend is not enough to make me want to take on the risk that ARCP seems to currently represent.
The two year chart of ARCP provides some technical direction for this trade.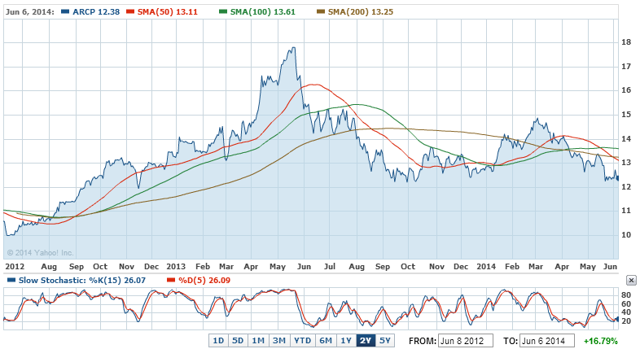 The slow stochastic sub chart shows that ARCP is near oversold levels. The main chart shows that ARCP is in a downtrend. However, there appears to be major support at the current stock price. If the overall market moves upward, ARCP is likely to follow it from this point of strength. Still I would not buy now; and I might still sell.
ARCP is in a lot more financially stable position after it recently completed a stock offering for approximately $1.59B at a price of $12.00 per share. This by itself probably helped to bring the price of the stock down. It hit a recently closing high of $14.88 on March 4, 2014. It closed June 6, 2014 at $12.38 (-16.8%). There is a very real possibility that the fast growth of the company could push the stock price back up.
However, I do not like the Red Lobster deal; and that deal makes me think I would not like some of the other deals as much once I looked at them more carefully. Even with its 8% dividend ARCP is a hold to me. Perhaps it is even a sell, although investors will probably get a chance to sell it at a higher price. Therefore I would not be overly anxious to sell, if I owned the stock at this point.
The average analysts' recommendation is 2.4 (a low buy). CAPS rates ARCP four stars (a buy). Both disagree with my lower rating. This should tell investors that the price is likely to rise before it falls again. However, if I am right it will fall again; and I would prefer to be on the sidelines when it does.
A top SA REIT author seems to disagree with my assessment. Some may wish to read his recent article, "Why Does Mr. Market Fear American Realty Capital Properties?", for a contrasting view.
NOTE: Some of the above fundamental financial information is from Yahoo Finance.
Good Luck Trading.
Disclosure: I have no positions in any stocks mentioned, and no plans to initiate any positions within the next 72 hours. I wrote this article myself, and it expresses my own opinions. I am not receiving compensation for it (other than from Seeking Alpha). I have no business relationship with any company whose stock is mentioned in this article.