Uncovering companies that have unreplicable qualities, a competitive advantage is one of the most salient tenants of successful investing. Warren Buffett uses this precept in making his investment selections. Following this principle led him to his most lucrative investments such as Coca-Cola (NYSE:KO) with a 766% gain and Procter & Gamble (NYSE:PG) which netted him a staggering $4.32 billion in profit. Companies that do not posses a competitive advantage are subject to an onslaught of competition which raises costs and cuts revenue growth. Pandora Media Inc. (NYSE:P) was one of the first movers into the online radio industry, but the subsequent influx of competition has muted profits.
About Pandora Media
Pandora is the leader in internet radio in the United States, offering a personalized experience for listeners on a wide range of smartphones, tablets, computers, car audio systems, as well as a range of other internet-connected devices. The majority of listener hours occur on mobile devices, with the majority of revenue generated from advertising on these devices. As of Q1 of 2014, Pandora had more than 250 million registered users and had 75.3 million active users during the month of March which is down from the reported 76.2 million in December.
Revenue is generated through two different models:
Free Service: The free service is advertising-based and allows users to access all content for free across all delivery platforms.
Pandora One: Users can pay a subscription of $4.99 to remove all external advertising. Being a Pandora One subscriber also allows users to create more stations, have more daily skips, and enjoy higher quality audio.
Royalty Structure Hampers Growth Prospects
Content acquisition costs for Pandora represent 48% of total expenses and 88% of cost of revenue. These costs are derived from paying royalties for sound recordings. Most (93%) of the licensing is negotiated through SoundExchange, a performing rights organization that is authorized to collect royalties on behalf of copyright owners.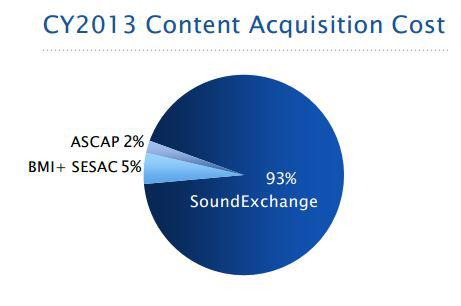 Source: Investor Presentation
The structure of Pandora's royalty agreements is not conducive to growth. Content acquisition costs increase with each additional listener hour, regardless of whether they are able to generate more revenue. Thus, the capacity to sustain profitability is dependent on the company's ability to increase revenue per hour of streaming through increased advertising sales. Gaining more users and getting more engagement will not result in higher profitability.
Further, Pandora has faced higher licensing costs and has locked in a contract with SoundExchange to pay even more for licensing in 2015. This increase in expenses will put more pressure to generate revenue from advertising.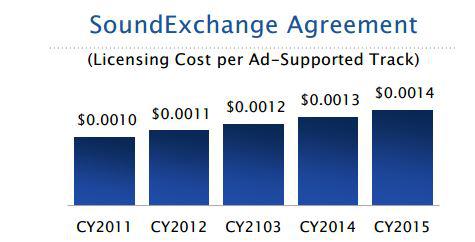 Source: Investor Presentation
Shrinking Margins
An integral aspect of Pandora's advertising revenue strategy is to sell advertising locally. With the local advertising strategy in place, Pandora faces challenges. Since the licensing agreement is structured such that costs proportionally increase with rising listener hours, Pandora will have trouble expanding margins. Pandora will have to rely on gaining more advertising dollars per user in order to accomplish margin expansion. Attaining that increase will be difficult for two reasons.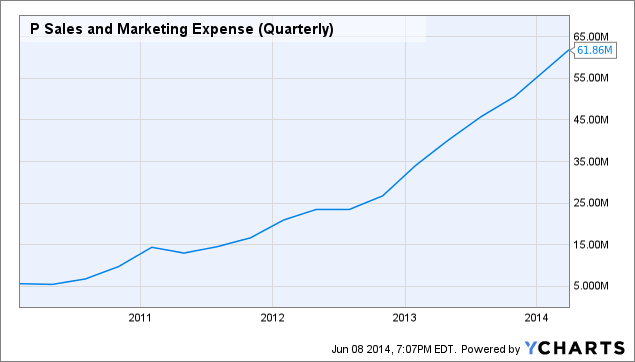 First, Pandora's approach to selling advertising is heavily oriented toward a local strategy. Salesmen are costly and buying power is increasingly being given to these companies as the number of platform options has been drastically growing. Therefore, relying on higher prices for ads for profitability will be a costly mistake. This trend is exemplified by operating expenses growing from 40% to 45% of revenue from 2012 to 2013.
The second reason Pandora will not be able to increase ad prices is due to a flight to mobile. In the 10Q report, management warns that it faces difficulty monetizing an increasingly mobile listenership. The company cites technical fragmented platforms and a lack of standard audience measurement protocols as headwinds. Pandora guides that monetization of mobile streaming may not keep up with past monetization on desktop computers or laptops. With an increasingly mobile world, this is not a positive sign.
It is also worth noting that Spotify's licensing structure is based on a percentage of revenue which is more conducive to economies of scale.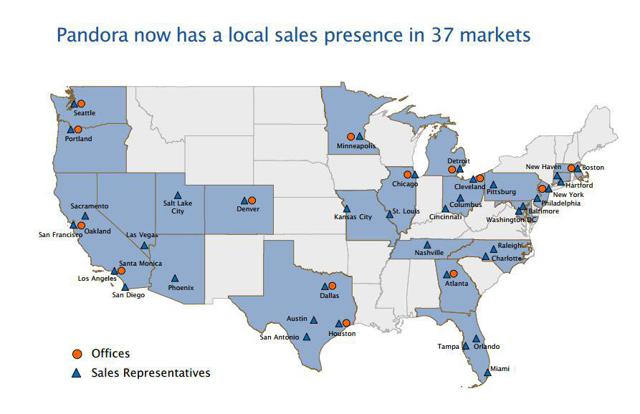 Source: Investor Presentation
Heightened Competition
The music industry is remarkably competitive and is becoming increasingly crowded. Spotify recently announced it passed the 10 million subscriber milestone, Apple purchased Beat Electronics for $3.2 billion, Sirius XM remains a dominant player, Google entered the fray with Google Music in 2013, and Amazon recently announced plans to launch a streaming service for its Prime customers.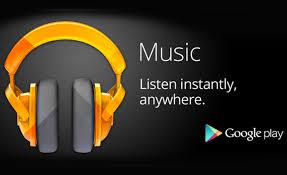 Source: AndroidGuys.com
In Q1 of 2014, 38% of revenue came from paid subscribers which marks an impressive rise from 16% in Q1 of 2013. However, with the proliferation of competition, growing the number of paid subscribers will be increasingly difficult. Moreover, content acquisition costs will rise as the buying power will expand for content providers.
Regulatory and Litigation Risk
The Department of Justice has begun a process to review its decades-old consent decrees with the music industry's largest licensing organizations. The CEO of Broadcast Music (BMI) said:
"We seek to modernize the decree to enable songwriters and publishers to realize fair market value for their work, to make music licensing more efficient and to streamline the rate-setting process."
The risk of royalty rates rising is quite prevalent. Pandora is already not profitable, and with this threat on the horizon, investors should be wary of Pandora's future outlook.
Another risk investors should weigh is litigation expense. On April 17, 2014, UMG Recordings, Inc., Sony Music Entertainment, Capitol Records, LLC, Warner Music Group Corp. and ABKCO Music and Records, Inc. filed suit against Pandora Media Inc. in the Supreme Court of the State of New York. The complaint claims common law copyright infringement and unfair competition arising from allegations that Pandora owes royalties for the performance of sound recordings recorded prior to February 15, 1972. Just fighting this lawsuit will be costly regardless of the outcome.
Final Remarks
Pandora's original IPO was in 2011 and it is still not profitable. The structure of its licensing agreement coupled with a local advertising strategy and more competition reducing ad rates and increasing content acquisition costs ensures Pandora will stay in the red. The only hope for investors would be a buyout, but with over a $5 billion market cap and no profits to show, this seems as though it is a pipe dream. I would not be surprised to see Pandora trading in the low-teens or even single digits in the coming quarters.
Disclosure: I have no positions in any stocks mentioned, but may initiate a short position in P over the next 72 hours. I wrote this article myself, and it expresses my own opinions. I am not receiving compensation for it (other than from Seeking Alpha). I have no business relationship with any company whose stock is mentioned in this article.