Progressive Corp.'s (PGR) earnings per share for August 2010 were 10 cents, up 25% from 8 cents reported in August 2009. However, the results of the reported month lagged 17 cents per share reported in July 2010. Net income for the month improved 21% to $66.5 million from $55.0 million in the year-ago period. However, on a sequential basis, net income declined a substantial 41% from $113.2 million reported in the previous month.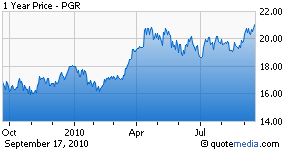 Progressive reports its results every month. The company recorded net premiums of $1,146.5 million, down 0.2% from $1,149.3 million in August 2009 and 19% from $1,421.1 million in July 2010. Net premiums earned were $1,110.1 million, up 5% from $1,058.1 million in the year-ago period but down 19% from $1,375.6 million in the prior month.

Progressive reported net realized loss on securities of $13.8 million, compared with net realized gains on securities of $5.6 million in August 2009 and $20.8 million in the previous month. The combined ratio − the percentage of premiums paid out as claims and expenses − improved 240 basis points year over year to 93.1% from 95.5% recorded in the year-ago period but deteriorated 120 basis points from 91.9% in the preceding month.

During August, policies in force remained healthy, with the Personal Auto segment increasing 9% year over year and 0.4% from the prior month. Special Lines increased 5% year over year and 0.4% over the preceding month. In Personal Auto, Direct Auto reported a double-digit growth of 16% year over year, but showed a slight improvement of 1% in policies-in-force from the last month. Agency Auto was up 4% year over year but down 0.1% from the last month. However, Progressive's Commercial Auto segment continued to drag results, reporting declines of 1% year-over-year but remained flat with the preceding month.

Total expenses for the reported month increased 2% to $1.05 billion from $1.02 billion in August 2009. The major components contributing to the increase in total expenses were a 1% year-over-year increase in losses and loss adjustment expenses reaching $784.7 million, a 3% year-over-year increase in policy acquisition costs climbing to $105.7 million and other underwriting expenses spiking 10% year over year to $143.2 million.

Progressive continues to actively manage its capital position. Reported book value per share was $9.86, up from $9.78 as of July 31, 2010, and $7.82 as of August 31, 2009.

Return on equity on a trailing 12-month basis was 18.2%, substantially up from 4.1% in July 2009 but down from 18.3% in June 2010. The debt-to-total-capital ratio was 23.0% as of August 2010, down from 29.6% as of August 2009 and 23.1% as of July 2010.

Based on its industry-leading position, strong risk-based capital ratios, steady operating performances and focus on customer retention, we believe Progressive is poised to benefit as the economic recovery gains traction. However, increased competition and pressure on underwriting margin keep us on the sidelines.

We maintain our "Neutral" recommendation on Progressive. The quantitative Zacks #3 Rank (short-term Hold rating) for the company indicates no clear directional pressure on the shares over the near term.