Last week Healthcare Trust of America (NYSE:HTA) announced that it was investing around $200 million in six medical office buildings (or MOBs) located in Boston, Miami and Baltimore. As I mentioned in a recent article (in May 2013) HTA did not close any acquisitions during the first quarter; however, the latest news validates the Scottsdale-based REIT's pipeline of consistent deal flow. As Scott Peters, CEO of HTA, explained on a recent earnings call (source: Thomson Reuters):
You know, the activity right now, we've got a good pipeline, that's why we're very comfortable with believing and saying that we think we can, certainly, get our $200 million to $300 million for this year.

The pipeline, for us, is pretty consistent from what it was last year. I think that, if anything, it represented the first quarter, it was more from a processing perspective. You know, we want to make sure we do our diligence, appropriately.
Last week's news (with HTA) was overshadowed by Ventas Inc.'s (NYSE:VTR) announcement that the company was acquiring American Realty Capital Healthcare Trust (NASDAQ:HCT) for $2.6 billion. It's big news when a $19 billion (market cap) REIT acquires a $2.6 billion company but not so big news when a $3 billion (market cap) REIT acquires a $200 million portfolio.
In a recent article I explained that the HCT acquisition by Ventas was driven more "by quantity than quality." In other words, I questioned why Ventas would buy a non-traded REIT that aggregated assets at higher cap rates because of the higher selling costs (for capital formation). As a low cost producer, Ventas has one of the most efficient capital structures in the REIT sector, and it makes me question why a low-cost provider would buy a REIT that has a much higher cost of capital.
To put that in perspective, let's say Wal-Mart (NYSE:WMT) decides to buy Family Dollar (NYSE:FDO). It would make sense that Wal-Mart would only buy Family Dollar if it could acquire the dollar chain using its low cost of capital with a wide margin of safety. In this case of HCT, and because the company was a non-traded REIT, Ventas is essentially paying around 15% more for assets (non-traded REITs generate fees of around 15%) that it could have acquired 2-3 years ago for less.
There is certainly an argument that cap rates have compressed since then, but it doesn't mitigate the fact that Ventas should have been flexing its muscle then (not now). However, regardless of the "quality vs. quantity" argument, I concluded my recent Ventas article by saying that "Ventas has room to grow its dividend, and as one of the most active health care investors the spread remains attractive."
What About HTA's Dividend?
HTA's latest acquisition includes two on-campus MOBs totaling 253,000 square feet in downtown Boston leased to an investment grade health system. Following the closing of the transaction, Boston will become HTA's largest market by invested dollars and annual base rent.
The contemplated acquisition also features three MOBs in Miami. Following the closing of the proposed acquisition, HTA's Miami portfolio will increase to approximately 753,000 square feet. HTA expects to utilize these properties to establish a South Florida office for HTA's internal property management and leasing platform.
The new transactions are expected to be funded by the assumption of approximately $90 million in secured mortgage debt and available liquidity. Following the closing of the contemplated transaction, HTA would have pro forma leverage of approximately 33% of enterprise value.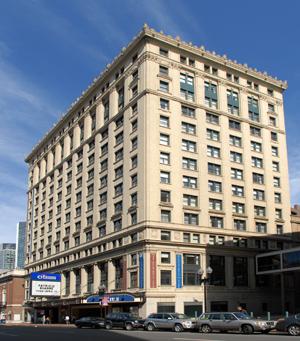 Utilizing a "back of the napkin" approach, it appears that the HCT transaction provides some meaningful details regarding HTA and other Health Care REITs. For example, the HCT deal is being acquired at a 6% cap rate, and because of the diverse composition of the HCT portfolio it would seem that the MOB assets are valued at a 5% cap rate, and the other assets (senior housing) trade closer to 7%.
The MOB assets owned by HCT are not what I would call "prime" MOB properties since many are located in secondary markets and not on (or attached to) hospital campuses. It's natural that large companies sacrifice quantity for size, and although the HCT deal is accretive for Ventas the quality of the earnings (cash flow) is less desirable than the assets that HTA owns (or acquires).
A few weeks ago I took a closer look at HTA, and in my article I concluded that "HTA can produce meaningful growth (acquisitions of $200 million to $300 million annually), and based upon the steady 3% same-store growth, I expect to see a dividend increase."
Although HTA does not disclose cap rates on acquisitions I assume the newest $200 million acquisition will produce around $.04 of FFO growth utilizing an estimated cap rate of 6%. HTA did disclose that it plans to assume $90 million of debt (on the new deal), so I assume that a $.02 run rate is likely given the longer term capital structure).
I projected a 2014 FFO annualized run rate of $.73 per share. HTA is at $.18 per share normalized FFO per share (in Q1) or $.71 annualized, so the "back of the napkin" estimate gets the new acquisition deal up to $.73 per share.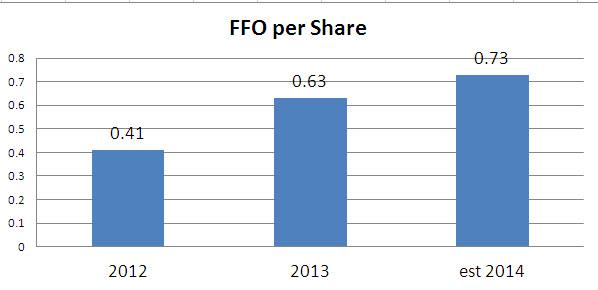 It's clear that without leveraging the portfolio HTA has not been in a position to raise its dividend; however, by adding more high-quality revenue I suspect that HTA will boost its dividend soon. Here's my "napkin" illustration utilizing my FFO per share estimate of $.73: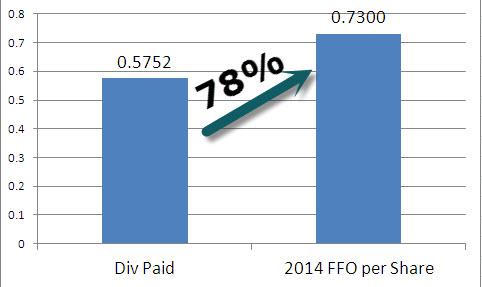 Mr. Market likes "quality over quantity" since mid-December HTA has returned more than 32%.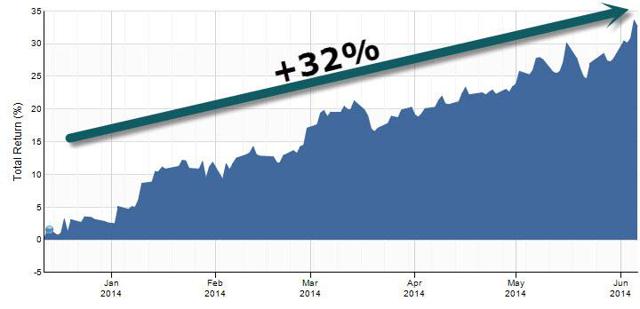 In my latest article I explained that "HTA is a 'pure play' bet that's paying off, and I believe the price could hit $13.00." Getting closer…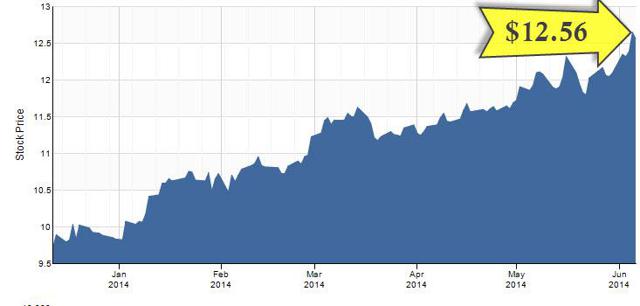 HTA's latest acquisition validates my thesis, and I'm satisfied that the focused health care REIT will continue to seek high-quality MOB assets that will provide meaningful earnings power. It's apparent that HTA can selectively seek to grow, and because of its nimbler approach the REIT does not have to sacrifice growth for quality. Over time the larger REITs will lag behind the smaller REITs because the smaller ones own better assets and because of their disciplined acquisition strategies.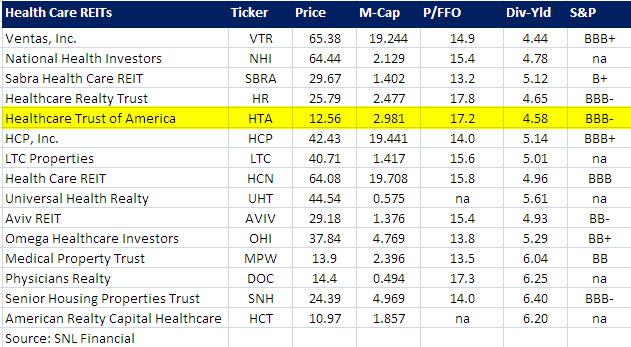 Sources: SNL Financial.
Disclaimer: This article is intended to provide information to interested parties. As I have no knowledge of individual investor circumstances, goals, and/or portfolio concentration or diversification, readers are expected to complete their own due diligence before purchasing any stocks mentioned or recommended.
Disclosure: I am long O, DLR, VTR, HTA, STAG, UMH, CSG, GPT, ARCP, ROIC, HCN, OHI, LXP, KIM, WPC, DOC. I wrote this article myself, and it expresses my own opinions. I am not receiving compensation for it (other than from Seeking Alpha). I have no business relationship with any company whose stock is mentioned in this article.