When it comes to for-profit colleges, the ultimate goal is two-fold. Provide hands-on experience for students while at the same time making some money. However, these days, many such companies are failing on both accounts. Worst of all, it isn't just one or two institutions that are bringing down the industry's grades.
In late-May it was ITT Educational Services (NYSE:ESI) that cast a cloud over the sector with a report showing total enrollment was down 6.4 percent. At the same time, the company withdrew its 2014 forecast amidst an investigation from the Rosen Law Firm, P.A. regarding allegations the institution possibly issued inaccurate statements.
Meanwhile, ITT Educational Services, Corinthian Colleges (NASDAQ:COCO), American Public Education (NASDAQ:APEI), Education Management Corporation (NASDAQ:EDMC), Bridgepoint Education (NYSE:BPI), and Lincoln Educational Services (NASDAQ:LINC) all sit at or near 52-week lows.
Of course, one of the few bright spots in the industry recently has been Strayer Education (NASDAQ:STRA). However, even with shares near 52-week highs, the company and its financial outlook remains shrouded in disappointment.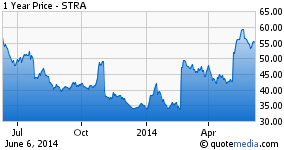 For now, here are just a few things working against the stock and what make shares unattractive at this level.
Earnings: Shares surged following the last two reports on results that weren't as bad as feared. Nevertheless, the EPS of $1.40 in the first quarter of 2014 was still less than the $1.59 reported in 2013. This was also half the $2.80 reported in the first quarter of 2011. If that wasn't concerning enough, earnings are expected to decrease another 29 percent in 2015.
Student Enrollments: The company reported first quarter total enrollment of over 41,000. On the negative side, that marked a 10 percent fall in students.
Government Regulation: The Obama administration's initial "gainful employment" regulation may have been dismantled in large part by a federal judge in 2012. However, that doesn't mean there still isn't a growing pressure for these institutions to provide results. In fact, a recently unveiled plan threatens to cut funding and shutter low-performing colleges from federal student aid programs.
With all that said it's safe to say at this point that for-profit colleges are failing to prove their validity while at the same time struggling to attract students. Until that reality turns, it's hard to believe any money can be made in this sector.
Disclosure: I have no positions in any stocks mentioned, and no plans to initiate any positions within the next 72 hours. I wrote this article myself, and it expresses my own opinions. I am not receiving compensation for it (other than from Seeking Alpha). I have no business relationship with any company whose stock is mentioned in this article.
Editor's Note: This article covers one or more stocks trading at less than $1 per share and/or with less than a $100 million market cap. Please be aware of the risks associated with these stocks.