With the energy sector being in the top three sectors based on performance this year it has become a crowded trade and with even more analysts and publications going bullish names such as EOG Resources (NYSE:EOG), such as Barron's did in their latest issue, we are beginning to wonder where all the bears have gone. Every bull market climbs a wall of worry and the fact that it now appears we have climbed that wall and there is not another waiting for us is a bit troubling. We do like the fact that there is still a large group of investors looking for a general market correction but as it pertains to energy specifically we think that across the board investing might be drawing to an end and investors will have to transition to picking individual stocks based on their merit.
Chart of the Day:
The current month's WTI oil contract is moving higher, along with other contracts, as it seems that the US government is getting closer to allowing the exportation of oil from the country's shale boom. Our thinking is that this will bring WTI and Brent crude pricing more in line and possibly create an oil 'export' business with shippers taking oil from Texas to the East coast as producers await new pipelines to be built in the country.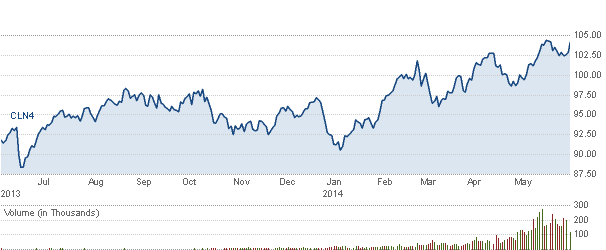 Source: CNBC
Commodity prices are as follows (at time of submission):
Gold: $1,253.80/ounce, up by $1.30/ounce
Silver: $19.10/ounce, up by $0.109/ounce
Oil: $104.20/barrel, up by $1.54/barrel
RBOB Gas: $2.9826/gallon, up by $0.0436/gallon
Natural Gas: $4.661/MMbtu, down by $0.049/MMbtu
Copper: $3.047/pound, down by $0.004/pound
Platinum: $1,451.00/ounce, down by $2.00/ounce
Coffee Drinkers Beware
J.M. Smucker (NYSE:SJM) is a leader when it comes to raising the price of coffee sold in grocery stores. This is why we thought that others would shortly follow the company, as discussed in a previous article located here, after they raised the prices for their brands by 9% due to the rise in coffee prices. The Smucker increase in price covered their Folger's brand and the Dunkin' Brands (NASDAQ:DNKN) Dunkin' Donuts brand which they hold the rights to.
Kraft Foods Group (KRFT) followed suit this morning by announcing that they were going to raise the price of their Maxwell House and Yuban coffee brands in the US by 10% which should set the stage for others to follow now that two of the biggest store brands have already raised their pricing. We are especially interested to see whether Dunkin' Brands and its competitors will raise prices for coffee products that are purchased in their storefronts.
Update To Oil Trade
Rosetta Resources shares have rallied significantly in recent sessions which has us wanting to once again be neutral the name in trading portfolios.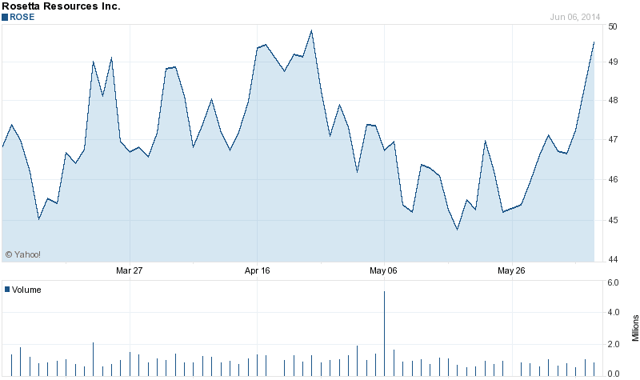 Source: Yahoo Finance
For those readers who bought into Rosetta Resources (NASDAQ:ROSE) around the $45/share level as we discussed that being a good area for a short-term trade we think now might be a good time to take profits. Do we think that the shares could go higher? Absolutely, but when placing trades it is always important to stick to the parameters and that was for a trade towards the $50/share level. With the shares having found their way higher we now think that profit taking is necessary.
Disclosure: I have no positions in any stocks mentioned, and no plans to initiate any positions within the next 72 hours. I wrote this article myself, and it expresses my own opinions. I am not receiving compensation for it (other than from Seeking Alpha). I have no business relationship with any company whose stock is mentioned in this article.