Joy Global (NYSE:JOY) has enjoyed a heady response to earnings last week. The stock is up 11% in the two days since reporting its Q2 2014 earnings results. This represents a 15-month high that has defied the numerous bears on the stock and on global mining in general. Twenty-one percent of the float is sold short and shares sold short have increased by a factor of 3.5x since JOY was last at current prices.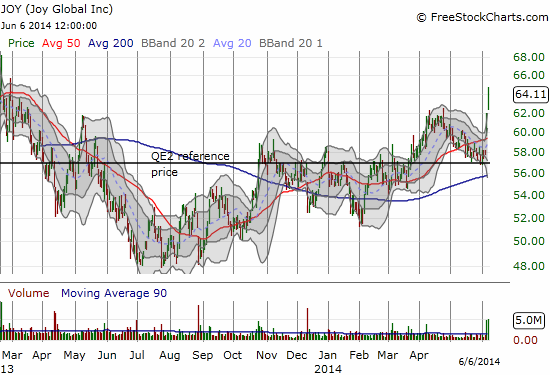 JOY soars against the bearish tide…
Source: FreeStockCharts.com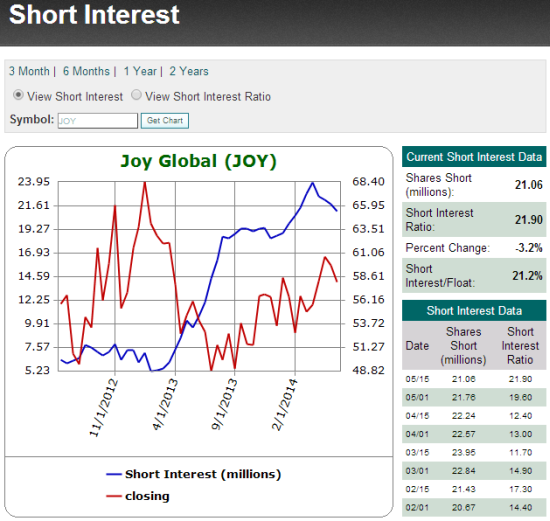 …shares short against JOY soared into 2014 and remain at their highest levels in at least the last two years
Source: Schaeffer's Investment Research
This sharp move caught my attention because it made me wonder what JOY had to say about iron ore prices. The drop in the price of iron ore this year recently accelerated as the commodity breached the $100 psychological level last month. A test in March was a temporary respite.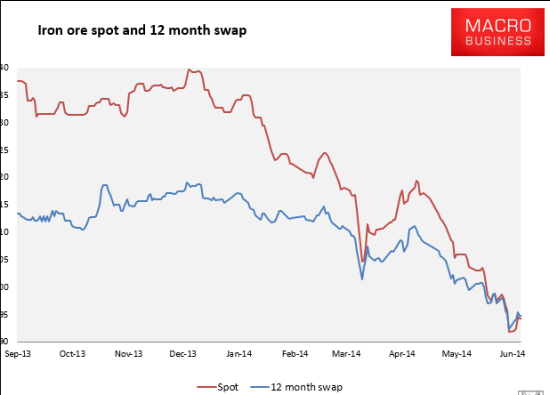 The drop in the price for iron ore has been nearly relentless this year
Source: Macro Business
Sure enough, JOY put a relatively positive spin on the drop in iron ore prices. The quote below is from the Seeking Alpha transcript of the earnings conference call:
"Global iron ore prices have drifted lower in the last several weeks approaching the $100 per tonne level. New supplier from Australia, as well as weak perceived demand from global steel production, has driven the price decline.

However, several factors should be considered when viewing this market. First, iron ore inventory to Chinese ports remain elevated at nearly 105 million tons, but in terms of weak demand remain over 17% below their peak level set in 2011.

Additionally, Chinese steel production through April of 270 million metric tonne implies imported iron ore demand of nearly 300 million ton. Year-to-date, China has imported 306 million ton, suggesting stable demand and a marginal inventory build.

While prices may temporarily bounce around $100 per ton, there seems to be a support level between $100 and $110 per ton, which will continue to drive investment from major producers and low cost producing regions. We've seen activity related to this in our prospect log and expect to see this materialize into orders in the coming quarters."
In other words, the growing inventory of iron ore is not so bad when put into historical perspective. Moreover, steel production rates imply that demand for iron ore remains healthy. Prior to this quote, JOY indicated that it thinks global steel production will increase 4% this year and provide sufficient support for related commodity prices. This explanation of course begs the question on why prices have dropped all year - the standard answers offered to date have referred to increasing iron ore inventories and declining demand from steel producers, combined with surging iron ore production primarily from Australia's biggest miners.
The lack of concern for the recent collapse in iron prices can be seen in a variety of corners. The Reserve Bank of Australia (RBA) is taking the decline in stride, perhaps reluctant to raise any additional alarm bells. In its June decision on monetary policy, the RBA did not even refer directly to iron ore when once again noting that the Australian dollar (NYSEARCA:FXA) remains surprisingly high: "The exchange rate remains high by historical standards, particularly given the further decline in commodity prices." The bullishness in the Australian dollar is most notable against the Japanese yen (NYSEARCA:FXY) which I have used this year as an overall gauge on risk sentiment. Incredibly, AUD/JPY appears on the edge of a fresh and very bullish breakout.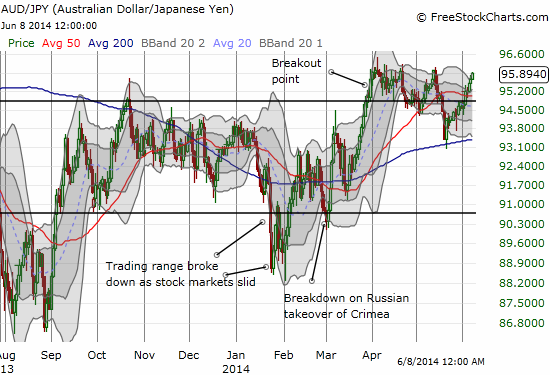 The Australian dollar is surging against the Japanese yen again, likely confirming bullish tidings in global financial markets
Source: FreeStockCharts.com
Rio Tinto (NYSE:RIO), whose mining business relies heavily on iron ore, recently refuted a bearish $80 per tonne forecast from Goldman Sachs (NYSE:GS). CEO Sam Walsh appeared on Bloomberg TV on June 3rd. Walsh insisted that the world will require ALL the commodities his company is supplying now and will supply in the future, including iron ore. Walsh does not think iron ore will drop to $80. Instead, he thinks prices will soon head back above $100. It seems his primary thesis is that the price is near a level where supply will back down. Either way, he is confident that RIO's cost structure will allow it to survive with no problem.
Elsewhere in Australia, the treasurer for Western Australia, Mike Nahan, is similarly unconcerned with the drop in iron ore prices. The state government has a fiscal year-end forecast of $125 per tonne and $123 for the following year so the stakes are high in terms of expected tax revenues. Nahan has dismissed opposition demands to explain the high forecasts saying that there is "no need to panic" and that he is "…not going to slam on the brakes in any way."
One emerging wrinkle to the calm may come from China's shadow banking system. In an article titled, "Time to end use of commodities for credit in China", the South China Morning Post reported the following on June 9th (emphasis mine):
"It was revealed last week that banks and trading houses were checking their exposure to metal financing at Qingdao, the world's seventh-largest port, amid concern that single cargoes of metal have been used several times to obtain financing. This means there are potentially cargoes with more than one owner, raising the possibility of defaults on loans and complex legal actions.

The authorities have yet to confirm they are investigating, but it seems more likely than not that any foul play will convince them to crack down further on the shadow banking system…

For physical commodities, the increasing concern over financing means that mainland markets may be disrupted in the short term, especially if there is distressed selling of stocks. This may serve to dampen imports for a few months as the inventory overhang is worked through, but thereafter the market should be more reflective of actual supply and demand.

Iron ore would appear to be the commodity currently most vulnerable in the short term, given the high inventories at mainland ports, the softer economic growth and the weak spot prices."
Given the overall measured response to the decline in iron ore prices, I strongly suspect a fresh downward push, as a result of this suggestion of a crackdown, will be treated as a major buying opportunity and the beginning of a bottom.
The sharp decline in iron ore is occurring at the same time as notable measures of volatility in global financial markets are indicating extreme levels of serenity. It is an interesting contrast that likely explains why there is no real panic regarding iron ore. When the price of iron ore experienced an even more dramatic collapse late in the summer of 2012, there were rampant worries about what it said about the global economy. Perhaps the equally rapid recovery from that drop is providing encouragement for participants this time around.
Conclusion: Reactive better than proactive
I conclude by coming a full circle to Joy Global. I think the surge in the stock against the bearish tide is quite instructive. Famous short-seller Jim Chanos caused a big stir on July 17, 2013, when he announced his short position in Caterpillar (NYSE:CAT) as a bet against China and the commodity super-cycle. CAT dropped 1.7% that day. It took another week of furtive selling before CAT bottomed - the stock has not looked back since. At the time, Gordon Johnson of Axiom Capital recommended Joy Global as a better short given its concentration in mining equipment. JOY's stock followed the exact same pattern as CAT. From recent news reports, Chanos and Johnson seem as convicted as ever about their bearish positions. Johnson reiterated a convincing bearish position on China on CNBC in December 2013 with a trio of related short recommendations: JOY, RIO and U.S. Steel (NYSE:X). Johnson even reiterated the bearish thesis on JOY after CAT's April 2014 results (that at the time generated what looked like a blow-off top):
"…many pundits expect a resurgence in mining CAPEX this year, evidenced by the growth in both EPS & rev the Street is modeling for (Joy Global) in F2Q14, F3Q14 and F4Q14. However, based on (Caterpillar's) comments this morning, it appears things are getting incrementally worse, not better, for our friends at (Joy Global).

While we will have a more comprehensive note out on (Joy Global) soon, we believe (Caterpillar's) comments are more in line with our negative frame of thought, vs. the way (Joy Global) stock has been trading recently. We remain of the thought that (Joy Global) is among the better shorts in the market today - we remind our readers that while (Caterpillar) does mining and other "things" (primarily in the construction space), (Joy Global) is primarily a mining company."
At this point, I think the fundamental bearish thesis is wearing thin. At a bare minimum, it should be clear to us retail investors and traders that these shorts are best left to the big boys with lots of capital to bide their time and nurse their losses. It is not worth trying to be proactive, standing in front of the locomotive. I think the rest of us are much better off reacting to some real signal that a bearish China-driven move is underway. I learned this lesson with the commodity crash playbook I put together in 2011 just as many commodity prices were reaching a peak. I honestly would have thought a second sharp decline in iron ore prices would have provided the proper reactive signal. Without even a reaction (yet?) from the Australian dollar, I see no reason to jump on the bearish bandwagon. Instead, I find myself (hedged) long CAT and wishing I had never sold my shares in JOY into the first day of its post-earning pop. (It turns out that the trend is indeed a friend). I am still net short on the Australian dollar.
Be careful out there!
Disclosure: I am long CAT. I wrote this article myself, and it expresses my own opinions. I am not receiving compensation for it (other than from Seeking Alpha). I have no business relationship with any company whose stock is mentioned in this article.
Additional disclosure: I am long CAT shares and put options. In forex, I am net short the Australian dollar.